Game of Thrones Season 7 Episode 3 Review: The Queen's Justice
Paul Dailly at . Updated at .
Well, that was not quite how I expected things to play out. 
Game of Thrones Season 7 Episode 3 started off with the meeting we have been waiting to happen for years now, and it was worth the wait.  
It was filled mostly with shade from either party as one tried to get the other to agree with their views. That's what happens when you get two rulers in one room. 
Daenerys went in with the hard sell, essentially saying that Jon should honor an age-old agreement that was in place between long-deceased family members.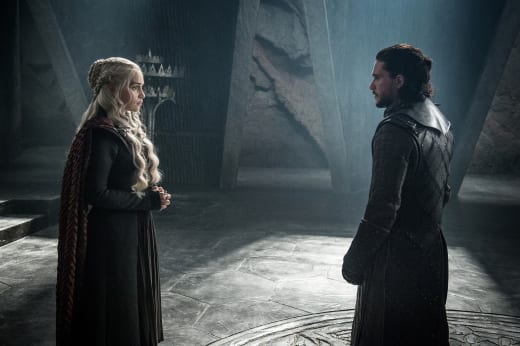 That's not entirely the best way to approach things, but she had to try. I cheered when Jon declined and vowed that he was not a fan of such old agreements. 
Considering Daenerys' "bend the knee" comment, it was evident that she was going to try her best to assert her right to rule the Seven Kingdoms and thought Jon would fall to his knees. 
Um, she was sadly mistaken. 
Missandei was quick to point out Daenerys' healthy roster of accomplishments. It was enough to make even the biggest of overachievers question whether they had done enough in their lifetime. 
All she really needed to say was that Daenerys has three dragons who will turn anyone into a roast in a matter of seconds. 
Poor Davos struggled to compete with Missandei's speech. He probably breathed a huge sigh of relief when Varys showed up to bring the meeting to a conclusion. It was awkward, to say the least, but did we expect Daenerys and Jon to be Netflix and chill this quickly? Not a chance in hell.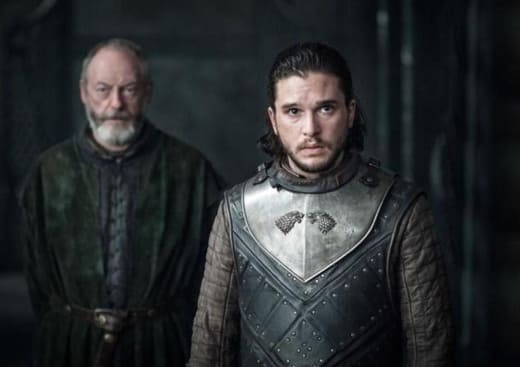 Daenerys finding out about Euron's attack was excellent because it brought her down a few pegs. It turns out, having a huge amount of allies means a good chunk of them will die one way or another. It just so happens that Cersei's crew keep winning the battle in the Game of Thrones. 
What I liked about the whole meeting was that Daenerys and Tyrion were skeptical when they heard about the dead rising. It's something most have heard rumors about but have no idea whether it's real. 
Maybe they should take a trip North to have a look for themselves. 
There must be a scene down the line with Jon whispering "I told you so" to Daenerys as they get set to go to war with the dead. That would be everything, but Daenerys would probably still chant at him to bend the knee. Don't do it, Jon!
Euron making his way to King's Landing with the gifts was teased in the Comic-Con trailer, but parading the prisoners around the city was funny as hell. 
His comments to Jaime about Cersei's preferences in the bedroom were on point. The reaction from Jaime was priceless. He must feel pretty scared about the prospect of Euron stealing Cersei's heart. Yes, Cersei has a heart, but that does not mean she's going to spare any lives.
She finally got her justice for Myrcella's death, and it was not quite as gruesome as I would have anticipated, but it's fitting. Ellaria watching her daughter dying from the poison and decomposing will be horrific. 
She already watched Oberyn die in disgusting circumstances. What Ellaria did to Myrcella was sickening when you consider the fact that Myrcella was an innocent bystander. 
Ellaria was on a mission of revenge and lashed out, but she deserves to be in her situation. However. I'm not going to rule out her having connections in King's Landing. 
There's still a small chance she will escape with her life, but it all depends on how a battle at King's Landing would go down. There's no way she's getting out of there unless the soldiers are otherwise engaged. 
I felt a little short-changed with the Unsullied at Casterley Rock. I was prepared for a huge fight, but it fizzled out pretty quickly. We never got to see most of the kills. 
Tyrion was smart to build the passageway because that first visual in his mind of the Unsullied being overpowered was just too much to handle. 
The best moments from the episode came at High Garden. Jaime was a man on a mission, and although he won the battle, Olenna got the last laugh.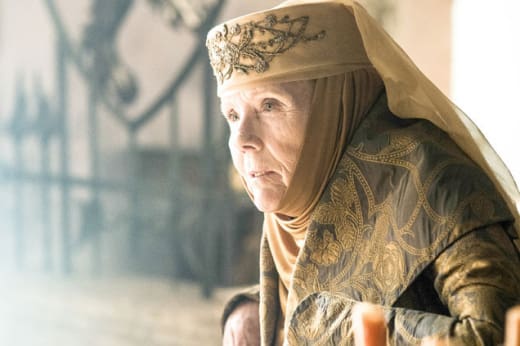 I knew from the moment she took her final drink that she would be coming clean about her part in Joffrey's murder. Cersei is going to be so pissed when she learns the truth. 
Jaime will need to ensure she has a steady stream of wine to calm her down because she is not going to be amused. Even with Cersei in power, their enemies are still causing some drama for the family. 
Could Olenna's words stick with Jaime? She did note that Cersei was a "disease." Could Jaime ultimately be the one to take Cersei out of the equation? That's one of the most interesting questions on the show. 
Did anyone else think Arya was the one at the gates of Winterfell? I got so excited to witness the two sisters reuniting, but all we got was Bran with some frozen emotions. 
Sansa took on the leadership role very well, and I now think she would make a good ruler if the opportunity ever arises. She had a good attention to detail, and that was proven when she commented on the lack of leather on the armor. 
That's probably thanks to her always being close to people in power. She knows she will only have control for as long as Jon's away, so why shouldn't she?
"The Queen's Justice" slowed down the action considerably, but it was still a solid episode. 
Other tidbits from the episode:
Cutting out some of the scenes from the battles was a bad move. The battles are my favorite parts of the show!
Jon's reaction to the dragon at Dragonstone was crazy. At least he will have some stories to tell when he returns home. 
Ser Jorah lives to fight another day! Poor Samwell should have gotten a better reward than sifting through the old paper. Maybe he'll come across a document that links Jon to Lyanna Stark. 
Cersei has no qualms about anyone knowing she and Jaime are lovers now. How long will it be before that comes back to bite her?
Varys is hiding things from us, you guys! Melisandre needs to spill the beans. 
What did you think of the episode?
Sound off below!
Note: Game of Thrones Season 7 Episode 4 airs August 6 on HBO.
Paul Dailly is the Associate Editor for TV Fanatic. Follow him on Twitter.