The Bold Type Season 1 Episode 4 Review: If You Can't Do It With Feeling

Yana Grebenyuk at . Updated at .
On The Bold Type Season 1 Episode 4, Kat and Adena took the next step in their growing relationship inspired by an eerily familiar encounter with a hateful person.
Meanwhile, Jane was a panelist on the topic of young voices in politics which wasn't as successful as she first expected it to be. And Sutton got caught up in a lie about attending fashion school when Oliver confused her with someone else.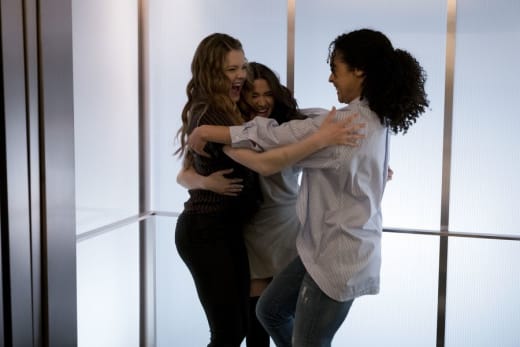 Kat's story continues to thrive because it relies on emotion from Kat and Adena, both separately and together. 
Experiencing Adena and Kat's relationship was fascinating because of how Kat acted on their not very official date. She was nervous, trying to hide behind her phone, something that is so easy to understand.
Once again I saw myself.
I saw myself when Kat wasn't sure whether Adena even liked her or in what way.
I saw myself when Kat tried not to put too much pressure on her late night stroll with Adena, only making it more nerve wrecking for herself.
I saw myself in the emotional state of mind she entered when Adena was in danger because, at that moment, Kat's person was in danger.
Nothing could prepare me for that conversation and that kiss. It was just two people trying to figure out where they stood, with one not being able to keep her feelings at bay anymore because they kept spilling out whenever she thought of the other.
That is the representation that we all deserve, and that is the queer coming-out story that I was waiting to come along. 
It resonates because it is pure and unapologetic; it is Kat trying to navigate her feelings and Adena confirming that she feels the same way. 
Never have I felt as happy watching two people fall in love as I did when Kat and Adena finally confronted their feelings for each other. This is the story that I feel like I to get to watch unfold.
And I have never been as thankful as I am now for Kat, Adena, and the representation that they offer because of their interactions with one another and themselves.
Post orgasm coffee for Jane.

Kat
Sutton trying to get her dream job was a journey, and I can't exactly blame Kat for suggesting that she lean into the FIT lie. It's true that no one really checks your degree so if someone thinks you have more experience without seeing it, why not see where that goes for you?
And it really could have worked if Richard didn't try to give Sutton an even better chance. Yes, I'm still loving those two, but sometimes Richard should just stick to the breadsticks!
If he just told Oliver that Sutton is great and left it at that, but then again, Sutton got that job on her own merit anyway. 
Which brings me to the relationship between Oliver and Sutton and why I'm more stoked to see that in the future.
As much support as Lauren offered Sutton toward the end, I wasn't buying it. There wasn't much of a connection there, and there doesn't need to be, but I wanted to see a mentor for Sutton on this journey.
I think Oliver could very well be that mentor, especially when he shared some of his past with Sutton based on her life and mood board. There is a real chance for Sutton not only to learn but to have someone in her corner.
I don't see everything going smoothly just because Sutton finally got her foot in the door, but I can't wait to see how she furthers her career with someone like Oliver in her corner. 
Young women want to be political engaged, so lets engage them.

Jacqueline
Jane was probably the one I paid the least attention to this time around, which isn't a bad thing. But the panel was what stood out to be, and it felt a bit like the background story compared to her relationship with Ryan.
Their casual, or not so casual relationship was a front runner, and as always, I'm not sure what I feel. 
The more I think about it, the more I wonder if we are meant to be invested.? 
Compared to Kat and Adena or even Sutton and Richard, Jane's relationship with Ryan doesn't have as much depth. Their interactions sometimes barely scratch the surface, which makes me think maybe Jane's biggest relationship is with her writing.
Because as much as you might want to get involved in that whole Ryan/Jane relationship, it is still a little bland.
But Jane's relationship with her writing is passionate and sometimes ridiculously difficult. And yet, it is that one constant in Jane's life.
That moment when Jane is on the panel and only gets two sentences in was heartbreaking but true to form. Jane felt like she didn't belong because she didn't accomplish ''enough,'' but she is just getting started.
It is in that growth stage when it is important to show support for voices like Jane's, because it pushes them forward when they know others are invested in their journey, too. 
Jane doesn't need to have all the answers, she just needs to share her voice on behalf of those who may not have the chance, and from there it evolves.
At some point, Jane will be on a panel with awards and even bigger publications under her belt, and she will be there to support the writer who is just starting out.
I wish that guy didn't take over from Jane without letting her get a word in edge wise. I'm sure he knew his stuff, but he wasn't alone. I'm not even going to talk about how he was discussing engagement but didn't let others around him do that.
Jane Sloane is just getting started. There's a reason you were on that stage, people want to hear your voice.

Alex
Jacqueline and Richard gave us a small preview of what happens higher up than the Kat, Sutton, and Jane of it all.
Jacqueline wanting to invest more in politics was once again nothing short of inspirational. She didn't take no for an answer, much like the advice she shared with the girls.
Even when Richard came back with a no, Jacqueline took that as a yes because she knew what this would mean for the magazine and its readers. 
As always, I was left in awe because Jacqueline truly deserves our appreciation. She is exactly the strong voice we want to have speaking for us, and she uses her position to do better for those who are reading her magazine.
It has to start with Jacqueline knowing that their subscribers are more than just fashion fans; they are educated and aware of the issues that are happening around them, and they want to feel included.
And who doesn't have respect for a woman on a treadmill desk in freaking heels?!
If I'm going to go down, I'm going to go down swinging.

Sutton
The Bold Type continues to find ways to introduce a fresh story, providing a beginning, a middle and an end to each one. The focus never wavers and is always engaging with its audience. 
Their voice is strong in the way that it continues to let women know that they are all headed towards success because ambition and trust in yourself will get you there eventually.
It also manages to tackle issues like racism and misogyny in everyday situations because that is exactly how it happens in the real world. It is subtle but it is present, and I'm glad that The Bold Type never tries to hide that.
The best part though is and will continue to be the relationships between all the women on the show. It is their bonds and their adventures with one another that are exactly how they should be on every show. 
Just as much as The Bold Type empowers women, so do all the women on the show. Their support systems are the highlight of each story and each path a character might take.
I want this, more than I've wanted anything in my entire life.

Sutton
What did you think of that ending? Where are you hoping to see things pick up in the next episode? Which story struck you the most this time around? Which couple are you totally in love with and which is growing a little old?
Let us know your thoughts below!
And don't forget that you can watch The Bold Type online right here on TV Fanatic if you love this show as much as I am right now.
Yana Grebenyuk is a staff writer for TV Fanatic. Follow her on Twitter.