Wynonna Earp Season 2 Episode 6 Review: Whiskey Lullaby

Lisa Babick at .
What a big bump you have there, Wynonna!
On Wynonna Earp Season 2 Episode 6, Wynonna's pregnancy accelerates after a sleeping spell is placed on the town thanks to the widow sisters, but Wynonna doesn't let her advanced pregnancy stop her from saving the town before it's too late.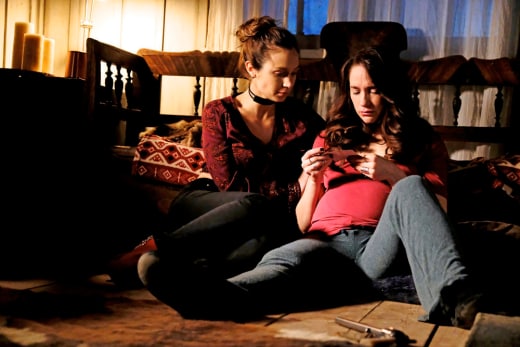 Poor Wynonna was just getting used to the idea of being pregnant and how it was going to affect her life when things got a little crazy. There was no bump and then a HUGE bump. 
Nothing like reality knocking on the door. And because everything was accelerated, she had no choice but to tell Doc much sooner than she wanted to.
Everyone else had accidentally found out the big news, even Dolls, who was sort of upset about it. It's been obvious for quite some time that Dolls cares deeply for Wynonna and it seemed that he was going to share his feelings for her at the diner.
Wynonna's been torn between Dolls and Doc for a while, but will the pregnancy force her to choose Doc? It doesn't seem likely.
Whoever ends up with Wynonna is going to Wynonna's choice, not one that's going to be forced on her because of circumstance.
Even after Dolls realized Wynonna's pregnancy, it didn't deter him from giving her a much longer than needed, but very tender kiss - on the lips, no less!
He even did that after learning that Doc was probably the daddy.
Whether he's going to fight for Wynonna's heart remains to be seen, but it's quite clear he's not going to sit by and let Doc take over.
I don't know whether to cringe at the idea or applaud him for his brazenness, but whatever the outcome, Wynonna is going to have lots of support throughout her pregnancy.
When Doc found out about the baby, he was rather shocked. The guy's been around for a hundred years and, as far as he knows, he doesn't have any kids. So, this is just as much a surprise for him as it was for Wynonna.
BUT, and this is a big BUT, him walking away and not saying a word was not cool. Okay, it was a dick move.
Shocked or not, he could have said something instead of walking away. It's not that I thought he'd jump up and down, but any sort of reaction would have been better. 
He did have tears in his eyes, but so what? That didn't mean anything. Not then!
But he did make up for it at the end of the hour in a BIG WAY! That little note he gave to Wynonna to let him know he was "all in" was everything. It was just what she needed at a most vulnerable moment.
Her life is turned upside down and she needs all the support she can get. Whether you ship Dolls and Wynonna or Wynonna and Doc, you had to love that moment. Personally, I've always shipped Wynonna and Doc. There's so much more chemistry between them.
Not that there isn't any between the other two, it's just more powerful between Doc and Wynonna. The only problem is that Doc doesn't have the capability of being faithful. He likes women too much whereas Dolls seems like Wynonna would be his one and only.
After 100 years, Doc isn't going to change. Or will he? Mmmm. No.
It was funny that Jeremy was the only one who wasn't surprised by Wynonna's pregnancy.
It seemed pretty obvious considering she was wearing big coats ALL THE TIME, but at least the secret is out now and we can move on.
I liked that Wynonna Earp didn't drag the pregnancy secret out for more than one episode. Kudos to them for how well done they handled the situation.
I have to wonder if the pregnancy will push Wynonna and the team to get rid of the Purgatory demons faster in order to break the curse.
I can't imagine Wynonna would want to have to pass the peacemaker down to her child.
Despite all the pregnancy drama, Wynonna and team still saved the day. Would we expect anything less? Of course not. Pregnancy isn't going to keep Wynonna from kicking ass when she needs to.
What did you think of "Whiskey Lullaby"? How will the pregnancy affect her relationship with Dolls? Will Dolls give up his love for her or keep pursuing? What will Doc do?
Hit the comments and share your thoughts!
If you need to catch up, you can watch Wynonna Earp online right here via TV Fanatic!