Wynonna Earp Season 2 Episode 8 Review: No Future in the Past

Lisa Babick at . Updated at .
If only Bobo had gotten Doc's ring, everything would be different.
On Wynonna Earp Season 2 Episode 8, Juan Carlos sends Wynonna on a vision quest to learn about the history of the Earp curse. What she discovers is more than a little shocking.
And now that Bobo's back in business, does this mean other revenants are back as well? It's a scary thought that all the revenants Wynonna put down could be back because she was dead for seven seconds.
If that's the case, Wynonna is in for a whole heap more trouble than she could have ever imagined.
Her only hope is that Bobo remembers he was once a good guy and decides to help the cause instead of fighting it.
Now that we know Wynonna Earp is coming back for season 3, there's no way all the supernatural beings will be destroyed this season. There has to be a little something for next time otherwise there would be no show.
It would be a lot of fun if Bobo joined Wynonna's team. Who cares if he's the baddest demon in Purgatory? He'd be a great addition.
Now that he's outside of the Ghost River Triangle that means he can actually do some good if he wants to.
The clock is ticking for Wynonna anyway. She has to stop the Clootie sisters from getting the final seal, and she's going to need some extra kind of help.
Besides, Bobo still has a bone to pick with the witches, so it would be in his best interest to join the team. If he can help end the curse, he can finally rest in peace.
But ending the curse might also mean the end of Doc Holliday, and Wynonna Earp without Doc Holliday just wouldn't be the same.
While we're not anywhere near that point right now, it does bring up a very valid point that I don't think even Wynonna has considered yet.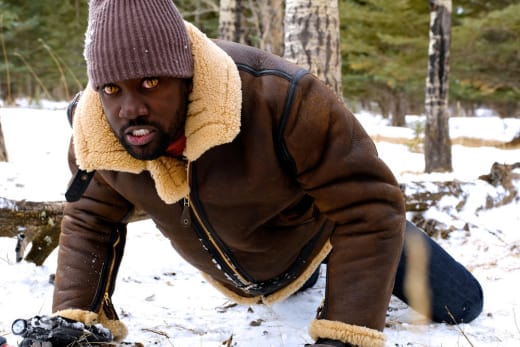 Doc may be immortal, but so was Juan Carlos. Now that Carlos is dead (in the most gruesome of ways), we know Doc can die too, even if the Earp curse is still alive and well.
Wynonna and friends better do whatever is necessary to protect Doc, because the Clootie sisters are going to be on him like ravenous hyenas. 
You have to wonder if Doc already knows he's carrying the third seal around on his finger. He's given no indication that he knows, but Doc knows a lot of things he doesn't admit.
Like knowing Bobo Del Rey, for instance. He had to have known it was Robert from the past when he first came across Bobo in Wynonna Earp Season 1.
Maybe he did, and I just don't remember.
If he did recognize Bobo, he should have told Wynonna about it, even if he didn't particularly care for the guy. But he didn't, and that's something to consider.
While Wynonna was on her trippy vision quest, Rosita and the girls were planning a surprise baby shower for her. You gotta love the "Girls Nothing Special Nacho Night" theme Waverly created. She's so cute.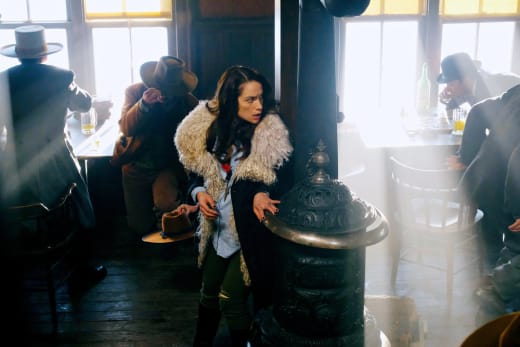 What wasn't cute was her finding out that Nicole had the DNA results stuffed in her purse. 
We didn't get to see what the results said, but somehow I think that Waverly isn't a blood Earp after all. In fact, I get the feeling she's somehow related to Bobo.
It wouldn't be surprising if Waverly's mom had an affair with Bobo and got pregnant with Waverly. It could be the reason why their mom left right after she was born. Maybe daddy Earp sent her away after discovering her affair.
Jonas said Wynonna's baby wouldn't be the first half human/demon baby in Purgatory, so it's not impossible. It also makes sense that Bobo was always keeping an eye on Waverly, not because he thought she was his guardian angel but because he was her father.
Why else would he tell her she wasn't an Earp?
If this is the case, it's going to make for a great storyline and will give Wynonna and gang the perfect excuse for bringing Bobo onto the Earp team.
After they get over the shock of it all, of course.
So what do you guys think? Could Bobo be Waverly's father? Does Doc know more than he's letting on?
What will Wynonna think of Bobo's return?
Hit the comments and share your thoughts!
If you need to catch up, you can watch Wynonna Earp online right here via TV Fanatic!