When trying to rebuild one of the most successful sitcoms in TV history, decisions have to be made.
Sometimes the decisions aren't so great.
Kevin Can Mourn seems like one of them.
One of the most successful sitcoms of the 2016-17 season, CBS's Kevin Can Wait was solidly built around the chemistry of Kevin James and his on-screen wife, Erinn Hayes.
They had a fun vibe that easy to understand and without the more sarcastic tone between Kevin and his alter-ego Doug's earlier on-screen wife, Carrie on King of Queens, played successfully by Leah Remini for nine seasons. 
But the retired cop had a past, and it included working with another cop, Vanessa.
Vanessa was played by the always lovely Remini, and the ratings on that reunion episode set minds racing.
Should the network let Kevin Can Wait continue building an audience in its own right or should they revisit an old formula they already know to be a success?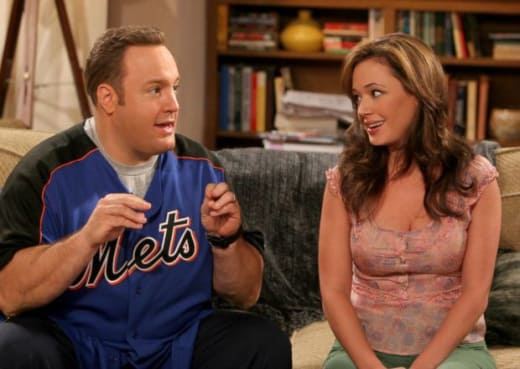 In what felt like a ridiculously swift rush to judgment, Hayes was given her walking papers.
Without another moment's hesitation, it was announced Remini was joining the cast for Kevin Can Wait as a series regular. 
Apparently, Kevin Can't Wait. At all. Kevin wants what he wants and he wants it now. And he wants King of Queen Redux, the clear winner in this competition we didn't expect to have at the end of a successful freshman season.
There is even more news out of the TCA press tour today about just what to expect from the show upon its return.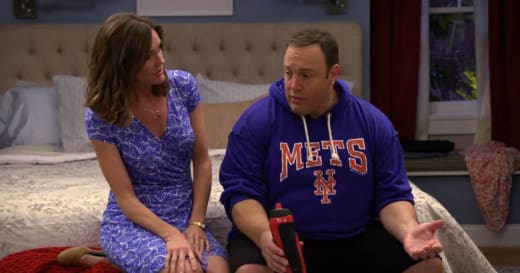 To put it bluntly, Donna is dead. 
We don't know how or why, but the series will pick up months after her death. As a fan of Hayes, I am very sorry to see her go because she's a big talent who wasn't given the opportunity to shine opposite James. 
She was used as any other "housewife" in the role when her skills far outweighed the comedic opportunities available.
I'm also saddened to learn they're taking an easy way out with her character because if she had merely gone off for a walkabout in the desert, someone could have come to their senses and realized the amazing opportunity of having both Hayes and Remini as a powerful antagonistic force against James.
Yes, James is the star, but he's Kevin. Whether he's playing Doug, Kevin or Mall Cop Paul Blart, he's dug himself into a comfortable rut and I know there is more in there other than fat jokes and condiments spinners (as amusing as they can be).
Not every show is a win, and CBS tends to take the more conservative approach to their shows. There's nothing wrong with that, and I admit I watch more CBS than I used to. It's an age thing.
But in my heart, I'm a TV Fanatic, and I see opportunities where they sit, and Donna's death on Kevin Can Wait is a clucking shame.
What do you think of this one? 
It's OK. Nobody is going to point fingers at you if you watch. We're a broad audience here, and we watch all kinds of television. Sometimes just sitting back and getting a giggle is just as satisfying as being in on the coolest joke. 
We love you just the same.
Share your thoughts on killing off Donna and not waiting to see if bigger and better things might be available down the road.
Carissa Pavlica is the managing editor and a staff writer for TV Fanatic. She's a member of the Broadcast Television Journalists Association (BTJA), enjoys mentoring writers, wine, and passionately discussing the nuances of television. Follow her on Twitter and email her here at TV Fanatic.