Midnight, Texas Season 1 Episode 6 Review: Blinded By The Light

Lisa Babick at .
There's something about Connor.
On Midnight, Texas Season 1 Episode 6, the Midnighters proved they would do whatever is necessary to protect themselves and their town no matter who the predator may be.
Connor's death was quick and painless thanks to Lem, but that didn't diminish the intensity of the hour, which was the best of the series so far.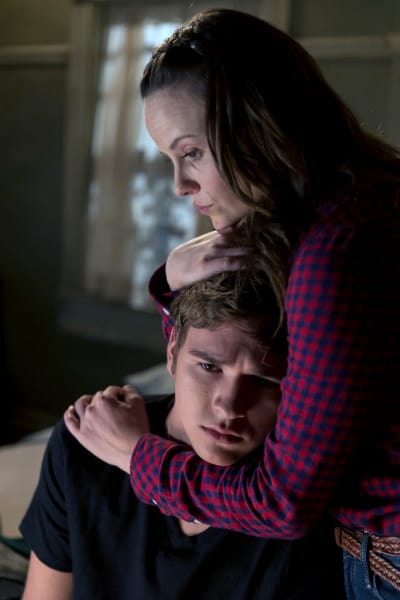 Connor was always a little strange, but who would have guessed he was out and about killing women. Like most psychopaths, his troubles began when he was a child.
Killing and torturing animals for fun is a strong sign that something is seriously wrong. And it's usually the first step before moving on to something bigger, like human beings.
His dad knew Connor wasn't right and chose to ignore it, putting the responsibility of caring for the boy on Creek's shoulders. She had no idea about her brother's proclivities, and it wasn't fair for dad to do that to her.
But is the dad the only one to blame? He claims he and his wife took Connor to see doctors, but nothing helped. Did they not tell the doctors the extent of Connor's issues? Because if a doctor knew a child was killing animals for no reason, wouldn't he be compelled to act on that?
They should all be held responsible for the women who died at Connor's hands.
Creek wasn't able to forgive her dad for what he did, and who could blame her, right? Still, it was heartbreaking watching her say her final goodbyes to her father. Breaking up with a parent is hard to do, but sometimes it has to be done. Sometimes it's just better for your mental health.
Now she's free and able to do whatever she pleases without the constraints her father put on her. There is a lot of baggage there that, hopefully, she'll be able to sort out. 
Knowing the fate of Connor also had to be very difficult to digest, but she had the support of the Midnighters. She may not have any supernatural abilities, but she's part of their family now. She knows they'll protect her and help her get through everything. 
She also has Manfred who won't be leaving her side anytime soon.
Their love-at-first-sight relationship started out cheesy, but this hour it clicked. It felt natural an real.
Actual, everything this hour clicked. Midnight, Texas may have had a bit of a rocky beginning, but it has definitely found its footing now.
The Rev couldn't hold onto the secret of the fraying veil any longer and shared the news with the other Midnighters. He didn't betray Joe but felt it was time they knew why all of their dark sides were rumbling so much lately.
Everyone was having issues, not just Manfred and Fiji. I'm sure the Rev knew all of it, so it was a relief seeing him open up and saying something. He even did it as a friend and fellow Midnighter, not as their keeper of secrets.
I was surprised he had something else in his closet other than black suits!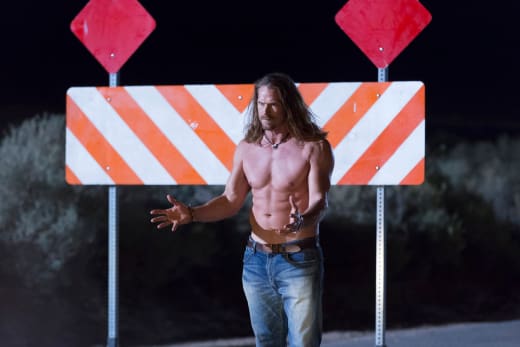 Joe had the opportunity to say something about the veil but chose to stay silent. It's not surprising. He's afraid of what's coming, but he realized that Midnight needs him, and he's prepared to fight. 
He finally revealed his secret to the others when he went to save Creek. They were all shocked as his wings unfolded, but he knew he was the only one who could get to her in time. And if it weren't for him, Creek would be dead.
He wouldn't have been able to live with himself if that happened. Even if he's a fallen angel, he's still an angel. He knows what he did was right. However, in exposing himself and using his light, he may have brought more danger to Midnight. 
He told the Rev earlier that he would be hunted if he exposed himself. Now that he has, the Midnighters have to be doubly prepared.
I imagine Joe is going to show everyone the painting back at his place so they all understand what they're going to be fighting sooner rather than later. I hope he also shares information on what may be coming after him. 
Maybe we'll even find out about Chuy and what he really is. It was revealed that Joe sent Chuy away, but it wouldn't be surprising if Chuy returned to battle beside his love.
What did you think of "Blinded By The Light"? Will Chuy come back to Midnight? Will Creek recover from her tragedy?
Hit the comments and share your thoughts!
If you need to catch up, you can watch Midnight, Texas online right here via TV Fanatic!
Lisa Babick is a staff writer for TV Fanatic. Follow her on Twitter.