The doppelgängers were on their own now that Anjelica died, Brady blackmailed a judge to help Nicole, and JJ figured out Eli's scheme this week on Days of Our Lives.
Our TV Fanatics Jack Ori and Christine Orlando are joined by Trey and Ronnie from MyHourglass a Days of Our Lives fan forum to debate Anjelica's limited return, what should Chloe do next, and who are the best and most disappointing couples in Salem.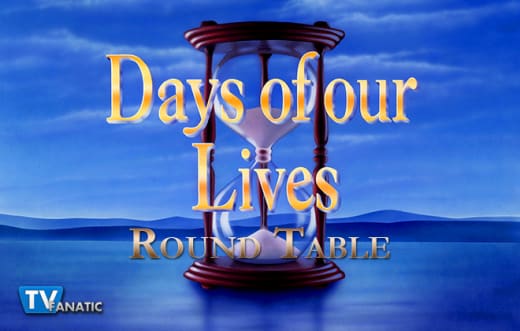 Now that she's gone, do you think there was any redeeming qualities to Anjelica's story arc?
Trey: I, personally, thought that Anjelica's Salem stay was fun. Morgan Fairchild added much needed comic relief to the role. Sure it was far fetched, but I thought it brought some humor to the show. 
There was a lot of heavy emotions going on with Abigail/Chad/Dario, Deimos' murder, and Kayla's torment/Joey's departure, so having something far fetched and fluffy was fun.
Jack: I really think Anjelica's death was a big waste. When Raines pointed out her relationship to Jen/JJ, it made me realize that there being a Deveraux in town wasn't utilized properly.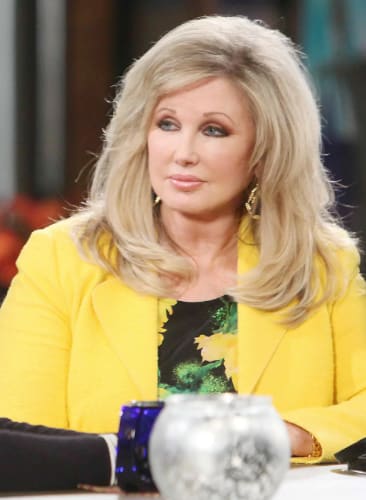 It would have been great for JJ to have tried to intercede in her bothering Jennifer and Adrienne over the Spectator and/or tried to seek any connection to Jack he could find instead of her running amuck with these doppelgängers. What an ignoble end to a legacy character!
Ronnie: I wanted them to use this story as a vehicle to introduce an adult version of Alex Kiriakis, so i'm annoyed they didn't. I like that it gave John and Marlena a story, as they were neglected by previous writing regimes.
Christine: I'm with Jack on this one. I always like Anjelica because she was smart and complicated and despite her flaws she loved her step-son Jack.
That wasn't the character they brought back. They sacrificed Anjelica's history for a farce of a storyline and then they killed her off. What a waste.
What should Chloe do now that she's back in Salem?
Trey: Chloe needs a job! Maybe she can buy club TBD and kick start her singing career. I really like the chemistry that Chloe and Lucas have been having. I am enjoying this version of Chloe so far.
Jack: Demonstrate she's now sane!  I'd like to see some sort of story about her struggling to raise Parker as a single mother, getting back into dating while raising her eight-year-old, answering Parker's questions about why he doesn't see his half-sister Holly anymore, etc.
Ronnie: Poor Chloe doesn't seem to have much of a place in Salem. Her going around Salem, randomly giving advices to different men kind of showed that. Perhaps she can run Club TBD now that Dario is gone.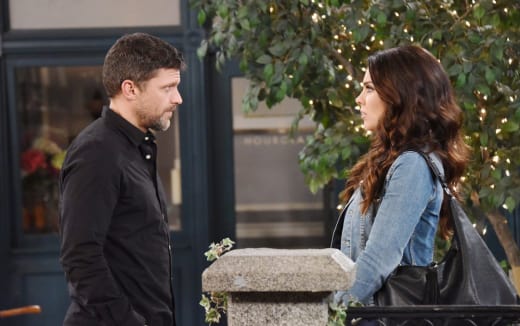 Christine: Wouldn't it be great to see Chloe written as a normal person? Having her run TBD sounds like a great start, and if she stopped shipping Parker off to his grandparents for weeks at a time it could help ground her. 
Perhaps she and Gabi could run TBD. They're both single moms in need of career paths. It could be fun to see two characters who have had no interaction begin working together. 
Should Brady have blackmailed the judge to get Holly back to Nicole?
Trey: Not really. Two rights don't make a wrong, but then again, I don't think Holly should have been taken from Nicole. I am glad she has Holly, but wish it'd have been because she deserved it, not because Brady had to step in and "save" Nicole yet again.
Jack: No! I understand that the judge was not clean to begin with, but this really soured me on Nicole's "victory." Stooping to Deimos' level did nothing for Brady's character or for this story, and I'd rather have seen the judge demonstrate compassion than be strong-armed into a decision he didn't agree with. I'm also really tired of seeing corruption be mistaken for heroism on this show.
Ronnie: I'm not sure, but something needed to be done to end this awful story and make Nicole stop crying 24/7. I guess, i approve of Brady blackmailing the judge for that reason, lol.
Christine: Ugh. I wish they would have proven the judge was corrupt instead of having Brady stoop to his level so he could feel like Nicole's white knight. 
Speaking of which, isn't it possible for Nicole to save herself, or for her to be smart enough to avoid having to be saved at all? 
Who is your favorite couple in Salem right now?
Trey: Great question! Despite that Kayla and Steve are having issues, I like that they're being honest with each other and working it out. I agree with Steve that their love will keep them together. Kayla's hurt but they'll work through it. 
I also like Chad standing by Abigail. I hope they work on their relationship because there's still a lot of love there. 
Sonny and Paul are a great couple, too. They just fit so naturally together. Runners up: Kate and Roman.
Jack: Do Roman and Kate count? They're not official, but I love them. I also like Claire and Theo now that Claire has been restored to her original character, and I'm warming up to Chad and Abigail.
Ronnie: Steve and Kayla are the best couple in Salem. Though they're going through a rough time right now, their love has survived so much and will continue to do so.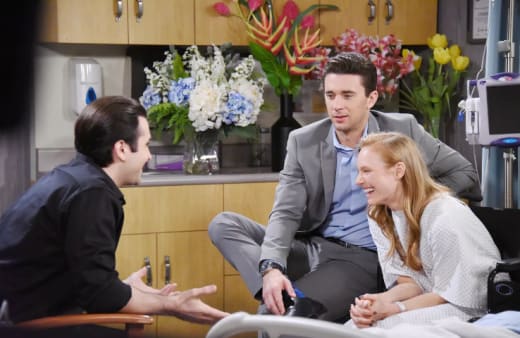 Christine: I'm beginning to root for Chad and Abigail again, and it's nice to see a couple who is happy and having fun just being together.
I also think that Kate and Roman have a lot of potential as they're both smart people with varied history. 
On the flip side, which couple has the least chemistry?
Trey: I'm not enjoying jealous Brady and secretive Nicole. These two just haven't learned their lessons. And, I don't like Marlena and John. I don't like how obsessed Marlena is with John.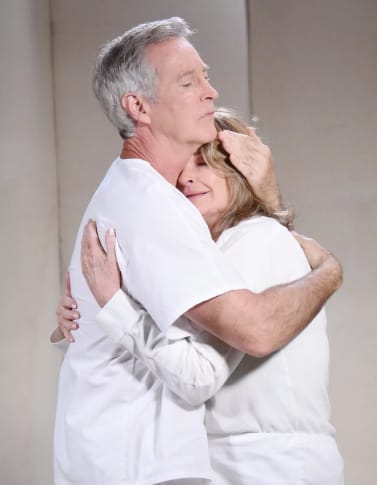 Jack: JJ and Lani. Their relationship began because Lani raped JJ and he was blamed for it, and all their interactions show that she has no clue who he is, is still trying to force him into a relationship with her, and is simply not smart enough to keep up with him.
Ronnie: Rafe and Hope. I hate them! I don't understand what the writers see in them. They have no chemistry, got together while covering up a murder and are both self-righteous. They're just insufferable together.
Christine: There are too many mediocre couples on the show right now. I had high hopes for Rafe and Hope but they're dull as dust together. Brady and Nicole are a train wreck in the making and Lani and JJ have been mismatched from the start and nothing can salvage that. 
What, if anything, disappointed you this week in Salem?
Trey: I'm disappointed that everyone in Salem knows what Eli was up to. I think there could have been a bigger reveal if the writers didn't tip their hands too soon. 
I also don't like Bonnie raping Lucas. If the roles were reversed and it was a drunk woman instead of a man, I think there'd be more outrage. Rape is never okay.
Jack: JJ should have been involved in the big sting against Raines since he figured it out on his own and is clearly the most intelligent and capable of all the cops. Or at least, he should have continued his own investigation since Eli was being an idiot about including him. We didn't need to waste time with his "romance" with Lani instead.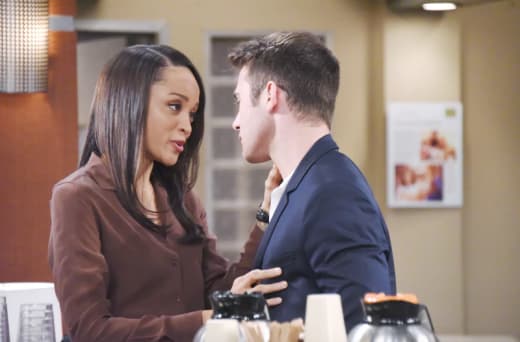 Brady's jealousy of Eric and blackmailing the judge was also a low point, as is Lucas continuing to drink. And can someone please recognize the super-obvious fact that the doppelgängers aren't who they claim to be, please?
Ronnie: Eli still having a thing for Gabi after she threw him away for Chad. JJ and him should stay away from her; she's not worth the trouble.
Christine: That Kayla is still angry with Steve. I hate that when anything goes wrong in their lives, her fallback position is to blame Steve. I love them as a couple but Kayla's self righteousness gets old. 
Also, Valerie lashing out at Eli felt all wrong. I know she has feelings for Abe, but shouldn't she give her son some sort of benefit of the doubt in this?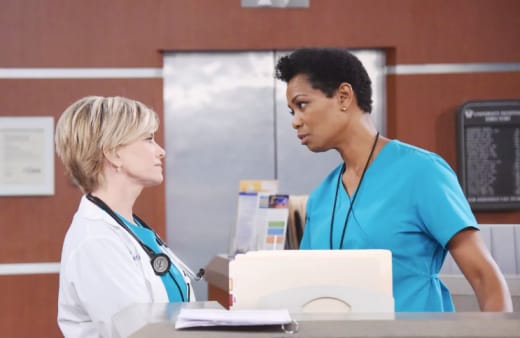 What was your favorite quote, scene, or storyline from this week on Days of Our Lives?
Trey: I had to admit I teared up with Nicole getting Holly back. And I did like Chloe and Lucas, and Chloe calling Lucas out.
Jack: I really liked the judge pointing out that the law is the law in this Days of Our Lives quote…
Nicole: I swear, I didn't go to the Square with the intention of breaking the court order.
Thorpe: And yet you did.
Nicole: She was left alone with her foster sister. Holly started to cry and the little girl didn't know what to do and panicked. So yes, I picked her up and held her in my arms, because that's what a mother does when her child is sad and crying. I am deeply sorry that I broke the rules, but I will not apologize for loving my daughter.
Thorpe: I appreciate the sentiment, Ms. Walker, but the law is the law. Feelings don't come into play.

I wish he had been written as a person of integrity instead of a hypocrite because the fact is Nicole did something stupid that jeopardized her custody case and actions should have consequences. 
I also loved JJ confronting Eli and putting the facts together, minus Eli getting physical and then trying to claim that JJ was the one with no self-control. This is the JJ I know and love!
Ronnie: Bonnie calling Hope Fancy Face had me laughing really hard. 
Christine: JJ figuring out what was really going on with Eli and Abe was a satisfying moment. Also, Bonnie vs. Maggie turned out to be far more entertaining than I expected. 
Now it's your turn TV Fanatics! Who is your favorite couple in Salem?
Want to chat more about the happenings in Salem? Then check out Jack Ori's Days of Our Lives review here at TV Fanatic.
C. Orlando is a TV Fanatic Staff Writer. Follow her on Twitter.