Suits Season 7 Episode 10 Review: Donna
Paul Dailly at .
Donna Paulsen is done hiding in the shadows and is ready to let the world know that she has a thing for Harvey Specter. 
It only took seven seasons, but Suits Season 7 Episode 10 finally got us closer to that Darvey pairing we've waited for for far too long.
Yet, in all honesty, I felt indifferent towards Donna leaning into kiss Harvey. 
The back and forth over the years has been such a drag, and there's no way of telling whether the show would even be able to continue with the two of them in a relationship and working under the one roof. 
Considering how long the show has been on the air and with the various teases along the way, it would have made sense to keep Donna and Harvey apart until the series finale. 
Now, I'm not buying her acting like she was kissing Harvey to see if it felt right because there's no way she is not going to feel something after all this time. 
I'm sorry, Harvey. I just had to know.
As a long-time viewer, I know the series needs to end sooner rather than later, and I sincerely think the end of the show will be coming sooner than we all think. 
It is no longer the ratings powerhouse it once was, and with the Jessica-fronted spinoff a lock to become a reality, Suits' days are likely numbered.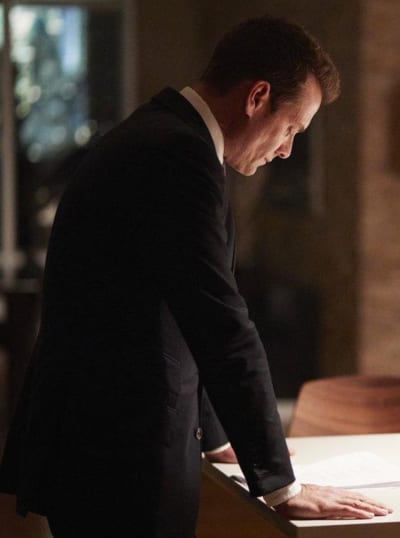 As a character, Donna is not scared of much, but she has been open in the past about taking the stand and her fear of it, so I completely understood how she felt betrayed by Louis. 
The whole notion that Andy was not going to have contingency plans in place if Harvey and Mike found a way out of the case was a bit absurd. There had to be some sort of consequence because everything on Suits seems to be brushed under the rug relatively quickly. 
It was horrifying watching Donna crack under pressure. That was the thing she was worried about happening, and then it opened the door for Andy to destroy her character in the eyes of the court. 
Despite her lack of grades, she has proven time and time again that she's an asset to Pearson Specter Litt. 
Implying that she slept her way to the COO position was a disgusting and misogynistic way to put it, and Andy should be ashamed of himself. 
The only positive from the whole experience was that it put Donna in a reflective mood, and thanks to some nudges from those closest to her, she plucked up the courage to let Harvey know how she feels. 
Will Harvey leave Paula, or will he try to let Donna down gently? They've been friends for so long now that it's difficult to see them as anything other than that. 
Like I said earlier, I don't see this becoming a full-fledged relationship until the end of the series. At least Donna now has her feelings off her chest, and it's down to Harvey to decide whether he wants the same thing as her. 
Jessica losing her license was quite the twist, but it made a lot of sense from a narrative standpoint. We already know that Jessica will be more involved in politics, so she was right when she noted that nobody in Chicago would care about it. 
The way she stopped by in a New York minute made me think she wanted to leave PSL in the past in order to finally move on with her life. 
Jessica has been such a powerhouse in the world of law that her name on the wall means a lot, and I won't be all that surprised if the firm has some more hurdles to clear without that wonderful name to reel the clients in. 
Louis annoyed me more than ever during Suits Season 7 Episode 10. I've rooted for him for so long, but the constant changes in his demeanor are becoming a bit too much to handle. 
One minute he's fine, and I forgive him. The next, he's asking his therapist to lie to benefit a suit. I don't get what goes through his mind, and I'm sure I speak for a lot of viewers when I say that I couldn't care less. 
His comments to Alex about being part of the family seemed like a convoluted way to immerse Dule Hill's character into the series a bit better. 
In fact, we could have done without Alex's plot during the episode. It added absolutely nothing to the narrative, and it made everything feel rushed. 
Alex is a decent enough character, but he would have been better served doing something else. Hopefully, he will have better things to do on the back half of Suits Season 7.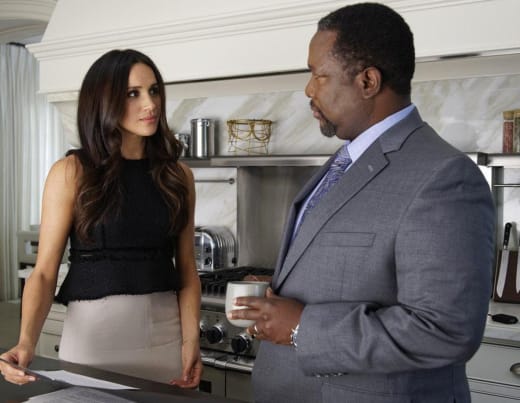 For the first time on Suits Season 7, the flashbacks were actually used very well. Despite the random plot thrown in to have Rachel working with her father, it was enjoyable. 
It was a revenge mission 25 years in the making, and Arthur deserved his comeuppance. Jasmine's life was turned upside down all because she did not want to sleep with her boss, and that is not okay. 
Arthur did not want any woman to get ahead him, and that's why he treated them like they were only good to sleep with him. He was a manipulative ass, and Rachel's line of questioning brought out his real character. 
She knew how much of an impact the death of her aunt had on her father's life, so she was ready to go to any lengths necessary to get some justice. 
I was not entirely sold on how it all came together in the end, but at least the Zanes finally got revenge on the man who has very clearly never heard of morals. 
"Donna," was all over the place. It was almost like production was like, "Crap, we still have all this material left. Let's throw it all together and hope for the best." 
Over to you, Suits Fanatics. What did you think of the episode? 
Sound off below!
Remember you can watch Suits online right here via TV Fanatic. Get caught up on all the action now!
Suits returns to USA Network in 2018!
Paul Dailly is the Associate Editor for TV Fanatic. Follow him on Twitter.