Blue Bloods Season 8 Episode 2 Review: Ghosts of the Past

Christine Orlando at . Updated at .
There was so much not said on Blue Bloods Season 8 Episode 2 that I found it more frustrating than entertaining. 
The most annoying of which was the missing Leah Harris. 
This could have been a fascinating mystery, if we had only been given all of the answers.
Leah disappeared from an overnight camp on Staten Island 13 years ago, never to be seen or heard from again, until now. 
"Leah" supposedly just showed up on her mother's doorstep saying she'd decided to come home. The original detective thought that made sense because Leah had a history of running away from home, but why wasn't anyone asking questions?
If this was Leah, where had she been for 13 years? How had she survived? Even as a parent grateful for a miracle, I'd still be curious and want answers.
The only person who seemed the least bit suspicious was the nosy neighbor who had been Linda's good friend. 
When Danny was told that DNA test matched, my first question was who performed it and how? Most labs or doctors take a cheek swab, so the fact that they sent in Leah's hair seemed odd, but that's because the fake Leah got it from Luke.
By why would Luke want Leah back? It had been 13 years, so I'm really not buying that he suddenly became so guilt-ridden that he wanted Leah back for his mom's sake.
If Luke was a drug user who was lying to his mother about living in Manhattan, then where did he come up with the $10,000 to pay Selena to pretend to be Leah?
And my two biggest questions were never answered at all; why and how did Luke kill his sister. 
They said Leah's family had checked her into an overnight camp on Staten Island while Luke had been at a baseball camp in New Jersey. We have to assume that Luke was a teenager old enough to drive, which in NY and NJ means he was at least 17. 
So why drive out to camp and kill his sister? Or how did Leah end up in Piscataway, New Jersey with him? 
Even the original detective dropped the ball badly. I can understand not checking every state individually, but New York, New Jersey, Connecticut, and Pennsylvania are so close to one another that not checking each one just seemed lazy.
There were so many plot holes in this story that it left me feeling as though I had wasted my time by investing in the story. 
The only upside was that we got to see Danny and his boys navigating life without Linda, most of which included food failures and successes, but that seemed both humorous and realistic.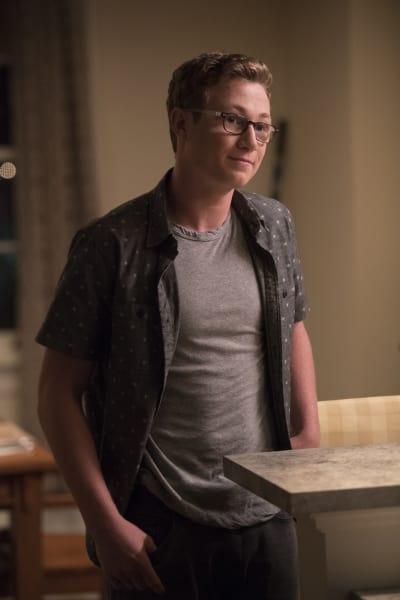 Elsewhere, Jamie and Eddie were on Congressman Richard Walters protection detail, and I have to say that for an actor who to this day is most recognized for portraying wholesome, always honest John-boy Walton, Richard Thomas does one heck of a job playing a morally corrupt politician.
Jamie: No matter the cause, a politician is a politician.
Eddie: You can't deny that he's helping people.
Jamie: I can't deny that's the soap he's selling.
As much as I love a happy ending, does anyone expect Andrea's visa to still work to get her back into the country after her visit with her kids? 
Now that he's paid up on Andrea's back wages, I'll be surprised if the Congressman doesn't decide he is no longer in need of her services during his campaign.
Of course, if we ever hear about this storyline again during Blue Bloods Season 8, I'll bet it will have something to do with this Blue Bloods quote...
You're threatening a U.S. Congressman. Rest assured, it won't end well for you.


Congressman Walters
Finally, we got to yet another controversy between Frank and the mayor. 
Did you hear me yawn as I wrote that sentence?
Yes, we may have a new mayor in town, but the story hasn't changed much. 
Are all relationships between mayors and police commissioners this contentious because if they are, it must be exhausting.
This time the quarrel was over the mayor ordering Frank to walk in the West Indian Day parade. Unfortunately, in real life, this parade has been marred by violence over the last few years, so adding any further tensions by honoring a man who was convicted of injuring police officers could only make that worse.
Frank: Are you asking me to boycott the parade?
Joseph: I wouldn't be so bold, Commissioner.
Frank: But you would?
Abigail: All day long, Sir.

I did think that Baker was a little too bold in this case. She was basically asking Frank to defy the mayor's order and risk being fired. As much as I appreciated that she felt comfortable voicing her opinion's to her boss, that felt like a lot to ask. 
The one thing that was missing was the exact wording of the statement that Frank wanted the mayor to read. Not hearing it felt like I was missing out.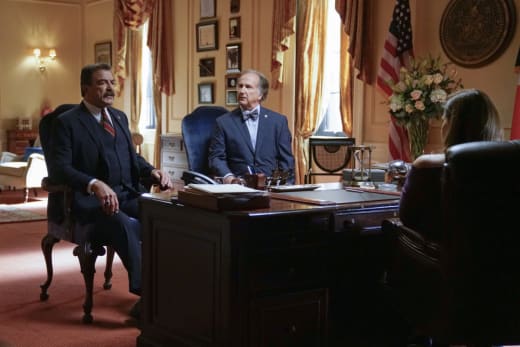 As for the Reagan family dinner, was anyone else bothered by Nicky sitting in Linda's seat? Not that they necessarily need to leave an empty chair, but seeing Nicky there was even more jarring. 
Next week I'll have the night off, but please check in for Jack Ori's review of Blue Bloods Season 8 Episode 3. 
And don't forget that you can always watch Blue Bloods online here at TV Fanatic. 
C. Orlando is a TV Fanatic Staff Writer. Follow her on Twitter.