Part of the charm of Bull Season 2 Episode 6 was in the underlying affection between Dr. Jason Bull and his high school sweetheart, Allison Campbell. 
It didn't matter that decades had gone by or that she had gotten married, lost her husband, and had a grown son.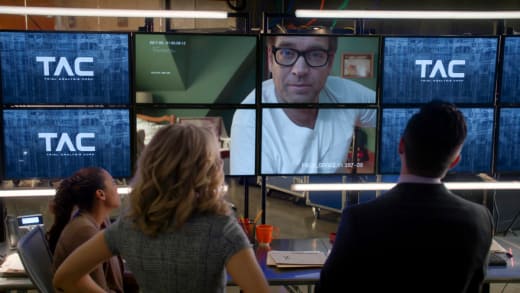 It didn't even matter that she was battling kidney cancer.
There was still a closeness that was born of shared history and an underlying love that a quarter century apart couldn't impede. 
Maybe it was the sweetness of first love, but Allison, and her son, Zack, brought out the best in Jason Bull, and I realized I'd been missing that during Bull Season 2. 
Not that I've minded that Bull has had a bit more edge to him of late, but it was good to see Jason Bull's heart on display, and his willingness to take on a difficult case for an old friend. 
However, I still enjoyed Bull's ability to be blunt so that his clients knew exactly what they should expect.
Plantiff: I have cancer, Dr. Bull. At the least I'm owed is an apology for what they've done to me.
Bull: I hear you and I agree, but that's never going to happen. Let me be clear, in a civil case the only good that can come is financial. No one is going to say they're sorry. No one from Warwick Furniture Manufacturing is going to jail, and no one can take away your cancer. All you can hope to win is money and that's what's on the table.
It was also good to see Zack grow as an attorney as he worked side by side with Jason Bull. Zack may have been just a young, small-town lawyer, but I think he proved to Bull and himself that he had the potential to be more if he chooses. 
The case of the week felt a bit like law drama comfort food. Big corporation poisons small town water supply causing severe illness in the residents. That was nothing new.
The best twist was finding out that Bryan was lying about his illness. How low do you have to go to falsify medical tests and game the system in the hopes of piggybacking the lawsuit payout meant for people who are dying of cancer?
That's got to bring on some horrible type of karma.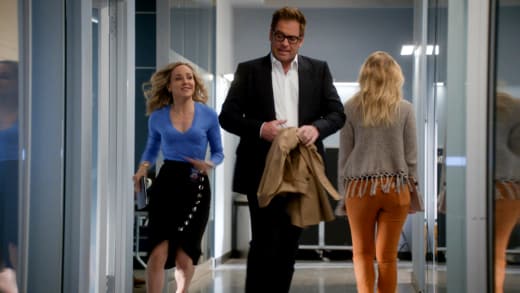 I was a little shocked that Bull thought that the defense was going to accuse Allison of lying on her insurance forms because she didn't list that her great-grandfather died of lung cancer.
Do you have any idea how your great-grandparents died? I certainly don't. How far back are we expected to go when talking about a family's medical history? 
Going all the way back to one's great-grandparents seemed extreme.  
But my favorite scene came from this Bull quote...
Let me explain something to you. Yes, you have money on your side and a small gaggle of attorneys, but your gaggle all specialize in one thing; keeping your clients out of court, and court is where I live every single day. I have more experience in court than all of Bartlett & Dunn put together, so if that's where you want to work this out, so be it. But if you wake up in the middle of the night and change your mind, that's my cell number.

Bull
Dr. Jason Bull lives and breathes the courtroom, and I loved hearing him use that as a weapon against attorneys whose entire job is to keep their client away from an actual trial.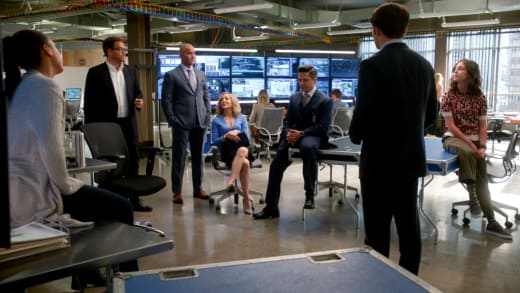 I also thought that his parting shot as he walked out the door was just perfect:
Ladies, Gentleman. Don't get up, I wouldn't for you.

Bull
Voir dire felt a little light in this installment, probably because they mostly focused on the one juror, although I had to laugh when they booted the one possible juror because his favorite sports teams were the Yankees, the Dallas Cowboys, and the Golden State Warriors. 
To say he gravitated toward Goliaths was an understatement. 
About the only thing I could have done without was Bull and Allison's version of rapping. 
Still, this episode did leave me with a few questions.
Such as, does Jason Bull really drink so much on a regular basis that he might not remember a conversation with Marissa?
Marissa: Were you drinking last night?
Bull: Was it a day that ends in Y?

I know it turned out that Marissa was setting him up to meet with Zack, but if that type of drinking is something Bull does regularly, then it seems quite excessive. 
I suppose I shouldn't be surprised we haven't heard any more about Marissa's new boyfriend, Kyle. It's not even that I want to see Kyle, as much as I want to find out if he's really the sleazy conman I think he is. 
Once again, I'm going to complain about Chunk. I know that there isn't time to focus on every character at TAC, but it feels as though Chunk has become nothing more than a background character in a boring suit. 
If he's had more than three lines in any episode this season, I'd be surprised. 
Also, it feels like Cable could use a storyline, too. 
I know that we're only six episodes in, but I'd like to see a bit more from everyone at TAC because as much as I usually enjoy the cases, it's the characters that keep me coming back for more. 
Tell me what you think TV Fanatics. Did you enjoy Jason and Allison's reunion? Should I give up on asking for more Chunk?
Check back for my review of Bull Season 2 Episode 7 on November 7, and until then, you can watch Bull online anytime here at TV Fanatic. 
C. Orlando is a TV Fanatic Staff Writer. Follow her on Twitter.