Trouble just seems to find Gabby Dawson.
I mean seriously, who just happens upon a parking garage collapse? As if Casey's impromptu promotion ceremony wasn't enough drama on Chicago Fire Season 6 Episode 4, Gabby had to almost die, like, five times.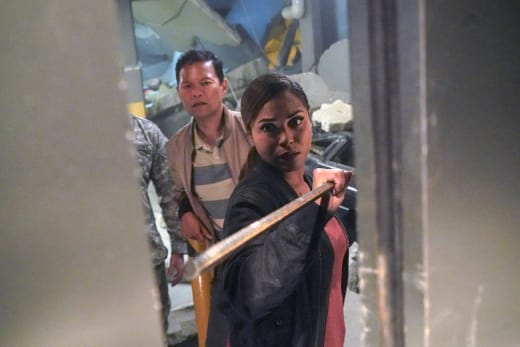 What I really couldn't stop thinking about though was how different Gabby's off-duty life-threatening experience was from Casey's on Chicago Fire Season 5 Episode 4, when Matt was trapped in a chemical fire. Okay, so that was a little different, with only two victims, but still.
Put Casey – or Severide or Herrmann or Mouch or Otis or basically anybody except Kidd or Brett – into the same situation, and things would have gone differently.
The number of times Sergeant Tucker "he-peated" Gabby would have had me seriously contemplating violence against the man. Or at least a very heated verbal beat down. 
Was I the only one disappointed that Gabby let his nonsense slide so easily? Sure there was some acknowledgment that his behavior was less than acceptable, but it was never articulated that is was because of his gender bias. You can't change a thing until you name it.
Brandon: I work in social services. Something I learned on the job: Understanding people is hard. We all jump to the wrong conclusions at times. No shame in it.
Gabby's dilemma might have been the catastrophe of the week, but honestly, it was the least interesting thing going on. I was much more eager to resolve the Hope situation.
What exactly is her end game? It's not as if a firehouse has a lot of money sitting around in petty cash to steal, or even the kind of accounts she could embezzle from. And she ended things with Severide, so it doesn't seem like some kind of stalkery, badge bunny kind of thing.
I want to know what's going on, but I'm still annoyed every time she's on screen. Maybe it's the flippant dumb-blonde attitude; maybe it's the lack of motivation for her actions. Let's wrap this up so she can GTFO of the Windy City.
Herrmann [watching Mr. Sprinkles the guinea pig]: Is he doing anything?
Otis: I'm not sure. Probably contemplating the futility of his own existence.
A departure I was sad to see happen was that of Mr. Sprinkles. I'm in total agreement with Max that he would make an excellent firehouse mascot, and if you think otherwise, you're just plain wrong.
I was disappointed in Matt for not accepting the gift with more graciousness. I mean, how cool would a giant guinea pig habitat at the firehouse have been? With Pouch gone, 51 could use a new furry friend. 
Nothing helps after a tough call like a cuddle with an ever-loving pal incapable of judgment. 
Matt [looking at Boy Scouts]: What's this?
Herrmann: Surprise?
Cindy: They've been asked to thank someone whose hard work and dedication inspires them.
Otis: Weird...didn't pick his old man.
And some members of the firehouse may be needing just such a cuddle sooner than they'd like. It looks like Severide and Casey may have some issues about the difference in rank after all. They'll have to work it out themselves on Chicago Fire Season 6 Episode 5 ("Devil's Bargain"). 
Really, we all should have seen that coming. Kelly and Matt may be close, but like brothers, they butt heads a lot too. More surprising is Stella getting physical with Hope. Get your minds out the gutter; there will be no mud wrestling for those two. 
Not to raise a stink, but if you go by 'Cap,' it's gonna be confusion. You need to emphasize the 'tain.' 'Cap-tain.'


Cap [to Casey]
An issue with the payroll is going to crop up, and Stella, knowing the rumor about Hope, obviously suspects her. This could go either way; Hope has been super shady, and I don't see why we should trust her, but it also seems in line with the Chicago Fire writers that Stella will have to be the one to make amends. 
Another plot point that could go either way is Otis pestering Casey about "beta-testing" some Japanese equipment. The odds of it turning out well for Otis or going hilariously wrong seem about 50-50. I won't lie, I'm hoping for hilariously wrong. I think we might need the laughter. 
If you missed out on "A Breaking Point," not to worry! You can always check out our past Chicago Fire reviews and watch Chicago Fire online.
So what did you think? #TeamHope or #TeamStella? Will we see Mr. Sprinkles again? Is Kelly really content as a lieutenant? Sound off in the comments section below!
Elizabeth Harlow was a staff writer for TV Fanatic. She left the organization in October 2018.