Empire Season 4 Episode 3 Review: Evil Manners
Paul Dailly at . Updated at .
Just how many family members in high places does Diana Dubois have?
That thought crossed my mind several times during Empire Season 4 Episode 3 as it emerged that she had a cousin in the world of banking and he took great pride in denying Empire a lifeline.
That lifeline was supposed to help the firm with some serious budgetary issues on the back of Cookie's big speech about making 20 albums for Empire's 20th anniversary. It was evident the bank was going to decline the request. 
The meeting happened a little too early in the episode for anything good to come of it. I can't be the only one who wanted Cookie to open a can of whoop ass on the banker for the way he spoke to her and Andre. 
Remember to dial 9 for room service.

Guard
Simply put, it was a little too obvious he was going to wind up being related to Diana. If you watch Empire online, you will already know that she's been trying her best to get revenge on the Lyon family after what happened to Angelo on Empire Season 3. 
It's crazy just how different Angelo is nowadays. He's a shell of his former self, and that's what happens when you own up to doing some sketchy things on live TV while taking the political route.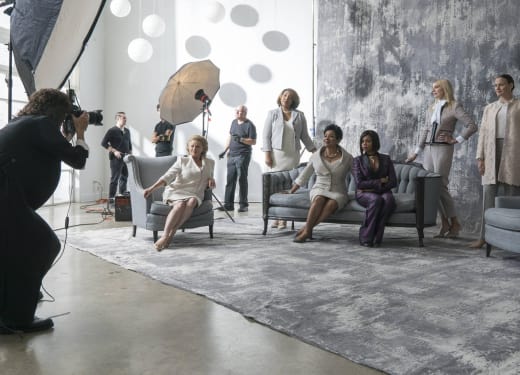 The teases of Cookie in prison worked really well to show Cookie's methodology for opening up to the women during the magazine shoot. Cookie could have very easily flipped out and made a scene when she noticed Diana was part of the shoot. 
Even though the women were all trashing her behind her back, Cookie showed maturity when she came clean to them straight off the bat. It was a rare moment on this show that did not feel convoluted.
She learned from the mistake of lashing out at the woman in prison who was actually trying to help her. Smack first, think later is a trait of the past for Cookie. 
Having all of the women agree to give Empire a loan was an empowering scene, but Cookie best be smart about Diana implying she's on Team Cookie because that woman is only going to do everything she can to tear the Lyon family apart. 
Cookie may be playing nice now, but when she learns the severity of what's going on, there will be hell to pay. All of the scenes with Cookie doing what was best for the company were great.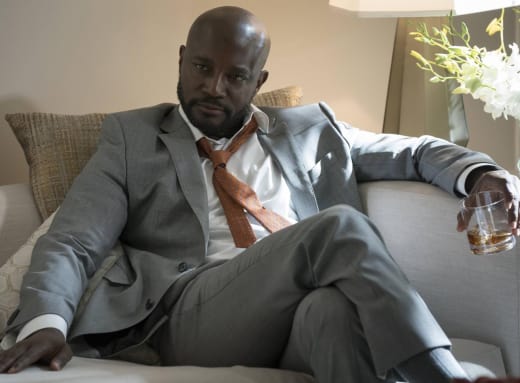 She went away for seventeen years, and never got much in the way of a thank you for what she did, so it was about time she finally got to have some power that did not involve Lucious breathing down her throat to find out what she's up to. 
Speaking of Lucious, I am loving the character on Empire Season 4. The whole amnesia plot seemed far too soapy on Empire Season 3 Episode 18, but it's a lot of fun watching the former villain react to all of the crazy things he's done over the years. 
For far too long, Lucious has been the resident villain, so it's refreshing to finally have him face up to what makes him the man he is. My one concern is that he's going to get all of his memories back and Claudia will turn him against everyone. 
Demi Moore's alter ego may have been out of the episode, but Lucious is still following her strict orders in her absence, and that's only going to continue to rub Cookie the wrong way. 
As for Jamal, it's difficult to get on board with his new relationship with Warren. He may be giving Jamal all of the surprises in the world to try and get closer to him, but he's also part of the Dubois family, and that's only going to make things worse. 
"Evil Manners" was a decent episode of this Fox drama series. The producers have finally found a way to find the perfect mix of drama and comedy, and it's making Empire Season 4 the most consistent season yet.
Finally, actions on the show yield consequences and it's just a shame the show has taken so long to get to this point. 
Other tidbits from this episode:
The new dynamic between Lucious and Jamal is delightful, but what will happen when Lucious learns about throwing his son in a trash can?
Andre needs to find a way to ditch Pamela because she probably has a video of him stripping off in his balcony. 
Since when was Lucious nice to Juanita?
Can Shine just disappear? We all know where his storyline is going. He wants a more significant stake in the company and will go to any lengths to get it. 
Poor Anika. She may be out of prison, but that does not mean she's getting her hands on Bella just yet. Tiana has never really been given much to do on this show, so if Anika gets Bella back all she will be left to do is participate in random hookups in bathtubs. 
Over to you, Empire Fanatics. What did you think of this episode? Are you enjoying the lack of sensational stories in favor of rich Lyon family spectaculars? 
Hit the comments below!
Empire continues Wednesday nights on Fox. 
Paul Dailly is the Associate Editor for TV Fanatic. Follow him on Twitter.