Ghosted Season 1 Episode 3 Review: Whispers

Yana Grebenyuk at . Updated at .
Some alien abduction stories are just not meant to see the light of day.
But really, Max's reunion with Claire was so out of left field that it deserves the attention compared to the rest of the episode. The case of the week was not as intense as Max literally getting ditched by his wife in favor of an escape.
On Ghosted Season 1 Episode 3, Max and Leroy go to Hawaii to crack a murder case. They do find some time to bond about their personal lives and even get to learn how to make some guacamole.
Back at the Bureau, Ava enlists Barry and Annie to help keep an eye on her daughter. This leads to a pretty great switch up when Sharon figures out what her mother is up to.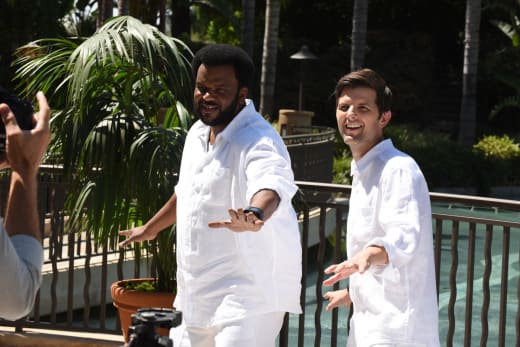 Max is not so slowly becoming my absolute favorite because he just seems like someone I want to be friends with.
Not only is he a true believer, but he is also all about making some learning to make guacamole, and he looks like the life of the party. Or at least my kind of paranormal party where we pose for two person bachelor party pictures because why not?
Max's greatest trait though is how open he is with Leroy and everybody he meets along the way.
It is through Max that we get the most humor and get introduced to new adventures.
But I am curious about Claire and what exactly happened to her most of all. Just like Max I want to know if she was taken by aliens, although by the looks of it she might still be involved with something sinister.
I actually don't mind that Claire is the main mystery arc for this season, I rather follow her along every couple of episodes and see what else we find out. Plus this is a great thing to drive Max; maybe it will even introduce both him and us to more aliens along the way?
I can hope.
Who would leave Hawaii to go to Florida? People live in Florida because they don't know about Hawaii.

Annie
Leroy is much more private but it was great to see some more about his own life.
And while Max needs to figure out his romantic life, it is obvious that Leroy needs to take so many steps back.
Getting turned down during a proposal is terrible, but having others see that too is even worse. It doesn't help that the next person he was interested in was planning to take his heart out of his chest.
Maybe Leroy has a certain type...
The best relationship that Leroy could be in though has to be his partnership with Max. Those two need each other, and I love whenever they share details of their past.
I'm here for some more ''successful'' gun range experiences, especially if I will learn new tricks like that from Max.
You had a solo bachelor party?

Leroy
Ava's family was a great addition outside of the case, and it was exactly what I wanted when I mentioned exploring interactions within the Bureau.
I always appreciate seeing how a team works during a case and in between a new assignment. There is space for business and growth as this family that happens to see each other more often.
Annie is a scene-stealing character too so finding out more about her past was interesting. Her sarcasm and honesty is a highlight for me, so I'm waiting for more scenes with her.
Maybe in the future, we will get to see her out there in the field for some reason?
There were a bunch more poses I wanted to try too.

Max
Cases of the week can't always be the biggest part of the episode, and this was one of those times.
The actual interactions that Leroy and Max had while looking for the murderer might have been more fun to experience this time around. Their dynamic is a strong one, which works for a show that has a partnership focus that we are meant to get invested in.
It might just be that I didn't like the paranormal feature of this new case, which I don't mind since everything outside of that more than made up for it.
With procedural stories, there can be an imbalance from time to time, but so far Ghosted proved that it could handle it by making the other side weigh more throughout the episode. 
Oh Whispers, I wonder what they are whispering about.

Barry
What did you think of the new episode? More paranormal or less paranormal going forward? Which character do you love the most right now? What could you do without and what do you enjoy the most? What do you think is going on with Claire? Let us know what you think below. 
And don't forget that you can always watch Ghosted online right here on TV Fanatic!
Yana Grebenyuk was a staff writer for TV Fanatic. She retired in April 2021.