Grey's Anatomy Round Table: Farewell, Nathan!

Jasmine Blu at .
A surprising and quiet exit of a series regular happened on the latest installment of Grey's Anatomy. 
On Grey's Anatomy Season 14 Episode 5, Nathan Riggs was granted the opportunity to start over new with Megan and Farouk. The happy family relocated to Malibu to start their life together. 
Join TV Fanatics Stacy Glanzman, Paul Dailly, and Jasmine Blu as they discuss the Hunt siblings making amends, Megan and Nathan's happy ending, and Amelia and Owen parting ways.
Nathan has officially left GSM. How do you feel about his departure?
Stacy: I'm okay with it. I was never really attached to him, and I loved the way they wrote him out. It was great watching him bond with Farouk and that final scene of the three of them playing in the ocean was so sweet. I'm happy for them.
Paul: I thought it was a great exit. It's not often this show lets characters go without some high drama, so it was good that this one was very much grounded in reality. It was perfect.
Jasmine: Underwhelmed. It just sort of ...happened. I guess I expected something more. I still was under the impression he was going to have a bigger story arc or develop more. Their happy family moment was sweet though.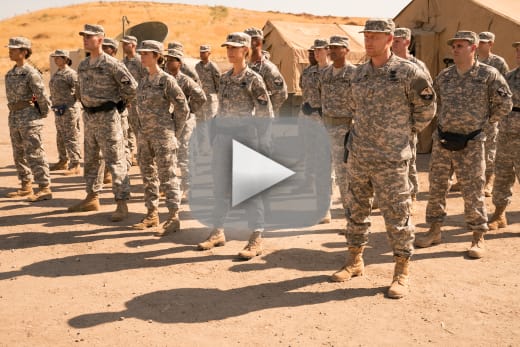 Did finding out that Megan cheated on Nathan change the way you felt about his affair?
Stacy: Not really. I had kind of forgotten about Nathan's affair, to be honest. It's all in the past now and they have a second chance. They're not wasting it by dwelling on old mistakes.
Paul: Nope. It did prove they were both as bad as each other, but like Megan explained to Owen, people make mistakes and learn from them. They had been given another chance at love and they took it. Good for them.
Jasmine: One of our commenters on the review mentioned that it felt as if they retconned the situation with the second affair, and I agree. It was such a random thing, and I disliked that aspect of it. It didn't change how I felt about the initial affair though.
Was Owen too protective and controlling over Megan?
Stacy: Yes, definitely. He was getting on my nerves in both the present and the flashbacks. I was glad by the end he finally started treating her like an adult.
Paul: Yes, but I can understand why. He thought she was dead, and it was difficult to have her back in his life again only to lose her. He needed to understand he was not really losing her. She was merely moving a few hours away to make up for the lost time.
Jasmine: Yes. His behavior in the flashbacks was overkill. I agree with Paul. I can understand why he would be clinging to her so much in the present, because he thought she was dead for a decade, then when she returns she already wants out.
Are you relieved that Owen and Amelia finally parted ways amicably?
Stacy: Yeah, I think this was the best resolution for them. Watching them attempt to stay together would have been frustrating, and they got married without really knowing each other. Now they have a chance to start over and still be friends which will make having to work together a whole lot easier.
Paul: Yes. It was so mature, and that's about all I can ask for from these characters. They didn't know how to be with one another after everything that happened. Their relationship was fading long before the tumor came into play, so it was time.
Jasmine: Agreed. It was mature and necessary. It was also long overdue. I like that they can be friends now.
What would you grade "Danger Zone" and why?
Stacy: I'll give it a B-. I enjoyed the Nathan/Farouk scenes a lot, but Owen was really annoying, and I missed the rest of the cast. I'm starting to get tired of these "character-focused" episodes.
Paul: I'll give it an A. I tend to hate the "character-focused" episodes, but I felt like this one was wrapping up the story for two characters, and we needed the flashbacks to see what happened. I would not have been impressed if the reveals came out during a chat between the characters.
I thought seeing everything playing out in the front line was a nice break away from GSM. Aside from the other episodes this season, this episode was better than everything Grey's Anatomy Season 13 had to offer.
Jasmine: C+. I was bored for most of it. There were a couple sweet and amusing moments though.
OK, Grey's Fanatics, we're turning it over to you. Do you agree with our Grey's Anatomy Round Table? Do you disagree? Hit the comments below and let us know!
If you missed Nathan's swan song, or you just want to see it all over again, you can watch Grey's Anatomy online right here via TV Fanatic.
Jasmine Blu is a senior staff writer for TV Fanatic. Follow her on Twitter.