Keeping Up with the Kardashians Season 14 Episode 4 Review: Clothes Quarters

Jay Ruymann at . Updated at .
In true Kardashian fashion, dealing with your problems happens while getting a mud treatment.
On Keeping Up with the Kardashians Season 14 Episode 4, we finally see a little bit of interaction between Kourtney and Kendall as they work out some of the kinks kinks in their relationship.
It's been a long time coming to see Kourtney and Kendall finally have some time to themselves because if it wasn't publicly known, would anyone suspect these two are sisters? Their relationship has been practically non-existent.
Kourt thinks Kendall doesn't like her.

Khloe
We don't see nearly as much of Kourtney with Kylie or Kendall as we see Kim with them or even Khloe. The age gap aside, Kourtney just doesn't have the same things in common with Kendall and Kylie, but more Kendall, which makes their relationship quite awkward.
It is a bit unrealistic to expect all of these sisters to have tight relationships with one another, but that's what makes the KUWTK: the relationships in this family and how they progress as time goes on.
This isn't Jerry Springer. You're not gonna, like, beat up your sister.

Khloe
Now that Kendall and Kourtney have discussed their problems while chillin' at a spa, hopefully going forward we see some growth in their relationship and see more of them together. Pretty sure we can count how many one-on-one scenes the two have had over the series' 14 seasons on two hands. Maybe even one.
Seeing Kourtney, Kendall, and Khloe all having a fun weekend in Santa Barbara was very entertaining and genuinely enjoyable. It's a good reminder the show doesn't always have to be focused on drama to be engaging.
Kim: Her body is the accessory.
Kourtney: Is that Kanye's phrase?
These girls and this family are hilarious and pretty reckless, and that's what engrosses people in Keeping Up with the Kardashians. It's not about the drama; we see all of the drama months before when it first hits.
As for Kourtney's other conflict, well, can't we all say we're tired of Scott by now? Sure, he provides some comedy, but overall his time has passed.
We've been dealing with the back and forth between these two for years – both on the show and in the media – and by allowing Scott to remain as part of the narrative, they're enabling his behavior because he's getting the attention he wants and craves.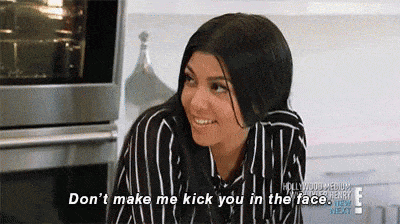 The Kardashians needs to cut Scott loose, at least from the show.
Allowing him time on the show allows him to retain importance in the public eye, and it just creates more problems for Kourtney going forward.
Her kids are going to grow up and see some of the things their father did on the show, and it's not going to be a good conversation to have with them when they're questioning how many women their father has been with and the amount of "wild binges" he's gone off on.
Kourtney has moved past Scott romantically, at least it seems she has, so let's get a little more focus on her current love life rather than her past love life. When it comes to Scott, keep his involvement strictly to the children.
In order for Scott to ever "fix" himself, like he's always saying he's trying to do, he needs to be cut out and stop getting the attention that drives him further off the deep end.
Khloe: Actually I get told I have really good style... from, like, a lot of people.
Kim [rolling her eyes]: Really? What people?
Kim and Khloe's role in the episode was particularly entertaining because it was so unexpected. Did anyone really think Khloe would, in good heart, take her sister's fashion advice and wear the clothes she packed for her?
First of all, can we just discuss Kim's "robbery" at Khloe's house? What the hell do they think breaking in is?
Kim and Jonathan literally went into Khloe's house, took the time to eat and make a protein shake, and then rifled through Khloe's closet to replace her already-packed suitcase with Kim's replacement one.
Like, we all know Kim left that day feeling like this.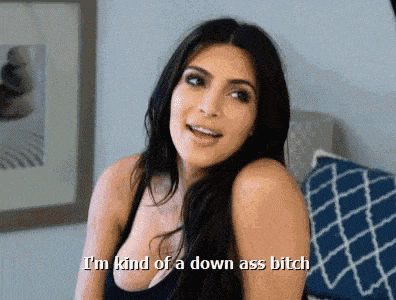 Without much to do, Kim was "breathing up [Khloe's] ass" when it came to her fashion makeover.
It's nice to see light-heartedness on this series when the girls are made out to be so horrible in the media every day, and they're always dragged for any of their actions.
As I wrote before, the show is best when it's just emphasizing the relationship between all of them, rather than when they're addressing things like Kourtney and Scott or Kendall's Pepsi commercial.
What did you think of Kim's "makeover" and Kourtney and Kendall's bonding session? Leave your thoughts in the comments below! I'm excited to be sharing my thoughts on the series with y'all going forward!
Don't forget, you can watch Keeping Up with the Kardashians online right here at TV Fanatic!
Jay Ruymann was a staff writer for TV Fanatic. He retired in January 2018.