Law & Order: SVU Season 19 Episode 2 Review: Mood

Jack Ori at . Updated at .
False rape reports hurt real victims.
Law & Order: SVU explores this issue often. Historically, the series hasn't been afraid to admit that false claims of rape do exist and that every case needs investigating.
Benson and Rollins tend to always err on the side of believing all rape claims unless proven otherwise, while the guys tend to be more skeptical. But not on Law & Order: SVU Season 19 Episode 2.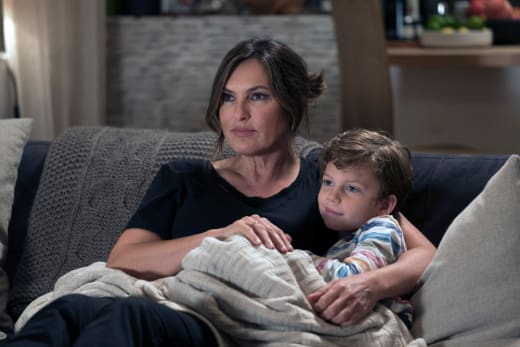 On "Mood," Benson believed a victim that made Rollins skeptical.
It turned out Savannah Ross was telling the truth, but considering her track record and the doubts surrounding her claim, could the detectives be blamed for questioning her story?
I liked the way seeds of doubt were sown throughout the first half of the episode.
Although the hour opened with a rape similar to the one Savannah described, the victim was much older. Then, little by little, other reasons to disbelieve Savannah came out.
Viewers learned along with the detectives that Savannah had left out reporting the rape when it happened, that a police detective didn't believe her, and that she had cried rape at least once before to get out of trouble.
I kept thinking of the rape we saw at the beginning of "Mood," but that didn't convince me Savannah was telling the truth. I thought maybe she was conspiring with the rapist and decided to claim she was a victim. That's how effective the writers' attempt to create doubt was.
Savannah: You know what you pray for? A lightbulb. The other one burned out cause you were too scared to get up and turn it off.
Benson: I'm so sorry.
Savannah: You know what's worse than being scared? Being pitied. Yeah, I should have told that other detective. But what's the difference? People like you never believe people like me.
It didn't help that Savannah kept telling half-truths and stories that seemed designed to manipulate listeners into feeling sorry for her. Rollins' assertion that Savannah was playing them made sense, and so did her suspicion that Benson's personal situation was clouding her usually stellar judgment.
It wasn't until we met Nancy, the victim shown in that opening scene, that anything began to make sense.
Savannah: Nobody believes me. I just have one of those faces.
Olivia: That's not true.
Savannah: You didn't believe me.
Olivia: That was 100% my fault. I made a mistake and I'm sorry.
Savannah: Can I get you something? I don't have anything to drink but I have some cronuts. Not a croissant, not a donut. It doesn't know quite what it is. Just like me.
Rollins and Benson both apologized to Savannah. That was classy and probably the first time in her life anyone ever admitted that they were wrong about her. But at the same time, I couldn't blame them for the conclusions they jumped to, considering Savannah's behavior and her history.
Woman: Give me that! You can't touch that.
Sonny: Ma'am, this is a warrant. It says I can touch whatever I want. Including that bracelet. Take it off and give it to me.
Once it was established that this rapist existed and Savannah didn't make up a story to get a new apartment, the story switched to a standard investigation story. The investigation would have been more interesting without a couple of coincidences for the sake of time.
It was extremely helpful that a woman just happened to come forward who had narrowly escaped being raped by the perp a few years ago.
Even better, she'd injured the rapist and remembered seeing him the next day encouraging others to sign a petition she had signed a few days before her attack, so she could give the detectives the key piece of evidence they needed to tie everything together.
I hate when SVU relies on these types of coincidences to solve crimes. I'm sure it happens in real police work sometimes, but it's not a good way to resolve a story. Whenever they do this, it feels like the writers realized all of a sudden that they were running out of time and just made up a random person to move things along.
It would have been much better for one of the detectives to be combing through old cases and discover this witness.
They could even have had the skeptical police detective from the 21st Precinct mention that Savannah's description sounded like this other case he'd worked, but her behavior made him think she'd just read about that case in the newspaper.
That way, it wouldn't seem so much like the writers pulled a witness out of thin air to help the detectives crack the case.
Woman: Give me that! You can't touch that.
Sonny: Ma'am, this is a warrant. It says I can touch whatever I want. Including that bracelet. Take it off and give it to me.
Tommy's mother was pretty creepy. The second she invited the detectives into the house, I could tell something was off about her. Her reaction to Fin finding the victim list made me think that she was fully aware of what her son had been up to.
I'd think Carisi would have to present the warrant before they started tearing the house apart, even if the woman did invite them in, though. I guess that wouldn't have been as dramatic, but the cop who is moonlighting as a lawyer should know better.
Naturally, once Tommy was found, the cops had to chase him all over New York City. I was glad Fin and Carisi were nearby because at first, it seemed like Rollins was chasing him without backup.
I tend to tune out during chase scenes because no matter what cop show it is, they're always the same. I was surprised that Tommy fell to his death, and I couldn't tell if it was an accident or not. Carisi seemed upset, but it was still pretty ambiguous.
Michelle: Cards on the table. When they found William Lewis, you'd beaten him to a bloody pulp.
Olivia: When I finally got to the other side, when I knew I was gonna live, I was gonna be okay, I realized I wanted more. More than the job. More than the relationship. The reason I fought so hard was for Noah. And I hadn't even met him yet. The thing I'm guilty of is I was distracted. I was on the phone. I took my eyes off him for one second. That's what I did wrong.
I was glad that the Benson abuse case drama was kept to a minimum. I think this investigation is ridiculous and considering how overworked ACS is the last thing they need to do is waste time on that.
I did like the opening scene between Benson and the DA investigating the case. I knew Benson beating up William Lewis was going to come up, though equating her behavior moments after escaping a crazed kidnapper and rapist who was probably going to kill her with how she treats her son on a regular basis is nonsensical.
I am also not sure that asking about her therapy is fair game. Do HIPAA rules not apply to child abuse investigations? And, more to the point, since when does receiving mental health treatment make someone an unfit parent?
Next time, Brian, don't help me.

Olivia
In any event, I could have done without the whole Cassidy involvement thing. 
I never liked Benson and Cassidy as a couple, and I don't need to see them arguing now. Plus, confronting Cassidy did nothing positive for Benson.
If he is pulling the strings, all she did was make herself look unstable, which doesn't exactly suggest she's a fit parent.
Wouldn't it be better just to let someone in the DA's office know that she and Cassidy used to date and that he shouldn't be involved in this investigation because of their relationship?
It's probably nothing, but I was curious about what that phone call from Fin was that Benson skipped in favor of spending more time with Noah and whether ignoring it is going to come back and bite her in the butt.
What did you think of "Mood"? Did you know what to make of Savannah and her story? Have you had enough of this abuse investigation storyline yet? Do you think Benson should have answered her phone?
Weigh in below, and don't forget that if you missed anything you can always watch Law & Order: SVU online to catch up.
Jack Ori is a senior staff writer for TV Fanatic. His debut young adult novel, Reinventing Hannah, is available on Amazon. Follow him on Twitter.