Law & Order: SVU Season 19 Episode 3 Review: Contrapasso

Jack Ori at . Updated at .
Ever since Olivia Benson adopted Noah, there's been one threat to his adoption after another.
On Law & Order: SVU Season 19 Episode 3, Olivia was finally cleared of the spurious charges of child abuse, but she barely had a second to celebrate before getting more bad news.
Noah's maternal grandmother is apparently alive and well, and by the end of the hour she was the second person to interrupt Olivia's bonding with Noah at home with bad news.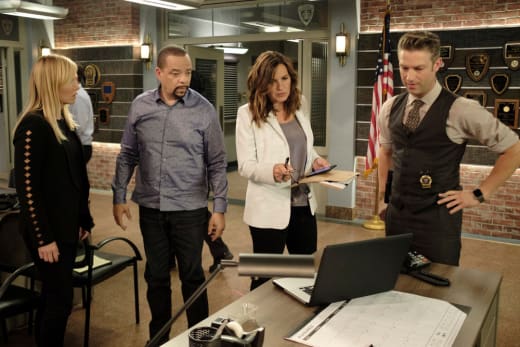 Noah seems to be Olivia's reason for moving forward with her life lately, but enough is enough. Olivia has now been threatened with losing custody of him due to mysterious bruises twice and already dealt with Noah's father, a violent criminal who wanted custody of him.  
Can she and this grandmother please work out a joint custody agreement quickly so we can move on to some other type of storyline?
The show was wise to keep this nonsense mainly on the backburner, but you know there's going to be a lot of drama and possibly a few returns to family court before this is settled.
It would be a potentially interesting story if it weren't the latest in a string of stories about Olivia's custody of Noah being threatened.
Olivia initially got Noah in the first place because her attendance at every single one of his many foster placement hearings impressed the judge. That judge thought Olivia was the only adult who had demonstrated any interest in Noah's well-being.
So how about this long line of people waiting in the wings to take Noah away gets reminded of that and we move onto something else?
A man's store burns down, so he goes out, buys a book of matches and some gasoline and burns down the arsonist's house. It's fair, so it must be just. A man sees his children die in front of him so he buys a gun, finds the killer, splatters his kid's brains all over the bedroom walls. That's fair! That's just! Why bother with cops and courts? Let the blood flow in the streets! Don't like it? Get a bigger pair of boots!

Barba
The case itself was interesting, and my favorite part was seeing Barba be so passionate in the courtroom.
SVU doesn't always bother with the courtroom drama aspect that the Law & Order franchise is known for, so I'm still thrilled when we get to see the trial. I've never seen Barba be so passionate in a closing statement, ever, and I absolutely loved it.
I thought he was right, too. No matter how justified Evelyn felt in avenging her rape, she engaged in a violent act of vigilante justice. Once that kind of behavior becomes excusable, where does it end?
Barba took the defense's argument to its logical extreme and did it with passion and anger. He seemed to take Olivia's reminder to heart that prosecuting rapes helps give new rape victims hope.
Evelyn: But you're still going to prosecute me.
Benson: You didn't just punch him in the face or break his nose, Evelyn. You took a knife -
Evelyn: Yes, I took a knife. I took it for protection.
I was a little confused about the case and who was actually on trial. Evelyn was charged with castrating Karr until she reported her rape, but I wasn't sure if her case had been dismissed.
At first, I thought both she and Karr were on trial, and Barba seemed like he had switched places with the defense attorney because his case hinged on defending Evelyn's actions.
There were some powerful moments at trial, though. The most memorable was Evelyn breaking the conch shell and cutting her hand. I thought that showed her instability, but apparently, it just showed how much Karr had hurt her and drove his wife to finally dig up proof of Evelyn's claims.
I was surprised that Rollins doubted Evelyn's story while Fin believed it entirely. That seemed like a role reversal for these two. Rollins is often the only one on the victim's side, while Fin and Carisi tend to take the side of the rapist unless evidence to the contrary surfaces.
Evelyn: Then - you can't understand. You're a man.
Carisi: Listen to me, Evelyn. That man is a predator. What he did to you was wrong.
Evelyn: Yeah? What do you know about it? You can't understand what it's like.

Carisi's conversation with Evelyn was among the strongest scenes of the hour for this reason.
Evelyn didn't want to talk to a man about what had happened and clearly assumed Carisi was on Karr's side. He handled it masterfully, though knowing you'd be angry if your niece was sexually assaulted still isn't the same as experiencing it yourself.
Carisi is often shown defending the Catholic church, and I was trying to remember if he'd ever been molested by a priest when Evelyn said what she did.
It wouldn't have mattered much to her if he had; her experience had soured her against men. But I couldn't help thinking that it would have been a powerful scene if Carisi had disclosed that he had been sexually abused as a child too.
Rollins: What are you doing?
Evelyn: I have to take meds.
Rollins: What kind of meds?
Evelyn: They're for anxiety.
Rollins: Meds, booze... what's going on in your life, Evelyn?
I was slightly uncomfortable with Rollins interrogating Evelyn about her mental health. She was asking about a lot of private medical info, and I felt like she was using Evelyn's mental health diagnoses against her.
I know Rollins was trying to find out what had happened to Karr and had very little to go on at that point, but that still didn't sit well with me. I guess SVU is always going to have someone cross the line at least once per episode and this week it appeared to have been Rollins' turn.
Fin: That seem sketch?
Carisi: Well, people do lose their credit cards.
Fin: Especially after cutting off some guy's testes.
I thought there were a couple of loose ends in need of tying up. Maybe my mind wandered for a second, and I missed it, but what happened to the other two women? It seemed like only Evelyn was threatened with arrest.
I'm also not sure why SVU made such a big deal out of Julie having what appeared to be an abusive boyfriend.
Maybe it was merely that Julie's abuse by Karr as a teen leads her to choose abusive partners, but it seemed like there was far too much emphasis placed on this.
The boyfriend was verbally abusive in front of Carisi and Fin, and later someone made a sarcastic comment about it when Julie wanted to leave the station to get back to her boyfriend.
Why make it clear she is in an abusive relationship and do nothing about it? 
I wondered if this will come up in a later episode or if it is a red herring that was over-emphasized for no good reason.
Carisi: I was about eight years old and I helped myself to some Rolos.
Fin: When I was that age, Jou-Jous were my thing.
Carisi: So my mom, she busted me. She made me go back in the store and cop to the whole thing. I cried. I cried like a baby. And the worst part was, I had to do it all over again come Sunday in confession. But as much as she busted my chops over it, I'm grateful at least she never told my old man.
Fin: My pops would have backhanded me if I did something stupid like that. I stayed out of trouble mostly out of fear.
I really enjoyed Carisi and Fin's casual conversation at the beginning of the hour, though again, I wondered whether this would have some significance later. I'm enjoying seeing these two bond, especially since Fin was absent for most of Law & Order: SVU Season 18.
What did you think of "Contrapasso"? Were you moved by Barba's passion? Did you think Evelyn should be punished for her violent solution to the problem of having been raped 20 years earlier? Are you tired of these constant threats to Noah's adoption?
Weigh in below, and don't forget you can always watch Law & Order: SVU online if you missed anything.
Jack Ori is a senior staff writer for TV Fanatic. His debut young adult novel, Reinventing Hannah, is available on Amazon. Follow him on Twitter.