Major Crimes Season 6 Episode 1 Review: Sanctuary City Part 1

Jack Ori at . Updated at .
I've been heartbroken since I found out that Season 6 is going to be Major Crimes' final season.
This is one of my absolute favorite shows, and Major Crimes Season 6 Episode 1 reminded me of just how much I'm going to miss it.
Provenza's usual wisecracks and refusal to get with the program were there. So was Sharon's attempt to mother Rusty, an engaging and ultimately tragic mystery, and a whole host of suspects who were only telling the cops half the story.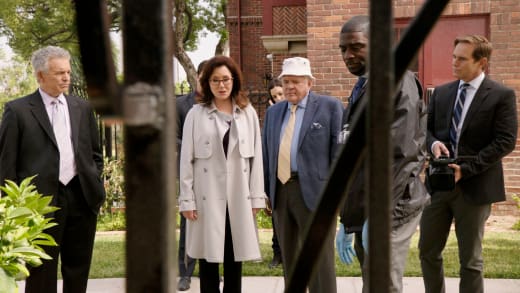 On top of that, Sharon has the flu -- but is that all it is?
I loved the way that "Sanctuary City Part 1" weaved topical issues into the narrative without seeming heavy-handed or distracting from the story one bit.
Provenza: Can I ask a question, Chief Mason? Why is this a major crime?
Chief Mason: If these were three white boys who turned up missing --
Provenza: Don't make this about race.
Mason: Times we live in, everything is about race. That's the way it is.
Provenza rolled his eyes at Assistant Chief Mason arguing that he would take the disappearance of white children more seriously, but racism certainly played a role in this story somewhere. I'd love to know what's up with Marvin Garrett and why he thinks calling ICE on his neighbors is the right way to resolve disputes.
More disturbing is the fact that Garrett thinks missing Latino children is something to celebrate.
Garrett: Don't come on my property again without a warrant.
Provenza: I don't think you understand, sir. We have three missing boys. This is a crisis.
Garrett: You call it a crisis, I call it a good start.
I'm disappointed that Julio was off-screen taking care of his seriously ill mother because I'd love to see his reaction to all of this. Julio has struggled with anger management issues in the past and probably wouldn't appreciate Garrett's overt prejudice against Hispanics.
Maybe he'll reappear before this case is over. His absence was a low point in an otherwise solid story.
The search for the missing boys certainly was suspenseful!
As usual, Provenza wasn't convinced anything happened until there was proof staring him in the face that something worth investigating was going on. But once the search got into gear, I was continually holding my breath.
The scene where the dogs found the empty car made me so nervous I could hardly stand it. I was sure we were going to find a body somewhere in that car.
So was Tao, and I was as shocked as he was that there was nothing inside the car trunk. For a second I thought I saw a blood stain, but clearly, that was my imagination since Tao didn't mention it when he updated the others.
Provenza: Well, there's our diabetic. The question is, where are the other two boys?
Sharon: [tearful]: That is an excellent question.
It seemed like sooner or later the boys would turn up dead, so it wasn't entirely surprising when Lucas' body was found.
It was a powerful scene, though, starting from Sharon thinking Andy just wanted to take her to her doctor's appointment and going on from there. I especially liked Sharon's understated upset when she saw the body.
The way these characters get invested in the crime of the hour no matter how many other horrible things they've seen is what keeps me coming back to Major Crimes again and again and this scene was no exception.
Provenza: Three boys working hand and hand with the church. Where have I heard that before?
Raydor: My daughter and both my sons went to St. Joe's, Lieutenant. No priest in my parish has ever been accused of wrongdoing.
Provenza kept fixating on Father Jonas as a suspect, and I'm wondering if that is a massive red herring or if he is going to turn out to be right as usual.
I didn't see anything unusual about the priest's behavior, and Sharon vouched for the integrity of priests at St. Joe's.
But then again, Lucas Garza's body was found at the church. 
So does that mean Provenza and his cynicism are right once again or did someone place the body there to make us think so?
Mason: Lieutenant, you want to explain to me why you took it upon yourself to brief the media without permission from me?
Provenza: No, not really.
I couldn't blame Provenza for deciding to throw Garrett to the press after he refused to cooperate.
Clearly, Garrett or his daughter knows something, and he is one of the most irritating witnesses or suspects or whatever he is to come along in a while.
And the press was right there, looking for a story, so it was unsurprising that he used them as a weapon.
I'm not sure if Provenza was right or wrong. He certainly didn't help the reputation of the Catholic church, but that's not his job. And Mason had told Sharon that getting media coverage of the disappearances might help bring the boys home, even if Provenza's grandstanding was not what he had in mind.
With all that press coverage, though, how on Earth did Ian Nunez not know his son was missing before MCU told him? You'd think he'd have seen it on TV!
Rusty: Mom! Mom! Your doctor's appointment is in 40 minutes.
Sharon: Oh. I'll go in later.
Rusty: But Mom, you have to take care of yourself.
Sharon: Rusty. If Lucas Garza has been without his insulin for this long, he is in far worse condition than I am at the moment.
In other news, Sharon has the flu. 
Obviously, there's something more to it than that because it got mentioned at least four times, and she put off her doctor's appointment twice to keep working on the case.
I hope Sharon doesn't have a serious illness. That would just be depressing, especially with the series ending soon.
Plus it would be redundant since Andy has had health problems for three years or so.
I can't figure out what else it could be, though. Sharon is too old to get pregnant again, or at least I think so, and I wouldn't find that very believable.
Maybe it's nothing or just a sign that Sharon doesn't take enough time out from her job to take care of herself, but I can't help thinking that the overemphasis on this is meaningful.
Sharon: Did Gus answer any of your messages?
Rusty: No, but his boss Aiden has posted four photos of Instagram of the two of them together.
Sharon: You're following his boss on Instagram?

Maybe Rusty's behavior on social media leaves something to be desired, but I'm thrilled that he and Gus appear to be headed for break-up territory.
Rusty kind of realized it during Major Crimes Season 5 Episode 21, since he whispered goodbye after telling Gus to go to Napa, and the current drama over Gus' non-communication with him solidifies it.
I never liked Gus and believed Rusty could do better than some guy who thought that Rusty should be the only one putting anything on hold for the sake of the relationship.
Plus, the only thing they seemed to have in common was Gus' dead sister, and that's not a strong basis for a relationship.
I hope Rusty will soon realize that and either be proudly single or meet some guy who is more worthy of him.
In the meantime, I could do without yet another rendition of the Philip Stroh putting Rusty in danger meme.
Enough already. I agree with Rusty that he just needs to learn self-defense, though I'd like to know exactly what that means.
Either way, this seems to happen at least once per season, and it's the one thing I won't miss once the show ends. I love Rusty but I hate this storyline, and it's more and more redundant every time it rears its head.
What did you think of "Sanctuary City Part 1?" Do you have any idea who killed Lucas? Did you think Provenza was right to go after Marvin Garrett in the press? Am I the only one worried about this flu that Sharon has and and isn't sending her to the doctor?
Weigh in below, and don't forget you can always watch Major Crimes online to catch up if you missed something.
Jack Ori is a senior staff writer for TV Fanatic. His debut young adult novel, Reinventing Hannah, is available on Amazon. Follow him on Twitter.