I couldn't believe that Queen Sugar Season 2 Episode 13 went there, but it did.
Darla finally coming face to face with her parents after years of ill will seemed like more than enough drama, especially with Aunt Vi bailing on hosting the dinner.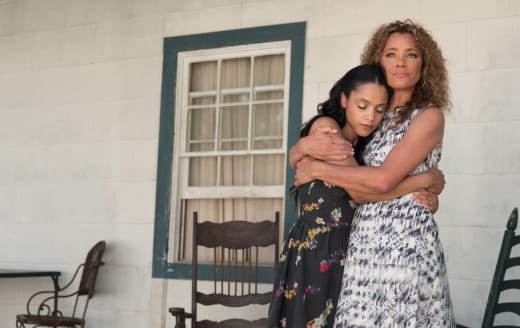 Even though I understood why Violet begged off, and that she'd want to confide in Hollywood about her Lupus diagnosis before anyone else, it was still a crushing blow to Darla.
For the most part, the reunion with her parents went as well, if not better, than expected. Darla was hurt after so many of her phone calls and letters went unanswered, there was another side to that story, and it was equally as heartbreaking…
Darla: Respectfully Mom, I have written to you for years. I have called, no response. I have been very clear with where I stood.
Darlene: No, Darla. If you had clarity you would know that just because you say the words doesn't make it true. You've said, "I'm clean," or "please help me," or "I love you," before but then you haven't been clean, or you haven't accepted our help, or you haven't respected our love. So don't act as if we've done you wrong, please.
Michael Michele was magnetic as Darla's mother, Darlene. Not only does she possess a physical resemblance to Bianca Lawson, but they both have a definite presence on screen.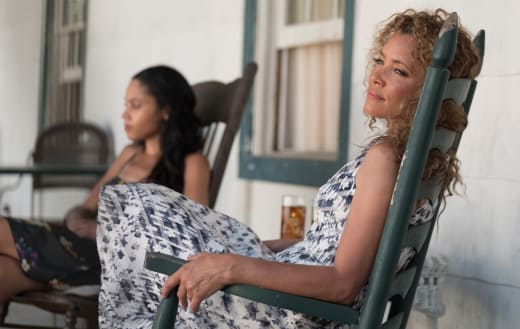 I was left hoping that Darlene would stick around St. Josephine for a while.
Darla's father, Quincy, was a different story. He was certainly more critical of his daughter, and didn't seem to give her much credit for her accomplishments. It was good to hear Ralph Angel stand up for his fiancee in this Queen Sugar quote…
Quincy: I'm sure that Darla could learn a lot from both of you.
Ralph Angel: Darla can teach a lot too. She damn near rebuilt her life from the ground up.

Just as her father appeared to be softening and Darla's future with her new and old families began to look bright, Quincy pushed Darla to be completely honest with Ralph Angel before they got married.
I'm not sure that was the best advice, for Darla, Ralph Angel, or Blue. Despite being brought into the world with a drug addicted mother and a convict father, Blue's life has been filled with love…
Darla is a good mother now. She loves him to the moon. He loves her to the stars. Of course there are things that happened that we both won't forget, but all I can tell you is that he's a happy child and he grew up with a lot of love.


Violet
I certainly don't think that disrupting that is good for Blue.
I'm also not sure if Ralph Angel can handle it if Blue isn't his biological child. Blue has been the one and only thing that has grounded him.
The desire to do right by his son has pushed Ralph Angel to make the farm a success and become a better man. I want to believe that Ralph Angel will hold it together if he's not connected to Blue by DNA, but I'm not entirely confident he's that strong.
I hope his love for Blue proves me wrong.
Most of all, I hope that all of this is simply lots of drama for nothing. If this was weighing that heavily on Darla's mind, she could have quietly done a DNA test on Blue and Ralph Angel.
Yes, that could have been viewed as sneaky, but personally, I think it would have been smarter and kinder to know the truth before turning everyone's lives upside down, especially right before the wedding.
Ralph Angel and Darla weren't the only ones experiencing relationship upheaval.
Nova ran into Calvin and it was obvious that their chemistry was still enough to steam up the screen.
I've always hoped to see more of Nova and Calvin, and I got that here, although it wasn't exactly what I wanted to see.
The first inkling I had that this might not be a happy reunion was that Nova literally just broke up with Robert…
Nova: I was the one that wasn't clear. I started losing myself, doing things, saying things, wearing things that weren't me. It was the me he wanted me to be.
Sierra: You woke up before most people do, before you were consumed, and for that, give yourself some credit. Okay?

Jumping straight into a romance with Calvin wouldn't have felt right, at least not right now.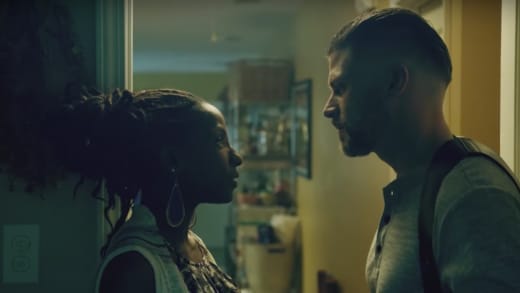 After hearing their two very different perspectives, perhaps not ever.
Calvin's point of view was heartbreaking, as he explained how he'd made decisions based on other people's desires his entire life…until Nova.
Calvin: I've felt like a fraud my whole life. I didn't care much about sports, but I played because my daddy wanted me to. I didn't want to join the force, but I did because my family expected me to. I didn't want to get married, but I did because everyone thought I should. I didn't want kids, but she did so we had kids. I did my whole life what everybody else wanted me to do, until you. Being with you was the first time I was able to be me. You were my choice. You were so free, you were so brave, and just being around you made me want to be brave too. I love you. I love you so much, more than anything or anyone.
Nova: I love you too. Hear me. Know for you I'm freedom. For me, you're prison.

But Nova's perspective was equally valid, yet very different.
Nova: I can't be all of myself when I'm with you. I can't. I can't fight for my people every day and come home and have to explain it. I can't cry over brothers slayed by cops in the streets and no one ever pays, and then come home to a cop. Come on. This is crazy. I was going crazy. I can't want to share everything with you knowing there are parts of me you don't want to know. Part of me that loves my people more than anything that will make me set that aside.
Calvin: I never asked you to set it aside.
Nova: You never asked about it at all. And just because you wish something was meant to be doesn't mean it is.
The heart wrenching part is that these two love one another, but they come from two different worlds.
Calvin might be willing to change and compromise to a point, but he's a cop, and I don't see that changing any time soon.
Nova's made it clear that her work as an activist for her community comes first; it's her one true passion and her heart.
She won't be swayed by Robert's vision for that, even though they share similar goals. She won't compromise it to be with Calvin, even though she loves him.
Will Nova ever find someone that loves and accepts all of her? I don't see it happening, at least not during Queen Sugar Season 2.
Finally we get to Charley and Remy.
Just when it looked like we were about to have one truly happy couple, Remy let the words in his heart slip from his lips…
I believe in forever, and I want you in mine.

Remy
Charley could have let it go and brushed it off as pillow talk, but they both knew better.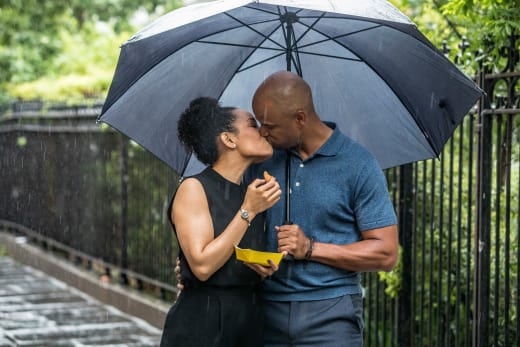 Remy is looking for love, marriage and children. Charley just ended a marriage and already has a teenager.
I could easily see Remy putting a ring on her finger within the year, but Charley's no where near the same place, and she's not sure she's ever going to be.
Charley and Remy were smart to hit the breaks and slow things down. As much as it hurts right now, it will be exponentially worse if they dive in with completely different ideas about the future of this relationship.
What do you think TV Fanatics? Should Darla have told Ralph Angel he might not be Blue's father?
With so much emotional upheaval, I think I need the week to recover before Queen Sugar Season 2 Episode 14.
Until then, don't forget to watch Queen Sugar online here at TV Fanatic. 
C. Orlando is a TV Fanatic Staff Writer. Follow her on Twitter.