Riverdale Season 2 Episode 2 Review: Chapter Fifteen: Nighthawks

Justin Carreiro at . Updated at .
Riverdale and milkshakes go together like Betty and Veronica. It is quintessential perfection and a must for this deliciously dark drama.
Riverdale Season 2 Episode 2 almost saw the end of the popular milkshake hangout of this complicated town.
Losing Pop's Chock'lit Shoppe would've been a devastating blow. Where else would we get our weekly dose of moody neon lighting?
"Chapter Fifteen: Nighthawks" is everything that I love about Riverdale and what the show does best all in a single hour.
We had a shocking murder. We had thick tension. We had quote-worthy one-liners and a catchy song from Josie and the Pussycats.
If everything above didn't win you over, the character development alone was the star of the night. Many of the characters pushed their plots forward. And we got interactions between some that don't happen often, like Veronica and Jughead.
Riverdale Season 2 Episode 2 might be one of my favorite episodes yet.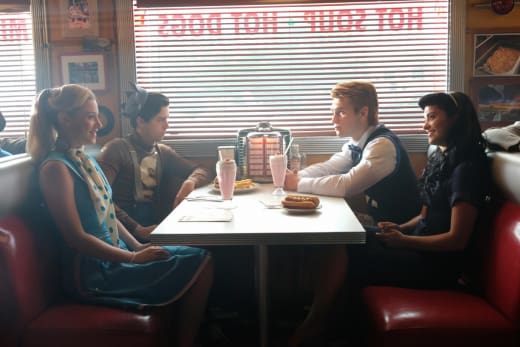 Pop's Chock'lit Shoppe is a mainstay for Riverdale. The diner setting suits the dark feel of the teen mystery while having the retro vibe of the older comics. Plus, it's the main "hub" for the characters.
We didn't lose Central Perk on Friends. We didn't say goodbye to the Mystic Grill on The Vampire Diaries. So, it's reasonable to say the Chock'lit Shoppe must remain on Riverdale. (Yes, I made those comparisons. I'm prepared for the debates.)
Though, what was with the vandalism?
The pariah status from the town felt too blown out of proportion, especially after only one episode. Mayor McCoy and Alice Cooper washed their hands of the diner too quickly. There was only one robber, one time – it made no sense.
We should've been given some buildup to the downward spiral of Pop's.
Betty and Veronica teaming up is something that has been long overdue. I love these two best friends together. They have great chemistry and need to have more adventures.
We were treated to a rare confidant session between Jughead and Veronica. These two characters don't interact much without any of the others around. It was a pleasant surprise.
Showcasing both characters connecting over their father/family issues was a touching character development moment. Their friendship is a subtle one that isn't as iconic as the others. However, based on what we saw, I'd be happy for them interact again.
Archie's guilt over Ms. Grundy's death is reasonable when you look at the evidence. His father was shot, and his ex was murdered. As we debated in the Riverdale Season 2 Episode 1 roundtable, the only connection is Archie. The conclusion makes a lot of sense.
I don't understand why everyone was so eager to dismiss so many possibilities. We seem to be playing with an "Archie is crazy" storyline. And it's working.
His paranoia is something we need to worry about. He attacked Reggie after a lousy prank (who is now a drug dealer apparently?!), and that might be a warning sign.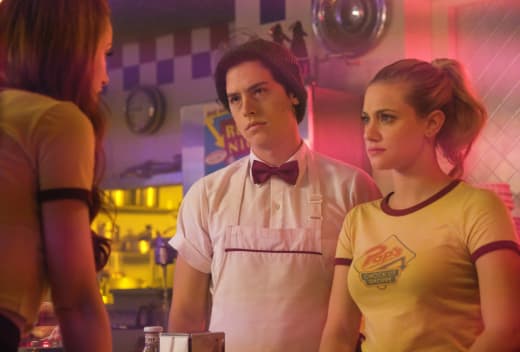 Is F.P.'s case a lost cause?
Seriously, let's think about this: he's the leader of a biker gang, he covered up a murder, and he sold drugs around town. And that's only just the tip of the iceberg with crimes he's committed. I hate to be the bearer of bad news here, but his goose is cooked.
Even if Cheryl's testimony clears him of accessory charges and such, he has other crimes waiting for him.
As much as I like the character, I hope he's not miraculously cleared of everything and to become a free man. It isn't believable in the slightest. His storyline should only serve as a way to introduce Jughead's involvement with Penny Peabody and his interactions with the Southside Serpents.
We can't fall into the Gossip Girl trap here where real-world logistics are thrown out the door to suit the story. It can't happen. It would ruin the believability of Riverdale.
Veronica: Wait, Cheryl, does that mean you're taking the Vixens back from me?
Cheryl: But really, Veronica...where they ever yours?
Betty: Cheryl, we were wondering if maybe the Vixens could help at an event to help save Pop's?
[Cheryl sighs and claps]
Cheryl: Oh, Betty. I did not emerge from the frozen depths of Sweetwater River, nor the flames of Thornhill, to allow my Vixens to sling milkshakes at some death curse diner. The answer is a double cherry on top "No."
I've missed the old Cheryl.
Don't get me wrong, she (along with the actress Madeline Petsch) firmly hold queen status. However, we haven't seen true Blossom reign since Riverdale Season 1 Episode 11.
The character of Cheryl had her own emotional turmoil to deal with. Remember, we saw her burn down a house AND attempt suicide in the Riverdale Season 1 finale. Those actions would make anyone crawl into a ball.
"Chapter Fifteen: Nighthawks" saw her character start to take control with the Riven Vixens and her confidence.
Having her assume the captain title again and throw out quips to Betty/Jughead was reminiscent of who she was at the beginning of the series. I like this return to her former style. She's still as confident, but she has also grown as well.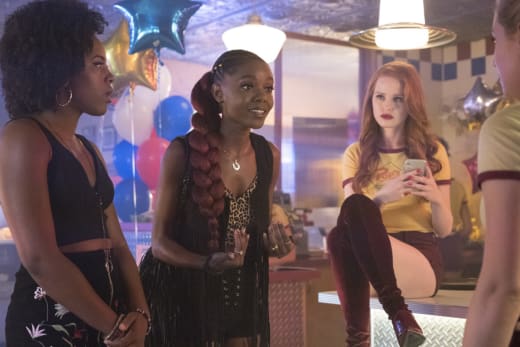 Someday Josie will get more than merely a musical cameo appearance on Riverdale. And I will be there cheering on every minute of it. (#TeamJosie.)
Though, the Pussycats' cover of "Milkshake" by Kelis was catchy. It was serene and subtle while inviting Cheryl to join in the performance was a nice touch.
I love that the performance took place on top of the Shoppe. It's so Josie and Cheryl to turn a simple performance into a grand show. Plus, the lighting from the neon sign and the retro '50s coloring popped on screen. This performance might be visually as iconic as the homecoming rally from Riverdale Season 1 Episode 2.
I'm officially standing by this opinion now: Hermione and Hiram are made for each other. They're both the worst.
Her character has been a roller coaster for a long time, especially the latter half of Riverdale Season 1. It's no secret that I've brought it up many times before. But it's the letter that sealed it for me.
Was anyone else shocked she took the blame for writing the threatening letter?
I couldn't believe that. She has done some questionable things lately, but that lie is on another level. Though, it suits the character's new direction perfectly. Of course, she would side by Hiram and protect his image; she loves being the powerful queen.
Marisol Nichols is doing a superb job portraying her as the cold villain. I dislike the character, but her devious nature is winning over. Her "love-to-hate" villain status is almost emerging.
Veronica: I was your fiercest protector, Dad. Ask Mom. Whenever somebody calls you "The devil incarnate," I defended you. I kept telling myself, "He's not that bad. You can forgive him." And then you sent me this.
[Veronica hands Hermione a letter]
Veronica: A letter threatening you, Mom. That's the kind of man you're letting back into our lives.
Hermione: Veronica, your father didn't write this letter...I did.
Veronica: I don't understand.
Hermione: I needed you to testify on your father's behalf, so I wrote this letter. Threatening myself, not your father.
Hiram: Miha, she did it for us to survive, so we can be a family again.
Veronica: You two deserve each other.
[She leaves]
After Riverdale Season 2 Episode 2, I'm starting to understand what type of villain Hiram is.
He's cold, calculated and he hides behind heartfelt words as he makes moves behind the scenes. When he boldfaced lied to Veronica about purchasing the Chock'lit Shoppe, he knew his donation would win her over even more after the Shoppe stayed in business. It was a tactical move.
We've only seen the "family first" side of Hiram; the one where he is kind. I have a feeling the darker side is going to emerge fairly soon, especially after seeing the preview for Riverdale Season 2 Episode 3. Archie better watch out...Hiram doesn't play around.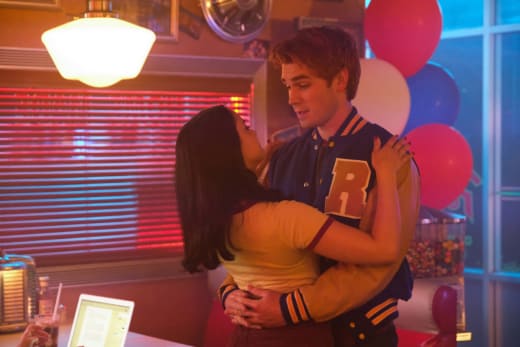 Archie getting the gun from Dilton was a bad idea, right? You don't give someone on the verge of a breakdown a loaded weapon...
His need for a weapon is an interesting change for the character. Even though his love life has been terrible, he's mostly been a strong person about his dreams and his love for family and friends. We're now seeing the powerless and paranoid side of Archie.
Archie's growing paranoia is definitely foreshadowing something dangerous to come. I like these plot devices because, looking back now, they built up his reasoning for needing a gun. We saw into his mind as his fear of the gunman grew.
His fear, however, will also cause him to do something reckless.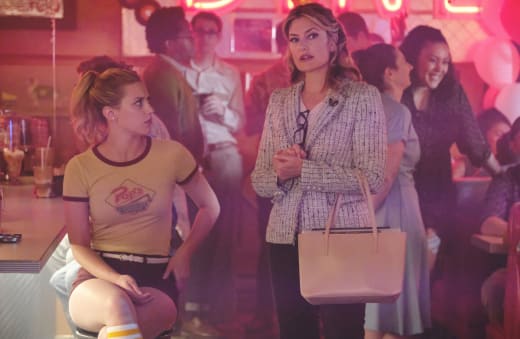 Alice is a great reporter, but she is a bad mother. I know it. You know it. Polly knows it.
She is living for the passive-aggressive words she gets to throw at Betty. Why doesn't she support her daughter in her goals? Alice was being a petty character.
Regardless of seeing the Southside Serpents come for dinner or a random occurrence of Reggie selling drugs, a thoughtful parent would celebrate their child's success.
I had hoped after the events of Riverdale Season 1 that her character had grown and become more understanding. However, that doesn't seem to be the case. Her development has reverted to her old ways; she's still the shady Alice Cooper we've grown to love.
Alice: You do know that several drug deals went down here tonight...
Betty: What?
Alice: And if you think that Hiram Lodge, Riverdale's answer to Scarface, helped Pop Tate for altruistic reasons, I have a bride to sell you.
Betty: Mom...
Alice: The Serpents have now officially crossed the tracks and have a total hold on the north side, so congratulations Betty. You are almost single-handedly responsible for giving crime a haven in Riverdale.
[Alice leaves]
Midge and Moose getting shot: best cliffhanger yet?
I didn't expect that twist at all. Midge being introduced on screen was shocking enough, but seeing her and Moose (who are two recognizable characters from the Archie Comic) getting murdered was jaw-dropping. There is no other way to react to that than pure shock.
THAT scene is how to keep people on their toes.
We don't always need a murder to amp up the drama. In fact, the trope can eventually become stale. However, the mix of music, the slow pace of the gunman's arrival and the bright lights covering his weapon made the anticipation more cutting.
Riverdale Season 2 Episode 2 went out with a bang...in more ways than one. (I'm sorry, I had to! The pun could not be ignored. I'm terrible.)
Archie: I'm not crazy. The guy is still out there. It's just for protection.
[He stares at his gun]
Dilton: Sure, Archie. Whatever you say.
What did you think of "Chapter Fifteen: Nighthawks"? Why did the gunman target Midge and Moose? What favor could Penny Peabody ask of Jughead? Will you miss Smithers on Riverdale?
If you missed the latest episode of Riverdale, you can watch Riverdale online via TV Fanatic. Come back here and let us know what you think.
Justin Carreiro is a staff writer for TV Fanatic. Follow him on Twitter.