I can't believe no one named the fawn.
On Scorpion Season 4 Episode 3, Team Scorpion traveled to Africa and was tasked with protecting a wounded mama deer and her fawn. The case definitely tugged on the heartstrings in all the right ways, but I would have been perfectly happy not to see a fawn and mama deer in distress.
Animals are too pure for this world and should be protected and not injured...ever.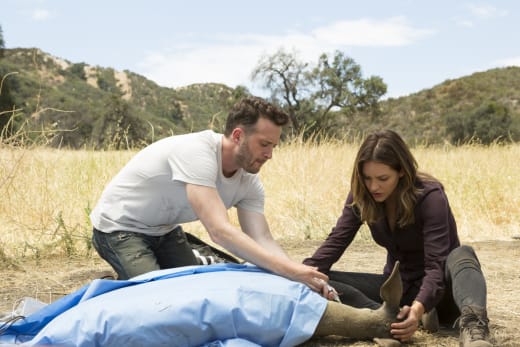 Sly bonding with Jane (and naming her) is beyond adorable, but Paige stole the case for me. Her mama bear instincts came out strong, and it was fun to watch her whip the team into shape.
With Cabe gone, someone needed to step up and keep the team in line and Paige doing it felt natural, especially given Team Scorpion's task at hand. She managed to get the team, including Walter Gallo, focused when they were doubting their skills. (We will talk about Walter Gallo more in a minute.)
Paige's motherly instincts kicking in was expected. I didn't expect to see the same instincts portrayed on Happy Quinn's face. Is anyone else thinking that she wants to have a baby?
We saw how much Happy wants a kid back on Scorpion Season 3 Episode 7, specifically, we saw how heartbroken she was when she learned her pregnancy test was a false positive. Since then the subject hasn't come up.
All right team! It's time to order up a little womb service.

Toby
This is a beautiful way to bring this back into everyone's minds, including Happy's. It was subtle, which is completely opposite from just about every other aspect of Scorpion. 
Toby didn't make any comments, serious or otherwise, about him and Happy having a kid at all during the case, probably because he was too busy making terrible womb and deer puns. It means that kids might not be on his mind yet, which is understandable.
Happy and Toby are still in their honeymoon phase, focusing more on actually having a honeymoon than any other part of their marriage. They haven't thought about their future as a married couple that much, at least not that we've seen. 
Toby would be up for having a Quintis baby, and it would be interesting seeing Happy and Toby having a discussion about being parents. I have a feeling pregnant Quintis would be absolutely hilarious.
What do you think? Am I crazy or do you think Happy wants a baby too?
One other comment on the case before shifting gears to Walter Gallo. Solomon being the poacher was the most obvious thing in the entire world. Okay, maybe not the entire world, but you get my point.
He was name-dropped too many times. 
Then, there wasn't that much of a payoff for this "twist." Ralph identified him as a poacher when he called all the poachers' phones, and then Walter did a terrible job at attempting to knock him out. 
Solomon was a threat in a vague kind of way. He was leading the team into an ambush, but we never saw him do anything nefarious. He was a bad guy from a distance, basically.
I can't decide if that makes the predictability better or worse. The only good thing to come out of it was that it helped loop Ralph into the case by having him decrypt the poacher's sat phone.
Now, on to the awkward delight that was Walter Gallo.
Walter: Walter Gallo? What does that mean?
Toby: It means your psyche is having you mimic Cabe because you blame yourself for his arrest. You feel guilty he's not here, and now you're making him be here, and that fawn is going to die!
Walter: That's nonsense. I'm not channeling Cabe.
Toby: I'm sorry I couldn't hear over your sunglasses.
The joy just kept coming the longer Walter wore those sunglasses. Speaking of sunglasses, they were so big on Walter, and they completely transformed him into this strange Cabe impersonator.
It was a fun way to process Walter's guilt, and it was like watching the son try to mimic his father. 
On top of that, Walter admitted that he was partially responsible for Cabe's arrest. I was proud of Walter for recognizing that he pressured Cabe into defying a direct order...to save the world, but, you know, still breaking the law.
While Cabe's right that he makes his own decisions, if I were Walter, I'd feel guilty too. Do you think Walter's partially to blame for Cabe's arrest?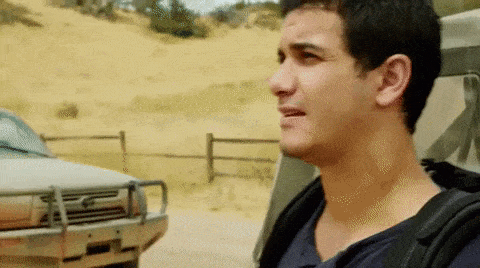 It's crazy to think about how far Walter and Cabe have come since Scorpion Season 1 Episode 1.
I rewatched it this weekend, and Walter could not even be civil towards Cabe. Their friendship has grown so much, and it's one of my favorite relationships on the show.
What did you think of the episode? Are you shipping Patty and Ralph? Leave your thoughts in the comments below.
Remember you can watch Scorpion online anytime via TV Fanatic.
Allison Nichols is a staff writer for TV Fanatic. Follow her on Twitter and on Google+.