The Good Place Season 2 Episode 7 Review: Janet and Michael

Danica Leninsky at .
The four humans of The Good Place make little more than cameos in tonight's episode, but Janet and Michael prove they are more than capable of carrying the episode on their own.
The Good Place Season 2 Episode 7 is the best of the season so far, due in large part to D'Arcy Carden.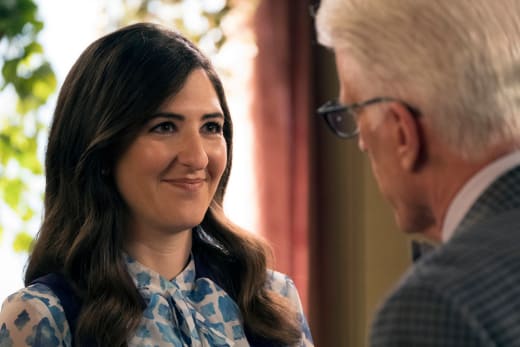 There isn't a weak link in the cast of The Good Place, but D'Arcy Carden is quickly establishing herself as a breakout star in her role as Janet.
Carden is brilliant. Because Janet isn't supposed to have feelings, Carden can't express Janet's depth in the traditional ways.
Usually, the person playing the "straight man" is allowed to laugh along with a joke sometimes, but because Janet is a non-human database, Carden can't do that.
Rather than taking this to the extreme and playing Janet with pure stoicism, she brings levity to the role. Her peppy voice in grave situations, as when she suggests that Michael kill her, adds depth and humor to every such scene.
Two peas in a pod! One of whom needs to kill the other one immediately.
How Carden manages to keep a straight face while people do things like pull her ears and push her nose, I'll never know.
For the audience to believe Janet has subconscious feelings for Jason, Carden must play the realization subtly, without drastic changes to the tone of her voice or showing much emotion.
She does this flawlessly, with small changes in expression and ever-so-slight changes to her tone of voice. Instead of her normal, cheery self, she is more matter-of-fact when confronting her feelings. Carden conveys as much in these fleeting moments as other actors do in full monologues.
Janet: Eleanor told me that instead of being sad, I should 'go get it, girl.' So I'm going to go get it, girl.
Michael: Get what?
Janet: Unclear. I'll get everything, just to be safe.
Last week, I theorized that Janet was glitching whenever she expressed empathy, but as a few commenters pointed out, her glitches were actually related to her feelings for Jason.
Janet glitches when she lies, which is a human-like trait. Since Janet has both the capacity to lie and to have feelings for Jason, is her humanity causing the issues?
With the flashback of Janet telling Michael that she is responsible for implementing his design for the neighborhood, it makes sense that her personal glitches could cause the entire neighborhood to glitch.
We don't know what happens if a Bad Place neighborhood ex- or implodes, but perhaps it could be the path out of the Bad Place.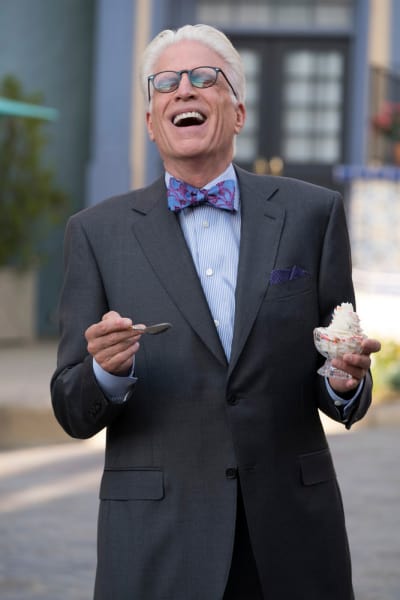 Last week, Michael's human-like qualities were negative: he took his frustration out on Chidi and blamed everyone but himself. At the end of The Good Place Season 2 Episode 6, he seemed apologetic, but with Michael, it's hard to know for sure.
Now, however, the affection Michael shows for Janet is undeniably genuine. For the first time, Michael goes against his best interests to do the right thing.
The reason is friends! You're my friend, Janet. That's why I can't kill you. We have been through so much together. I mean, yeah, sure, for you, each time I rebooted you, you met me all over again, but for me, our -- our relationship has become important. You're my oldest, my truest, my most loyal friend. I can't just get rid of you and replace you with some other Janet I don't even know.
He values his friendship with Janet and can't bear the thought of losing her. If Michael has the capacity to feel this way about Janet, he is changing after all.
It took a non-human to bring it out of him, but Michael finally shows genuine humanity. If Janet's human tendencies to lie and experience attraction are destabilizing her, will becoming more humanlike also destabilize Michael's position as an evil immortal being?
For a show without a single living main character, The Good Place offers a compelling commentary on humanity. On the surface, it reflects a lot of the bad in humanity, through the actions that led the humans to end up in the Bad Place and some of their behavior since arriving, but underneath that, it's a feel-good show.
Much like Parks and Recreation, The Good Place is a show about the potential to do good, even when the odds are stacked against you. Each character embodies that ideal to a certain extent, even the often clueless Jason, who just wants to give Tahani something nice, and the supposedly evil Michael.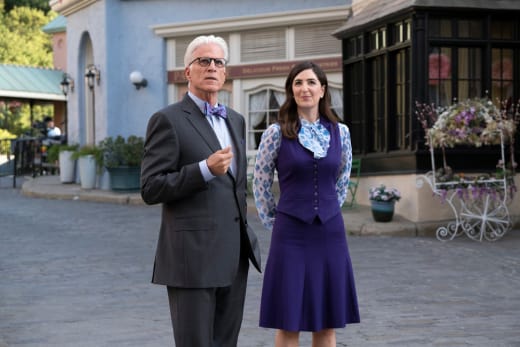 Michael's inner Ron Swanson is starting to show. He's becoming gentler and more considerate, and although his end goals seem at odds with those of the main characters, he still seems to be rooting for them.
I would be remiss if I didn't mention Jason Mantzoukas in his role as Janet's rebound boyfriend, Derek. Mantzoukas is only on screen for about a minute, but he steals the scene. I can't wait to see more of his character and the effect his energy will have on the show. 
What are your theories? Are Janet and Jason meant to be, or can Janet get over him with a boyfriend of her own creation? Let me know your thoughts in the comments, and watch The Good Place online here!
Danica Leninsky was a staff writer for TV Fanatic. She retired in April of 2018.