Chicago Fire Season 6 Episode 6 Review: Down Is Better

Elizabeth Harlow at . Updated at .
Ding dong, the witch is dead.
Okay, so Hope's not dead, but she was banished on Chicago Fire Season 6 Episode 6. And not a moment too soon. It was past time for that harpy to go. 
Not that her departure solves all of 51's problems. No, that would far too easy. Still, I bet Stella feels like a thousand pounds has been lifted from her back.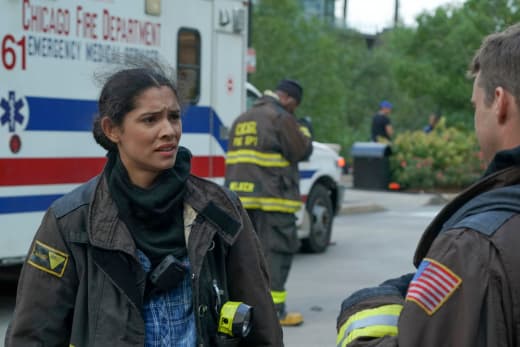 Stella's transfer was ultimately so pointless. And unfounded. It would have helped sell the story if there had been a photographer at the scene of that fire, or at least a bunch of "citizen reporters." 
I also am getting bored with how every aspect of the CFD that isn't Firehouse 51 is inept, corrupt, or just slimy. There have to be other good houses and officers out there, and the constant bureaucracy bashing is boring.
Yes, everybody understands the concept of a bad boss no matter what industry you're in, but that doesn't have to be the only relatable thing about working in a firehouse vs working at a desk. At least clarify the command structure and politics of the CFD more if that's the play. 
Topher: Are you Stella Kidd?
Stella: Yeah, that's me.
Topher: Topher. Let me show you where you'll be hanging your hat. Main thing to know is that they monitor internet use. I found that out the hard way. f
As annoying as Stella's PR stint was, it did open the door for some really great scenes for her. My favorite by far had to be Mouch's late night advice and the revelation of why she became a firefighter. 
It was intimate and insightful, and was a great highlight of Miranda Rae Mayo and Christian Stolte. Both characters come off as kind of gruff jokesters a lot, and it was nice to them stretch their range.
One thing: Who the hell calls it a "flicker"?
Mouch: What made you want to pick up a Halligan? I mean, in the beginning?
Stella: I climbed into a car I shouldn't have. And the only reason I climbed out was 'cause of the CFD rescue squad. So I made a decision in the hospital. I said, 'I'm gonna lift people out of bad places, too.' So that's what I do.
Long term, the only upside of the nonsense was Kelly and Stella's drunken kiss. How refreshing to have Severide be the one taking care of a drunk friend instead of being the one on the bender!
I'm not sure if his reluctance to hook up with Kidd is more of a reflection on his growth as a person or on his feelings for her. It's probably a little of both, to tell the truth. 
I certainly don't hate the pairing, and I definitely think it's long past time for Kelly to grow up and stop whoring around. But how many couples can 51 have? And these two are so volatile, do we really think they'll last?
That's a problem for another day. I'm sure we're all more concerned about Ramon right now.
Or not. His intervention may be heroic to some, but it doesn't erase all the crap he's put his family through. Don't get me wrong, I'm not rooting for him to die or anything. I'm just rather ambivalent.
Which is maybe why I can't decide what his outcome will be. 
Gabby: He won't stay out of his own way. I tell him, 'Pop, you're new there. You gotta keep your head down for a year, you do your work, don't make waves, show up early, leave late, and they're gonna love you.'
Sylvie: Yeah, 'cause Dawsons never make waves.
Gabby certainly doesn't deserve more trauma in her life, especially after the near miss with Matt. And losing Louie. And a million other things. The #OneChicago world has a certain happy ending quality most of the time that makes me think he'll probably be okay.
On the other hand, killing Ramon, especially after Gabby's harsh words to him, opens up a whole super dramatic can of worms for the writers to play within the new year.
Imagine her wracked with guilt, distancing herself from Matt, recklessly putting herself into more and more dangerous situations, only to eventually be pulled out of her downward spiral by a surprise pregnancy she only discovers after being sent to Med after a dangerous call. 
Don't you want to watch that?
One thing we have to look forward to is Molly's North! Thank god they finally, finally are following up on one of these business plans. Didn't Cruz and some others propose a similar franchise idea at some point? 
I'm not sure how Otis' crush on Mac's daughter is going to work out. I'm rooting for him, but Otis has really terrible luck in relationships. Mixing business and pleasure is risky, and I'm not sure Herrmann and Gabby are on board.
I'm looking forward to Molly's North as a new set, though. Will it be more twinkle lights from the ceiling, or will Otis track down some new trend? Maybe the new place will feature Edison bulbs and reclaimed wood. 
Unfortunately, it'll be a bit of a wait to find out what the aesthetic of the new bar will be. Winter hiatus has struck, and it'll be months before we know Ramon's fate. 
The upside is that Chicago Med will be returning. Why, oh, why can't these two shows run simultaneously? The time difference is going to make it feel really weird when Gabby and Brett roll up with a patient like there's no big drama going on. 
Or maybe we should expect fewer mini crossovers? After all, we haven't had any so far. At least the offhanded mentions of Chicago Med and Chicago PD characters let us know the #OneChicago universe was still intact -- along with Gabby's hilariously meta line.
What did you think of the fall finale? Did you expect that Ramon would the victim on the last ambo call? Should Sylvie blame herself for Hope's actions? Will you be hanging at Molly's or Molly's North? 
If you just can't wait until January, you can always become an expert and watch Chicago Fire online on repeat. Or catch up on past Chicago Fire reviews. And Chicago Med and Chicago PD reviews.
My recommended snacks for such binging: Chicago mix popcorn, deep dish pizza, and hot dogs (no ketchup!). Keep it all Chicago, all the time. 
Elizabeth Harlow was a staff writer for TV Fanatic. She left the organization in October 2018.