Chicago Med Season 3 Episode 1 Review: Speak Your Truth

Elizabeth Harlow at . Updated at .
Well, that was anticlimactic.
No one really thought that Dr. Charles was going to die on Chicago Med Season 3 Episode 1, but couldn't the suspense have been dragged out a little bit? After waiting six months, it took less than six minutes to find out that he was perfectly fine.
Well, physically anyway.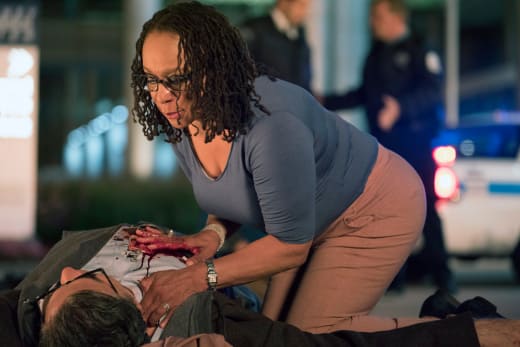 The crew at Med really needs to study Chicago Fire's playbook. Specifically, Chicago Fire Season 6 Episode 1. They handled the reveal of Matt Casey's fate so much better. 
There better be some continued fallout from the shooting going forward, or what was the point? Charles' strained relationships with both Sarah and Sharon has some potential for good drama at least.
That's especially true when you factor in Sarah's issues with her father. She seems firmly entrenched in the psych department these days, but tension with her mentor seems like it might prompt her to explore other opportunities. 
Sarah: I want to be there when Dr. Charles testifies.
Noah: Right, right. I get it. Moral support.
Sarah: Yeah. He's the reason I went into psychiatry. Dr. Charles taught me everything I know.
Noah: It's kind of like your dad getting shot.
I also think her rant about her father's disappearance from her life when she was six might be foreshadowing. On any other show, that would be a hell yes, but the One Chicago world doesn't always follow up on stuff like that.
It would be a really good way to bring our two favorite psychiatrists back together. It's hard to believe that they're on the outs. 
But maybe not as hard as it is to believe that any lawyer worth their salt would bring a second-year resident to the stand as an expert witness. I love Sarah, but she's only halfway through her program. She's not even board certified yet!
Doris: I'm sick of this. Getting stuck with the dirty work, cleaning up pus and vomit while you get to run labs.
April: What?
Doris: Just 'cause you and Ethan are sleeping together.
As disturbed as I am by teeth issues, I was excited by Choi and April's case. Not because those two are hooking up -- I don't see the chemistry -- but because dental abscesses are a life and death matter and the number one reason that I'm an advocate that dental care should not be separate from health care in terms of insurance.
Also, the pus exploding out of the chest tube incision when the boy sneezed was hella cool. 
I did feel a little bad for Doris having to clean it up, but then again, she's a total bitch. Not just because of her comments to April and implications that she's sleeping her way to the top. Remember that student nurse last season?
Ethan: Why do we have to keep sneaking around?
April: Because. You're a doctor, I'm a nurse--
Ethan: Not the first time that's ever happened.
April: Exactly. I do not want to be that cliche.
I may not be on board for #Chopril or whatever god awful portmanteau the Med social media team comes up with, but I have to respect April for standing up to Ethan about why she wanted to keep things secret. I'm not entirely convinced he really gets it yet, but at least he accepts her feelings about it.
I'm mainly disappointed by this relationship because I want April to have an arc that doesn't revolve a man. What happened to her ambition from Chicago Med Season 1? She may not ever go to medical school like she wanted, but is she really content with her career as is?
Why can't she be going for her masters, or she could pursue becoming a nurse practitioner. Med could use a fuller representation of how medicine is practiced. 
At least there's finally a department chief. Stohl is a little befuddling. Doesn't anybody know exactly what an ED chief does? Is it just that Stohl is so self-important that he doesn't get around to doing the work of his job?
And what's his relationship with Maggie? 
I thought Maggie's point about the boy's streets being different from Stohl's was powerful, if not fully fleshed out. Our charge nurse needs way more screen time so she can set everybody else straight too.
Maggie: If he goes home by himself, he could get shot again.
Stohl: However unfortunate that situation may be, it is not our problem. We treat 'em, we street 'em. That's what we do.
Maggie: Treat 'em & street 'em is fine for people that live on your street. Not his.
Finally, most you will be thrilled that #Manstead finally happened. I'm not a fan of this relationship either, but for more concrete reasons. 
But I can admit that Will didn't do anything douchy, and even managed to share his romantic feelings with a subordinate in a way that made clear that he had no expectations of any reciprocation from Nat. 
Maybe he's growing out of his overly entitled and sexist ways! Fingers crossed he doesn't regress.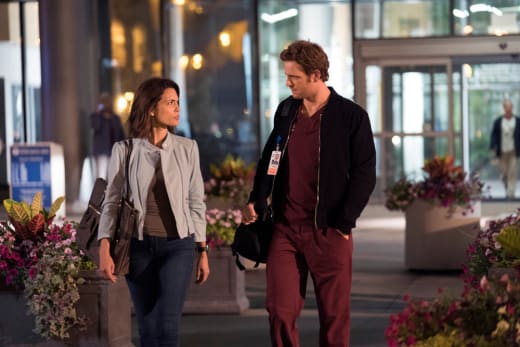 Both new ED couples will struggle with finding a balance at work on Chicago Med Season 3 Episode 2. I adore Ethan, but I have a feeling Will and Nat will have more success. 
Connor will also be struggling with his work-life balance, but his struggle will probably be more centered on how to turn off the doctor once he's home. His suspicion about Robin's motivations isn't going to do that relationship any favors. I just hope that he doesn't end up hate-screwing Ava. 
Rebuilding trust seems to be a theme with the Charles family. Daniel and Sarah will be butting heads at work, which doesn't really make for a positive learning environment. Or for great patient care. 
But I mean, even if you can't always trust your brain, in my experience, you're usually pretty safe trusting your heart.

Daniel
Which couple do you think is going to win Chicago Med Season 3? Was Sarah right to contradict Daniel's testimony? Is Ava a total bitch or just a driven woman trying to get a leg up in a male-dominated field? We want to hear your thoughts about "Speak Your Truth" in our comments section!
Need an escape from the extended family over the holiday? Escape and watch Chicago Med online with us! 
Elizabeth Harlow was a staff writer for TV Fanatic. She left the organization in October 2018.