Chicago PD Season 5 Episode 8 Review: Politics
Lizzy Buczak at . Updated at .
No one has worse relationship luck than Burgess. On Chicago PD Season 5 Episode 8 she lost her new boyfriend Matt quicker than we met him. 
For someone who was so hyped in previous episodes, Matt turned out to be quite the disappointment.
Not only did the actors lack chemistry but by making him a Fed, the writers once against set Kim up for failure.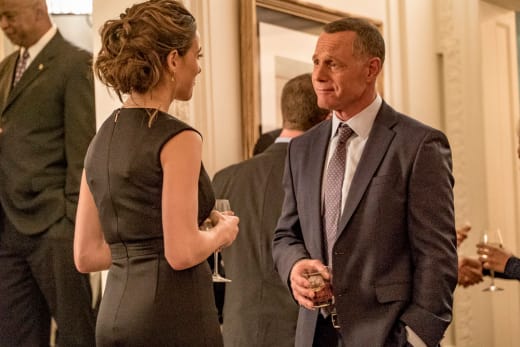 If her romantic run with Ruzek taught her anything, it's that mixing business with pleasure is never a good idea. Still, dating someone on your own team makes it significantly easier than dating someone on an opposing team who you are forced to betray. 
Voight, who seems to be the relationship ruiner, didn't give Kim much of a choice when it came to her new beau; she either sided with Intelligence or the FBI.
If she picked love, she would lose a job she worked so hard for, but if she chose her job, it would cost her a man that she truly loved. Damned if you do, damned if you don't. 
Look Kim, I couldn't give a damn about who you sleep with, but I care a whole lot about who you share our information with.

Voight
It seems like anytime Kim gets remotely close to a real relationship, something swoops in and ruins it. Usually, it's Voight and her position on the team. Are they really not allowed to have a life outside of the office?
Voight has always been tough on his team, but it's because he wants what's best for the victims, the people who rely on them. He could have cut her some slack especially since her intentions were in the right place. Although I do wonder when the Odessa Mob was first brought up, why didn't Burgess say anything before going to Matt? 
Sometimes, I wonder if he just enjoys going at it with Burgess because it seems to happen a lot. Maybe he's just trying to set her up for the real world?
As we've learned with Ruzek, there are no good choices when you are a cop. Either choice is going to have its fallout, and you just have to pick the one with the lesser consequence. 
Ruzek would know a thing or two about that. Denny is forcing him to expose Voight in exchange for his sister's freedom. Both people matter dearly to him so how can either decision be a good one? I don't know why he doesn't just confide in his boss. With his connections, he would surely find a way to screw Denny before Denny screws him! 
Knowing that these two had a history and are now dealing with similar situations made the scene that much more powerful. 
Burgess: Whether or not you agree with his politics, he's clean. Northwestern. Served in the marines. Active in his church. Married 17 years with two kids.
Antonio: Yeah, 'cause church-going men never cheat on their wives.
We haven't gotten much on the Burzek front lately, so it was nice to see her confide in him about a situation that was troubling her, especially about a new man. And even though they are exes, Ruzek was still supportive.  
Since Burgess' decision obviously drove a nail through her relationship with Matt, maybe there's a chance that these exes will reunite after all. 
Even then, that probably won't last long because it seems that Halstead is getting closer to exposing Ruzek for being the mole. A few episodes ago, he witnessed Ruzek at work at a strange hour, and now, he knows someone filed a report about his bar fight.
If it wasn't Upton and it wasn't the other two undercovers, that only leaves Ruzek.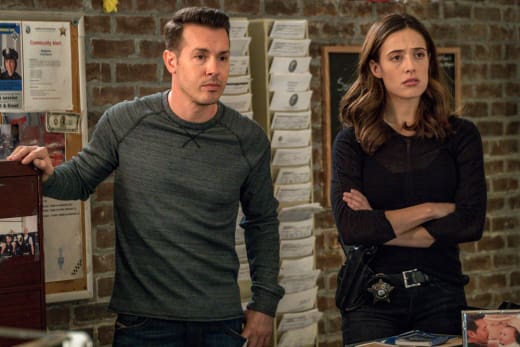 And if I had any say in this, I would not trust the dude wearing eyeliner. What is going on Adam? Since when did this become a thing? It does not make you look tougher or edgier! 
You would think that someone who has enemies everywhere just waiting for him to make the wrong move would be more cautious about upsetting people.. not Voight! 
Not only did he start a war with the FBI by hijacking a case they've been working on for two years, but he also ended his friendship with Price and unwillingly threw Congressman Grayson under the bus. 
Much like Burgess and Ruzek, he had to pick the lesser of two evils; either he broke his promise to Grayson and revealed the crime scene photos or Price would tell everyone what really happened with McGrady. The latter being much worse.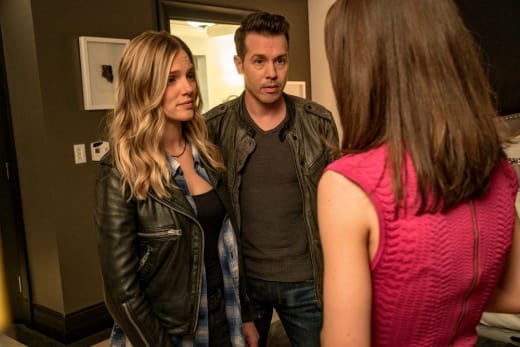 Hopefully, the lack of "good choices" will help Voight understand just where Ruzek is coming from when they finally do catch him.
As for the case of the week, it was nice to go away from the usual gang violence and murders for something a little more foreign. Does a European mob that steals identities of wealthy men really exist in Chicago? I wouldn't know. And being a European woman in Chicago, I sure hope not. 
But I do love seeing the different diversity of this city represented, even if it isn't always in a positive light. 
We are eight episodes deep, and Olinsky still hasn't gotten more than three minutes of screen time aside from the moments when he's in the passenger seat saying something snarky or offering up his wisdom to Voight. What's the deal? Every single character has gotten an episode or two to their name; why hasn't Olinsky?
You can watch Chicago PD online before next weeks fall finale and comment your thoughts below! 
Lizzy Buczak was a staff writer for TV Fanatic. She retired in June 2021..