How to Get Away with Murder Round Table: Did Annalise Murder Someone?!
Paul Dailly at .
Where did all that blood come from?!
That was one of the big questions after How to Get Away with Murder Season 4 Episode 6 when Annalise found herself in a shower with a lot of blood surrounding her. 
Below, TV Fanatics Jasmine Blu, Whitney Evans and Justin Carreiro discuss the latest twists and turns for the characters!
What are your thoughts on Jacqueline stopping by Annalise's two-star hotel room?
Jasmine: I don't feel nearly as weirded out by it now that we know she's Isaac's ex-wife. That being said, it feels unprofessional and unusual. What does she gain from going to Annalise? What's her next move now that she's in front of her, you know? It's like Annalise is in the middle of a situation that she's none the wiser about and it makes me uneasy. 
Whitney: I thought it was weird and I'm not exactly sure what she's there to do. I'm really interested to see how that conversation plays out because Annalise is really out of the loop.
Justin: It felt a little forced having Jacqueline show up. I don't understand why she needed to see Annalise, but just like Jasmine said, I'm left with a lot of questions too.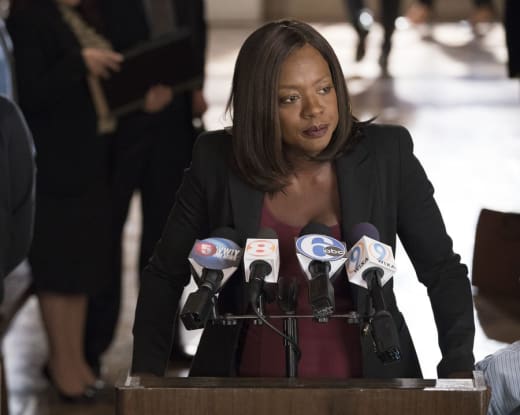 Did Asher go too far by having the camera in the teddy bear?
Jasmine: Yeah, but I don't blame him. He keeps trying to give Michaela an opportunity, to be honest. She's not very good at lying to him, so I can imagine how frustrating it is for him. Plus,  for whatever reason, it's like he has nothing else to do but focus on this. Asher has been the only one of the kids I have liked consistently all season, so I'll let him slide.
Whitney: He definitely went too far, but at the same time he's been lied to over and over, and he wanted some answers. Considering all the things this group has been a part of, it's not at all shocking he went to those lengths to find out the truth.
Justin: I agree with the others, he definitely did. I understand that he's being kept out of the loop by Michaela and his friends, but he needs to trust her. He shouldn't be resorting to these sneaky ways to find out the information. When she's ready to tell him, she'll open up to him.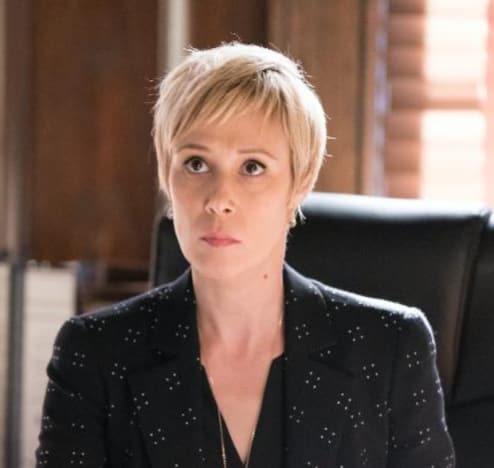 Who would you like to be the father of the baby, and why?
Jasmine: I don't even care if I'm being perfectly honest. I'm over Laurel this season. At this rate, maybe Frank, since she's all but disrespected Wes' memory anyway. That way Wes can rest in peace, Annalise won't get dragged into trying to be part of this kid's life while facing resistance because it's Wes' kid, and Bonnie can move on from whatever the heck it is she has going on with Frank because she doesn't deserve that.
Whitney: Sorry but I don't like Laurel and Frank at all. I've always found their pairing to be forced. And I know Wes is gone, but it still doesn't seem right to me how quickly Laurel is falling back into things with Frank. And I agree with Jasmine about Bonnie. Sure she is bonkers, but she deserves better than what Frank is doing to her.
Justin: Could I go with Option C and have it a twist that it's someone different? I don't care about Laurel/Frank, Laurel/Wes or the identity of this baby's father. At this point, Laurel should just walk away from the drama that has been caused by this pregnancy and start a new life away from this complicated mess with her child.
Whose blood was Annalise washing away in the shower?
Jasmine: What if she tried to deliver Laurel's baby or something and it went horribly wrong? Oddly enough, I don't think it has anything to do with the person who was shot at the law firm.
Whitney: I like that theory, Jasmine! I honestly don't know whose blood it is, but it will be something we aren't expecting I'm sure.
Justin: I agree with Whitney and Jasmine. My money is on delivering the baby.
Are you enjoying the addition of Jimmy Smits as Isaac? 
Jasmine: I'm still undecided because I still can't figure his character out at all. Plus, there's something about this pattern of unethical, unhinged, or problematic therapists on this show. 
Whitney: I adore Jimmy Smits, and I love seeing him act alongside Viola Davis. I hope in the second half of the season we get to learn more about it because he's a big mystery now.  
Justin: I'm on the fence, leaning more towards not being a fan. There's something about his character that rubs me the wrong way. Plus, I've had the strangest feeling that he is going to be killed off at some point or he will be a villain. I'm trying not to get attached just in case.
Over to you, How to Get Away with Murder Fanatics! What did you think of the latest twists?
Hit the comments below!
Remember you can watch How to Get Away with Murder online right here via TV Fanatic. Get caught up on all the fun now!
How to Get Away with Murder continues Thursday on ABC!
Paul Dailly is the Associate Editor for TV Fanatic. Follow him on Twitter.