Even as I write this review, I am completely confused as how to make a final rating for NCIS Season 15 Episode 9. The show's annual Thanksgiving episode was fun... yet completely nonsensical.
Frankly, it almost appeared like NCIS somehow crossed into the Twilight Zone where our favorite characters got crossed with the Three Stooges, or maybe Abbott and Costello. So, was the episode good or bad?
Well...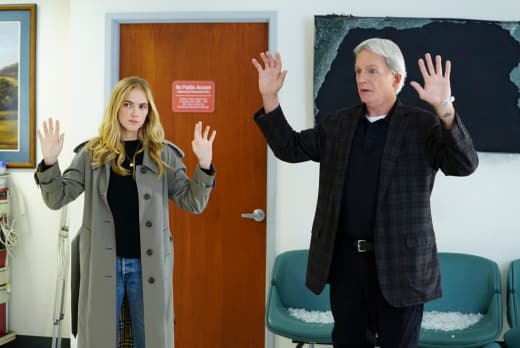 I certainly found it entertaining. From Delilah deliberately asking McGee to fetch a difficult drink selection, to Sloane's "gee golly!" doctor impersonation, to Gibbs roundhousing the female accomplice, I chuckled more than a little throughout.
Actually, Sloane's comical difficulty with cutting open the villain's pants (with a prod about his supposed "shortcomings"), followed by her intentionally painful rooting around for the bullet and swift beatdown at the end were probably the highlights.
Sweet as it is to welcome the Babies McGee, the "naming the baby after the guy I just met who died" bit seemed wildly obvious. To be fair, though, I'm almost afraid to wonder what girl names they had in mind.
McGee [on baby names]: For the boy, we've got it narrowed down to Indiana, Han, or Harrison.
Reeves: Oh, gosh. Poor kid!
So, welcome Morgan and John McGee!
While it was more than a little coincidental that McGee and Delilah ended up at the same hospital Yorka the Bad Guy did, I'm willing to forgive that since Delilah didn't end up being part of the hostage situation.
Thank goodness. That would have been just too cliché to take.
I'm seriously tempted to list all the ways Yorka was an absolute moron throughout this episode. Really, it made me wonder just how this idiot managed to elude MI5 for so long.
Taking hostages in an ER and expecting law enforcement to just let him leave probably tops the list. Maybe that's how it works in Eastern Europe, but this is America.
Clearly, Yorka hadn't seen as many movies as Reeves and Torres. Oh, boy, though, those two...
Torres: It's a bomb, right?
Reeves: Well, it's gotta be. It's a brick of C-4! Or clay, maybe.
Torres: Clay?! Why would it be clay?! With six wires and a mortar and clay?
Reeves: I don't know, then it's C-4! Shouldn't there be a timer? There's always a timer in the movies!
Torres: There's no timer, but it's definitely ticking.
Reeves: It's absolutely ticking.
Torres: So what now?
Reeves: I don't know, call the bomb squad?
Torres: What if there's no time?
Reeves: How would you know if there's no time?!
I laughed and cried at the same time. For two ostensibly highly-trained experts in the field of law enforcement and whatnot, they acted like a slapstick comedy act.
Okay, you don't know if there's time for the bomb squad to get there. Fine. Then GET OUT. Or maybe Skype the bomb squad? Certainly don't stand there debating whether it's a bomb or not!
And then there was the team's "handling" of the hostage situation. I'm sure any law enforcement professional watching probably either laughed, cried, or both.
I may be an uninformed and ignorant civilian, but somehow I doubt that walking right in and giving a hostage-taker more hostages and weapons is a good idea when a single sniper would have ended the standoff in moments.
Of course, that would've made for a short episode.
I keep forgetting you're really good at what you do!

Sloane [to Gibbs]
The manner in which Gibbs and Sloane swiftly ended the encounter once Reeves and Torres reported in perhaps showed that they were in more control of the situation than Yorka realized, sure.
However, that jarred with the tragic (yet sadly expected) demise of Morgan the Fellow Law Enforcement Officer, who would probably have been saved if only they'd gotten him out sooner.
It might also be worth pointing out that no one bothers even attempting to revive Morgan once he starts staring glassily upwards. Because he was Obviously Dead, apparently.
The tone of the episode vacillated wildly. On the one hand, bomb threat and deadly serious hostage situation. On the other, agents acting like doofuses and a hostage-taking arms dealer acting like a nincompoop.
Dead security guard versus hostages allowed to basically come and go as they pleased. Murdered MI5 officer versus comedic painful removal of a bullet.
I sense that this episode will result in wildly diverging opinions as to how good it was. Did its entertainment value outweigh the lack of sense and reason?
For me, I'm still not sure. Obviously, the writing of this episode is far inferior to, say, the dramatic NCIS Season 15 Episode 7. Sometimes, though, it's more about having fun.
But there's a definite uneasiness about the levity when two good men died horribly at the hands of an arms-dealing terrorist, even one so seemingly inept as Yorka.
Do remember to stop by our NCIS quotes page for some of the notable lines from this episode!
Some final thoughts before I turn the discussion over to you, my friends:
Removing a bullet often does just as much, if not more, damage than the original injury. Often, doctors will just leave the bullet in.
Someone must have given Clayton Reeves a chill pill, because he seemed awfully collected after the murder of a fellow countryman who was apparently a "legend" in training.
I loved the way Gibbs just took down Yorka's accomplice. No muss, no fuss, just a good swift (and brutal!) punch to the face.
While you enjoy the Thanksgiving holiday, remember you can always watch NCIS online! The series takes a few weeks off before returning on December 12, 2017 at 8/7c on CBS with NCIS Season 15 Episode 10, "Double Down."
Time to share your own thoughts and opinions, my fellow NCIS fans! What did you think of "Ready or Not"? Did you have fun, or was the suspension of disbelief too great to take?
Let us know in the comments section below!