Riverdale Season 2 Episode 7 Review: Chapter Twenty: Tales From the Darkside

Justin Carreiro at . Updated at .
The hunt for The Black Hood is on! Betty and Veronica think they've found the perfect suspect on Riverdale Season 2 Episode 7.
Sheriff Keller was a pretty good guess; even I thought it was him. Though, in my heart, I know it couldn't be that easy.
Mysteries are never that simple.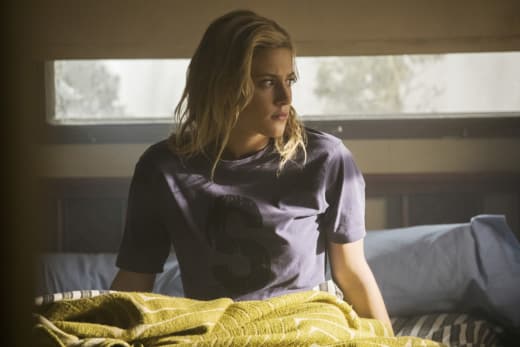 Firstly, I loved the story structure of "Chapter Twenty: Tales From the Darkside." Riverdale has always been direct with its story from beginning to end. This was the first time where the structure was presented as something new.
I think it worked perfectly.
Starting with the grainy introduction, I liked that it teased trouble with The Black Hood was only going to get worse. The introduction both foreshadowed and set up the hour to come. As viewers, we were prepared for a new viewing experience.
It reminded me of The Texas Chainsaw Massacre's introduction; this set a prelude for the evil that was going to happen. As a horror movie fan (and genre fan), it established a creepy tone. It worked well to connect all three individual stories together.
Also, the concept of breaking up Riverdale Season 2 Episode 7 into three different (but connected) stories was a breath of fresh air. New formats need to be tried and experimented with. It was a good one-off to break up the drama and highlight characters who haven't had much screen time yet.
[Each reading from The Black Hood's letter]
Sheriff Keller: People of Riverdale, I have rid this town of the drug-dealing child killer and others like him.
Cheryl: Now you must choose your fate. The next 48 hours will be a test and I will be watching you very closely.
Archie: Show me you are pure of heart and my work ends. Continue to sin...and I will take out the sword again.
My favorite segment of "Chapter Twenty: Tales From the Darkside" was Betty and Veronica's mystery.
There's a reason why Betty and Veronica have one of the best friendships on Riverdale. Both characters supported each other, they each had involvement in solving the mystery, and their skills complemented one another. Darkside highlighted all of their positive qualities, and the duo proved they deserve to share more screen time.
I loved the split-screen editing choice whenever they were on the phone. We got a closer look into their investigative dynamic, and it felt like a scene from a secret agent movie. Very mysterious and very high tension.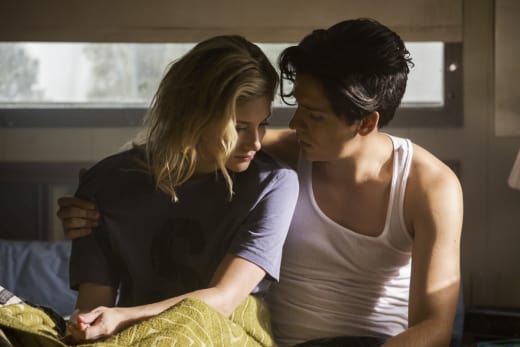 When it came to suspects, Sheriff Keller seemed like an obvious possibility. Who didn't think it was him?
He was involved in the law, he has the same build as The Black Hood, and he had access to digging into the locations of Ms. Grundy and the Sugar Man. Sheriff Keller was the red-herrings of red-herrings. Everything about him was served up on a platter, which is why, in hindsight, he was too easy of a guess.
His whereabouts, the creepy photo wall, and him popping up at random locations were all easily explained. A big point was made of clearing any suspicion from him, so we might have to remove him from the suspect list officially.
Though, we will need to keep him as a potential target. His affair with Mayor McCoy won't be kept a secret for too long. That's the type of secret The Black Hood could use to justify killing them.
Betty: Veronica, I have a theory...about Sheriff Keller.
Veronica: Oh, me too. It's obvious.
[Both speak at the same time]
Betty: He's The Black Hood.
Veronica: He's having an affair.
[Veronica looks at Betty confused]
Veronica: What?! Is that a joke?
Betty: I wish it were.
Veronica: Whatever crazy web you're spinning, B. Let me break it down for you. Sheriff Keller's wife is away, he's failing at his job. He's looking for comfort, sneaking around. All signs point to cheating.
Betty: Well, I don't know. Maybe he's having an affair and he's The Black Hood?
Side-note: Veronica was majorly (and inadvertently) hitting on Sheriff Keller. Everything from the dialogue to the slow pace of her questions created awkward tension that worked for comedy. The scene was so cringe-worthy, especially since she's only supposed to be 16 years old.
The look on Kevin's expression said it all.
He broke up something uncomfortable that no one in that room wanted to be a part of. The laughs were strong with how awkward it was.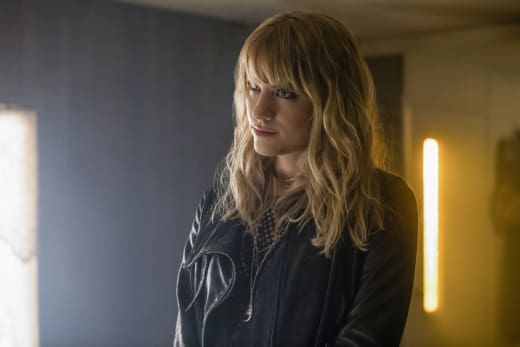 Did anyone guess Penny Peabody's favor? I didn't.
Ever since her introduction in Riverdale Season 2 Episode 2, it was apparent that she would return. Jughead promised her a favor, and she was someday going to collect. From the way that favor was left up in the air, the foreshadowing was strong.
In hindsight, delivering drugs seems like an obvious request.
Drugs have played a big part during Riverdale Season 2, especially with the turf war and jingle-jangle. Making the delivery fits with the character's motive. She is still a Southside Serpent, after all.
Jughead: What the hell game where you playing, Penny?! You lied to me. My dad's fine.
Penny: I incentivized you.
Jughead: No, you said this was going to be a one and done.
Penny: It's not like you have a choice.
[She shows him the blackmail footage]
Jughead: What is it?
Penny: It's insurance you do what I say. And if you cause a stink, or try to back out, or raise your voice to me ever again, I will make sure that video goes straight to the Sheriff's office. God, I imagine what that'll do to your dad's heart. Break it, right?
Jughead: Why...why me?
Penny: FP made me a promise that he didn't keep. And as far as I'm concerned, his debt is yours. And I'm just getting started with you.
It was confirmed that Penny is shady and a monster. Also, from the looks of it, she's a calculating mastermind.
My jaw dropped when she revealed the blackmail schemes and the tape of Jughead. After the drug client mentioned Jughead's name, it teased that more was yet to come. She had to have planned that from the beginning to spin her web and trap Jughead.
Whatever FP owes her, it has to be huge. Penny must be holding onto a big secret.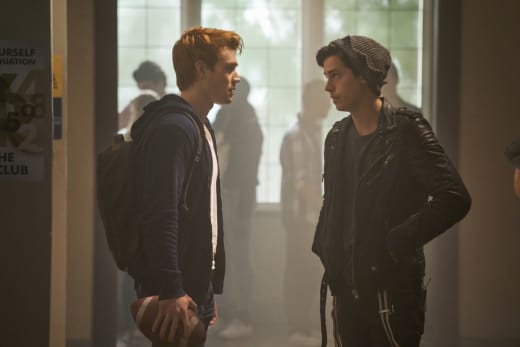 While I want to make her the villain out of this, it's also Jughead's fault. He didn't need to do the drug delivery for Penny; he could have found another way.
Also, why didn't he call the prison to check up on his dad? If FP was attacked in prison, calling the jail should be the most reasonable first course of action. It's simple logic.
Jughead should have listened to Archie. Everything about the drugs, the passerby, and working for the Serpents...Archie was right. (I can't believe I just said those words...)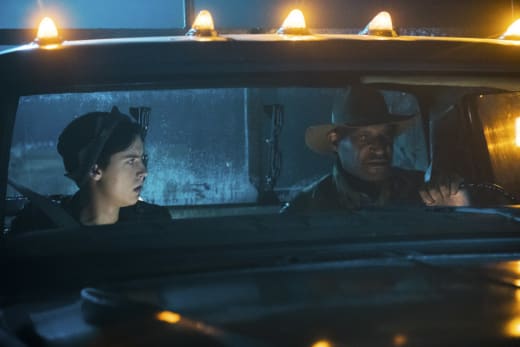 Speaking of the passerby driver, he was seriously creepy! Like, "he's-about-to-make-you-the-star-of-his-horror-movie" type of creepy.
Sure, Jughead was desperate to deliver the drugs, but he made a bad judgment call. You should never get into the car with a sketchy person. That is a recipe for disaster.
Though, the story of The Riverdale Reaper was fascinating. Is it real or an urban legend? This is the type of throwaway scene/line that sometimes comes back as a big reveal.
We'll have to wait and see if it makes an impact.
Josie finally got her own storyline! Sure, it was only a third of an episode, but we got something. This might be the most footage we've seen of her yet in one episode throughout Riverdale Season 2.
Though, due to the lack of previous focus on Josie, it created A LOT more questions than answered.
How long has she known about this recording session offer? Why did she feel like she couldn't tell Valerie or Melody? Is she really out of the band forever? Why was Chuck suddenly into her?
Also, the big looming question has to be Cheryl. Why did Cheryl plot this mind game to torment Josie? Aren't they supposed to be great friends?
There were too many questions left up in the air and unfortunately, this was due to poor character development.
Josie has continually been pushed to the background as the music cameo whenever Riverdale needs a cover song. And while I love the music, we need more of a focus on her. Especially since she's a Series Regular character.
Her segment suffered the most because we had no prior buildup to the events that transpired. In fact, going the hour, I knew more about the trouble Mayor McCoy was facing than the issues her daughter was dealing with.
Josie: Hey, what's up?
Valerie: Is it true you're ditching us?
Josie: Who told you that?
Melody: Someone put a note in my locker.
Josie: What?
Valerie: Josie, women are supposed treat each other better than this. We're your sisters and you clawed us in the back.
Josie: It's not as black and white as that. Okay, this opportunity just fell into my lap.
Valerie: Then why didn't talk to us? Why be all shady and hide it?
Melody: Because she wants to try it as a solo diva. Well go ahead, Josie! Try it girl. Cause you're on your own now.
Josie: What?! No! Val!
[They walk away]
Melody: Pride cometh before the fall, Josie.
"The Reckoning" will soon be upon the people of Riverdale. After weeks of teasing by The Black Hood, this climax could not come soon enough. A lot has already happened and proven that trouble was going on in town.
I'm excited about the reveal of the identity more so than the action.
This topic has been stretched since Riverdale Season 2 Episode 1, so it's about time we start either digging deeper into the mystery or close off the story. And, now that the most significant suspect was eliminated, it's time to reevaluate all of the potential players...and victims.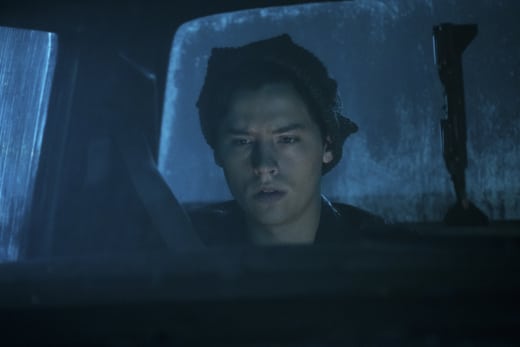 What did you think of "Chapter Twenty: Tales From The Darkside"? Will Josie ever find out about Cheryl's betrayal? How long will the affair be kept a secret? What will Penny ask of Jughead to do next?
If you missed the latest episode of Riverdale, you can watch Riverdale online via TV Fanatic. Come back here and let us know what you think.
Justin Carreiro is a staff writer for TV Fanatic. Follow him on Twitter.