Family Guy Season 16 Episode 9 Review: Don't Be a Dickens at Christmas

Lisa Babick at . Updated at .
Bah Humbug!
About the only interesting part of  Family Guy Season 16 Episode 9 was the jab at Matthew McConaughey and his Lincoln car commercials.
They are creepy, aren't they?
The worst part of those commercials is when they do a close up of McConaughey putting in his contacts. I don't really get how that helps sell a luxury car, but whatever, they're not my advertising dollars.
Maybe Lincoln thinks McConaughey's smoldering looks are enough for us to overlook any of the weirdness of that entire campaign.
And after seeing those two kids tied up in the back of the car, should we expect to see McConaughey in the news sometime soon? 
I wouldn't be surprised if we did. The guy is one strange fella.
When it came to the Family, what Peter needed was a lesson about the Christmas spirit after Lois got frustrated with him and took the kids to her parent's house for Christmas. 
There are some people who just aren't into Christmas, and it turns out Peter is one of those guys. I'm surprised he got away with not going to the Pewterschmidts house during the holidays all these years.
But maybe that was the whole point. Why is there such a thing as the "Christmas Spirit?" 
We're forced to be with family we don't see or even like, but we need to set that aside that time of the year for the Christmas spirit. If we don't, then we are considered terrible people.
Not only that, we're expected to bring gifts for these same people. It all seems like a farce.
Brian had the right idea to volunteer during Christmas since it's the season of "giving," but even that is a farce. 
Why only volunteer at Christmastime? Is it supposed to make us better people when we do it around the holidays? Why not do it all year long if we're just good people?
Brian didn't sign up the family because he felt strongly about giving back, he did it because he is cheap and didn't want to give anything of substance, at least according to Meg and Chris. And they weren't too happy about the poem he wrote for them the previous year, either.
But doesn't that seem more heartfelt than going to a store and buying something? Why is it always buy, buy, buy?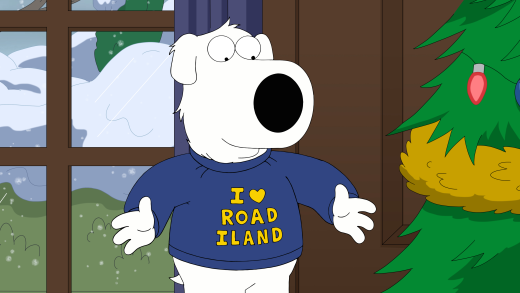 People have many expectations when it comes to gifts and many judgments about the gifts they receive. It doesn't seem to fit with the "Christmas spirit" we are all supposed to have during the holidays.
Patrick Swayze took Peter on a trip through Christmas past, present, and future. Peter had a lot of fun following Swayze around, as you'd expect, since the long-deceased actor is Peter's favorite.
About the only thing that really bothered Peter was Lois finding a new husband and flirting with the waiter at the Pewterschmidts' house during Christmas dinner. 
At least he realized how much his family meant to him and that snapped him out of his stupidity.
In the end, he found his Christmas spirit and gave everyone "thoughtful" gifts from the CVS store he stopped at on his way to the Pewterschmidts' house, but the lesson was that being with his family was the most important part of the holiday. 
It's not about gifts. It's about being with the people you love and care about.
One of the funniest bits of this installment was Brian's farts while he was sleeping on Peter's grave.
What kind of Family Guy Christmas Special would it be without a few fart jokes? And I really liked how the fart Peters appeared in a ghost-like form. It made it funnier, even if the subject matter wasn't very Christmassy.
Otherwise, there wasn't much more to brag about on this very special Christmas episode. 
Brian returning to the family after his Twitter fiasco wasn't addressed. It was just business as usual in the Griffin household. 
Maybe it was because Brian is a dog and dogs are silly and forget things rather quickly. How many dogs have fallen for the "I'm going to throw the ball but not really throw the ball" trick?
Brian is supposed to be smarter than your average, everyday dog, but the bottom line is that he's still a dog.
Still, it was nice to see the family back together again. Let bygones be bygones. That's another part of the Christmas spirit, right?
What did you think of "Don't Be a Dickens at Christmas"? Should we be expecting controversial news about Matthew McConaughey?
Did the good times put you in the Christmas spirit? Did you have a favorite part?
Hit the comments and share your thoughts.
If you need to catch up, you can watch Family Guy online right here via TV Fanatic.