NCIS: Los Angeles Season 9 Episode 10 Review: Forasteira
Dale McGarrigle at .
The effort to humanize Mosley continues, ever so slowly.
Oh, yeah. The team also was tasked with tracking down a superhuman assassin on NCIS: Los Angeles Season 9 Episode 10.
Let's go to the case of the week first.
A seemingly drunk woman in a bar killed two ex-Marines and a Brazilian diplomat but saved the bar owner by tossing her into a refrigerator before torching the place to destroy evidence.
That's strange, all right.
The squad spent much of the episode kind of stumbling along.
Callen and Sam got fired upon when they went to visit the home of one of the dead ex-Marines because his fellow gang members are paranoid, probably from sampling the drugs stashed there.
So that was a dead end.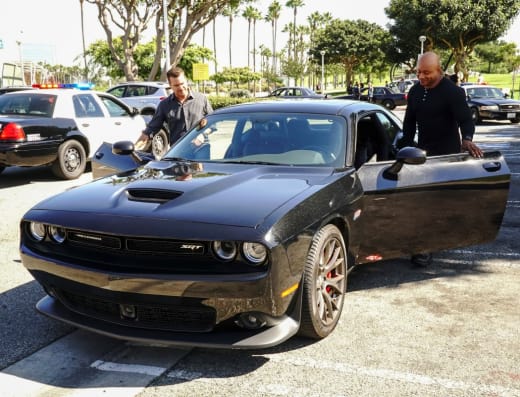 After it was determined that the thermite grenade used to set the bar fire came from a stash of weapons stolen from a Marine base, Kensi and Harley went to grill Jackson, the primary suspect in said robbery. They found him tied up in a trailer, allowing the assassin, Pietra, to loot his storage locker and take the weaponry she needed.
How this arrogant Jackass eluded capture for a year, I'll never know.
Once a crispy critter was identified as a Brazilian diplomat, Mosley, and her arm candy/bodyguards, Sam and Callen, went to visit the Brazilian embassy so that she could interrogate the smarmy consul general with whom she had previously worked. Sam and Callen spied members of the same gang at the embassy, also odd.
The dead guy and the consul general previously had a hand in the murder of an opposition activist. So guess whose daughter was a well-trained rebel soldier with a thirst for vengeance? Surely, she wasn't the only one with a grudge against the ruling regime, but let's keep the narrative simple. 
So Mosley made the smart decision to move Souza, the consul general, out of the country, muy pronto (I don't know Portuguese). In a bit of overkill, Pietra fires a missile at Sam's must-have-been armored SUV. Big boom, no injuries.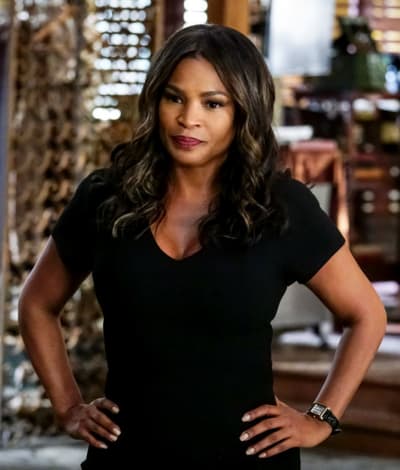 Then came the big tussle between Pietra and Kensi. This superwoman took out two ex-Marines, yet Kensi held her own in a slugfest, while Harley hunted for an open door. It also gave Daniela Ruah a rare chance to use her native Portuguese.
In the fight, Pietra managed to steal Kensi's phone and plant a bug on her so that she could follow Kensi to Souza.
Eventually, Kensi did an admirable job of bonding with Pietra and getting her to surrender.
But what I didn't get is why Souza pulled a gun on Mosley while they were moving him to a safer part of the building. The only thing I can figure is that he's been watching this season and wanted to do us all a favor.
Then, after she defeated him with a coil of rope, she sent the contents of his phone to his government so that he would stand trial. Pietra would even get to testify against him in return for a lighter sentence.
Mosley was somewhat more tolerable. She actually laughed in one scene. She also tended to go along with some of her agents' ideas. Imagine. Those that live there might have more local contacts and insights.
She even accepted Kensi's laughable sensitivity-training excuse for Deeks. If working with Hetty, Kensi and Nell hadn't trained him already, nothing will.
And still another episode without any mention of Hetty. Why plant a seed if you're just going to let it wither on the vine? If Hetty's gone, announce it. Otherwise, rescue her already. This storyline is old after less than an hour of screen time.
And now for the superfluous secondary storyline of Deeks failing to bond with his potential new dad Guy.
So Guy got mugged (on the way to a juice bar, no less), and he contacted Deeks because he feared sensitive video and sketches might leak out. Deeks, that beacon of discretion, got a quick case of the icks, and things went downhill from there.
Apparently, the mugger discovered what a useless haul he had made, and Deeks was soon able to recover the items, so he could spend the last scene squirming while Kensi got some much-needed laughter.
SPOILER ALERT: Hopefully, we'll get more Nell and Eric when a ransomware attack paralyzes the City of Angels on NCIS: Los Angeles Season 9 Episode 11.
To catch up on all the storylines left hanging, watch NCIS: Los Angeles online.
It's time to work for your least favorite storyline: Hetty in Vietnam, the Densi wedding or Mosley clashing with the team. Vote below and vote often.
Dale McGarrigle is a staff writer for TV Fanatic. Follow him on Twitter.