Outlander Season 3 Episode 13 Review: Eye of the Storm

Elizabeth Harlow at . Updated at .
So long Caribbean, hello America!
Jamie's perpetual seasickness is finally at an end on Outlander Season 3 Episode 13, but that storm may take a while to get out of his system. 
There were several really beautiful shots on "The Eye of the Storm," proving once again that Outlander has earned its place at the premier television table. 
The entire storm scene was well down, but there were several shots that stood out. The wall of water coming at the ship and the pull away so we could see the eye of the storm stood out.
But Jamie diving into the water to cut Claire free was so beautifully done that even I didn't nitpick about how unlikely such a scenario was -- well, not the first four times I watched.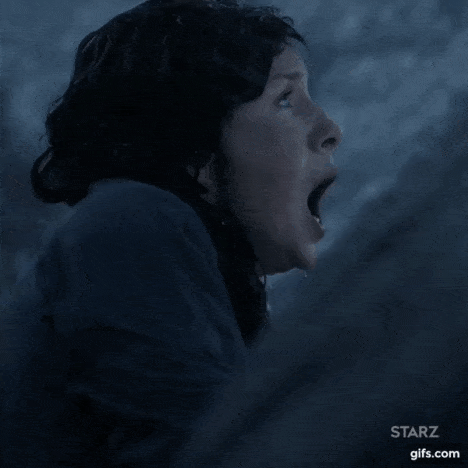 The juxtaposition of the pagan dance at Craigh Na Dun and the slaves' dances in Jamaica was beautifully shot, but it was Bear McCreary's contribution which elevated it to positively ethereal. 
It was one of a few callbacks to earlier shots from the show, and I love that the producers take the time to come up with those extra details.
Okay, so the whole rabbit thing being a theme throughout this season was a stretch, but the zoom out from Scotland and the zoom into America was on point.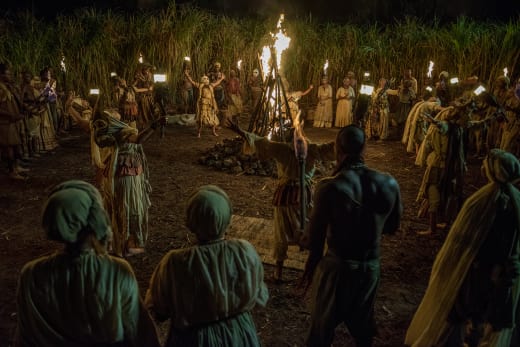 While Jamie's release from Lieutenant Captain Leonard could have been easily explained with just Jamie's line to Claire, I loved watching Lord John give the young officer a sit-down.
It made me wish for a meeting between Lord John and John Adams somewhere in the future. Managing to tear apart the young Captain so adroitly was beautiful to watch.
I hope this isn't the last we see of our favorite aristocrat. 
You don't have the warrant? Then what do you have, Lieutenant Leonard? Forgive me... [laughs] Captain Leonard. You must excuse my unfamiliarity with the somewhat liberal practices of the naval service, insofar as conferring rank is concerned. I'm afraid the army takes a somewhat more traditional stance in these matters, preferring to grant a title of command only when it has been earned.

Lord John
Luckily, Jamaica isn't so verra far from the colonies. But more on that later. 
Lotte Verbeek once again killed it. Geillis may be an evil bitch, but damn if I'm not going to miss her. Particularly her relationship with Claire.
Admittedly, I was more than a little frustrated with Claire for telling Geillis so much. It's not like she thinks Geillis is good and decent. She knows that this woman is a psychopath. She had just found children the woman had murdered.
But Claire can't lie, even without Geillis' special tea. 
I've never met another traveler. Only you. We share a bond... something even you and Jamie can't share.

Geillis [to Claire]
And even though Claire's idiocy at that moment annoyed the hell out of me, it gave Geillis the opening to spill some great insights.  The woman may be completely off her rocker, but she's not an idiot. 
Even with my frustration towards Claire, her trauma at having killed Geillis was moving. Especially once she realized that she realized that Geillis is the woman Joe had been evaluating on Outlander Season 3 Episode 3. 
I'm just disappointed that the connection between Joe Abernathy and Geillis' latest identity wasn't made. It was obvious for those of us looking for it, but playing it up more explicitly would have added to all the connections and coincidences that were a theme of the season. 
Geillis: Why are you here?
Claire: I just told you.
Geillis: 25 years ago, you dropped out of the sky into my life...and now, again, you appear on my doorstep. Strange how fate keeps bringing us together.
At least we didn't have to suffer a separation between our lovers again. I loved Claire's line when she woke up on the beach in Georgia.
Our dear couple just keeps getting into situations where they're ripped apart, and it was refreshing to have them hold onto each other so fiercely this time. 
There was one reason they were willing to separate, and there always will be. I'd take Jamie's words to Claire in the cave to be a bit of foreshadowing if I were you. These two love each other, but ensuring the safety of their family comes before even their love for each other. 
Claire: Jamie... the portal must be nearby. If it takes me, I may not be able to come back through again.
Jamie: Ye ken that... if anything should happen to me, you must still follow her. You must go. We lost Faith. We will not lose Brianna.
With Outlander Season 3 all wrapped up, it's #Droughtlander time again. Luckily, filming on Outlander Season 4 is already underway, so the wait may not be completely interminable. 
Now seems like a good time to remind you all that Murtagh was sent to the colonies as an indentured servant several years ago. Oh, and to take a look at what else Season 4 may bring your way!!
I think I'm more excited about the possibility of his return than I am about the news that Maria Kennedy Doyle is joining the cast next season. You know the alumna of The Tudors and Orphan Black is going to kill it as Aunt Jocasta. 
Jamie: We'll return Ian straight to Jenny.
Claire: He might not want to go back, after all this adventure.
Jamie: I dinna care if he wants to or not. I'll deliver him to Lallybroch if I must stuff him into a hogshead.
If you start going through withdrawal, dinna fash, you can watch Outlander online. Or there are all of our past Outlander reviews to catch up with. 
And don't forget to join the conversation in the comments section. Nothing to get you through #Droughtlander like commiserating with your fellow Outlander Fanatics!
Elizabeth Harlow was a staff writer for TV Fanatic. She left the organization in October 2018.