Shameless Season 8 Episode 5 Review: The Education of Liam Fergus Beircheart Gallagher
Paul Dailly at .
Will the Southside really be able to change?
That was the big question on Shameless Season 8 Episode 5, and there seemed to be some differing opinions. 
Fiona may be going out of her make the art gallery a thing because it will be a highlight when she's trying to promote the features and benefits of the apartment building. 
At one point, I thought Fiona was going to buy the church, but it would be a little too soon considering she's still so out of her depth with the tenants. 
Margo is like a career advisor for Fiona these days. Her story made Fiona realize she could be something other than a waitress, and that's why it made a lot of sense for Fiona to reach out to her.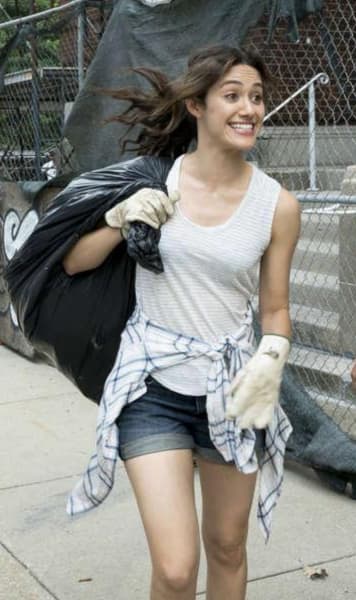 It was glaringly obvious that Fiona's aspirations were going to clash with Ian's. But it's fun that, after all these years, we can still have new dilemmas for the Gallagher clan. 
Fiona knows that having a group of homeless teens in a shelter will be detrimental to the neighborhood's success. Ian is a do-gooder, and while his intentions were probably to get closer to Elliot, he feels like he has a duty to care for the teens. 
I love that Fiona and Ian bickered about the pros and cons of having a homeless shelter in the church. Fiona and Ian have always been the closest out of their siblings, and this latest development is going to question their relationship like never before. 
Principal: Mr. Gallagher, a word. Liam failed his exam today. He only got two out of ten questions correct.
Liam: I didn't understand the questions.
Frank: What kind of questions are we talking?
Principal: Basic word association.
In Ian's defense, Fiona was acting different from her usual understanding self, but she wanted the neighborhood to thrive. Some of Fiona's comments, however, were not that nice. 
Claiming that the teens are responsible for the bad stuff that goes on in the neighborhood was downright awful. Fiona knows good and bad is everywhere. 
It's exciting to see Fiona and Ian at odds, and I daresay they are going to drift further apart as Shameless Season 8 progresses. As for Ian's relationship with Elliot, it's time to nip that in the bud. 
We know that if Mickey were to miraculously return the Southside, Ian would be all over him like a rash. Elliot deserves better because there's no point in falling in love with someone who is still not over his first love. 
Did anyone else seriously think that Kev and V would be able to coerce Svetlana into giving in about the way the profits were split between them? On paper, Svetlana had a point; the bar is only thriving when she's there. 
That's because she's telling the Russians that Kev will be charging them double her price. This is her way of reiterating that they need her. 
V still loves her, and that was made evident by the way she rocked up at the bar with laced up hot pants and a see-through top after learning Svetlana was going on a date. 
Kevin likes the sexual aspect of everything that went on when they were a throuple, and that was driven home after V was honest about her encounter. 
V knows she can't show Svetlana she's weak and under her control, but she can't resist Svetlana, and I think they will need to return to being a throuple or they run the risk of splitting up for good. 
Lip really needs to find a sponsor before he starts drinking again. It was surprising that Brad made his way back to a life of drink so quickly, and it's clear that being a father is taking its toll on him. 
Brad likely knew he was spiraling and that's why he was so eager for Lip to move on and find another person to help him when he was in the depths of despair. 
This storyline is likely going to pave the way for the exit of Brad, and that's a real shame. Brad was instrumental in Lip changing his mind about alcohol, and I hope this will not make Lip spiral. 
If you watch Shameless online, you will know that Lip has proven he is all about his recovery and will stop at nothing to be in control of his life, without the influence of narcotics or alcohol. 
Other tidbits from the episode:
Did anyone else see the twist about Liam's school coming? What did they really expect when they have been taking the kid out of classes to show that they are an inclusive environment? 
I just can't with Debbie anymore. Getting filled with drugs while looking after Franny is just another day for her, and this storyline feels like it's been done before. 
Carl helping the addicts of the Southside was hilarious. Who would have thought his prisoner situation would result in someone else being brought to him to save?
"The Education of Liam Fergus Beircheart Gallagher" was another stellar episode of this Showtime hit. This show is (still!) showing no sign of slowing down. 
What did you think of the episode?
Sound off below!
Shameless continues Sundays on Showtime!
Paul Dailly is the Associate Editor for TV Fanatic. Follow him on Twitter.