The Last Post Review: Keeping an Eye on The Crown's Colonial Subjects

Carissa Pavlica at .
If you're looking for something to challenge your British side, keep you on your Royal toes and remind you about the Queen's rule around the world during the mid-60s, Amazon has just the series for you.
On Friday, December 22, Amazon will premiere all six episodes of original dramatic series The Last Post on Prime Video in the US.
From BAFTA winner Peter Moffat and starring Jessica Raine, Jessie Buckley, Jeremy Neumark Jones, Amanda Drew, Ben Miles, and Stephen Campbell Moore, The Last Post is set during the social and political unrest of the mid-60s, in the simmering heat of Aden, Yemen, and follows a unit of Royal Military Police officers and their families.
On The Last Post, the men in the police unit don't have easy jobs: half soldiers, half policemen and full-time husbands and fathers who face constant insurgency and threat. Danger is everywhere.
Based on Moffat's childhood memories, his father's life as an officer in the Royal Military Police and his mother's struggle between being what the army required her to be and what she felt like being, The Last Post is an in-depth look at the sacrifices made by soldiers and their families.
It's much more a soap opera than it is a look at the soldiers' battle with to keep insurgents from rising up in and around Aden, which was once a tourist destination for those under Imperial rule. Queen Elizabeth considered it a shining success of modern colonialism.
Having watched The Crown and understanding a bit more about Imperial rule and how it works (and when it doesn't) helps put The Last Post into context. Who says TV cannot teach you anything?
As Ben Miles plays a prominent role as Major Harry Markham so soon after his role as Peter Townsend on The Crown, it also merges the two worlds somewhat. By suspending my disbelief, I can imagine Townsend married after letting go of Princess Margaret and he's now Royal Military Police, running a station in Aden with his family.
The addition of a photo of his personal friend, Queen Elizabeth, behind his desk, lends even more credibility to my scenario.
While the fighting and atrocities that go down in Aden are based on fact, I have no reason to believe the more torrid aspect of the affairs at Aden are similar. Yet it's the women that breathe life into The Last Post.
Without Jessica Raine as the post's cat on a hot tin roof, Alison Laithwaite, much of the drama would be absent. She is is the life of the party no matter how far down she falls.
By making friends with newlywed Honor Martin, the two become a sort of Aden Thelma and Louise, getting themselves into situations they really shouldn't be given the amount of danger surrounding them at all times.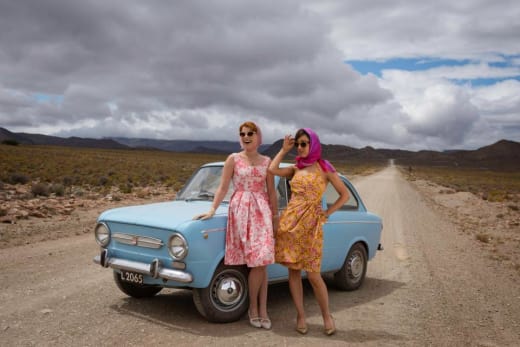 Amanda Drew's Mary Markham is not only the mother but the motherly figure, as she's married to the Major and unwittingly becomes entangled in a drama no family should ever have to suffer on behalf of their country.
There is military action, and at times a lot of it, but it's not the highlight by any means. In fact, if fellows like these were in charge of any significant military ventures, I'd have to guess the British Army would have lost a lot more than they would have ever gained. They were abysmal.
When you consider the entirety of the story is based on a grown man's recollections from his wee childhood, it makes more sense. Until it doesn't.
It seems Moffat did more research into the possibilities of what bored women surrounded by desert sand might get up to rather than the competencies of the British Army -- or if there was much of a presence of the Royal Military Police in Aden to start.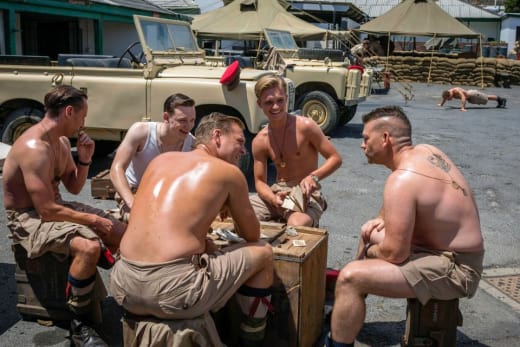 Even with the complaints, The Last Post is an easy binge watch with only six episodes.
The cast is credible and they get under your skin with few exceptions. A few outside female characters are not well cast and watching their scenes is reminiscent of nails on a chalkboard, but thankfully, Raines, Jessie Buckley, and Drew are the ones to watch.
From the male side of things, it's very easy to sink into the stories of Chris Reilly as Alex Baxter, a Scottish lad missing his father, Joseph Kennedy as Captain Nick Page, and Stephen Campbell Moore as Ed Laithwaite. The latter, especially, has quite a turn throughout and does well with his material.
While it's unlikely to win any awards, the characters may win your hearts. What more can you ask for an afternoon? Give it a try if you're hoping to keep up with the Queen's interests while she's on hiatus.
The Last Post drops on Amazon Prime Friday, December 22.
Carissa Pavlica is the managing editor and a staff writer and critic for TV Fanatic. She's a member of the Critic's Choice Association, enjoys mentoring writers, conversing with cats, and passionately discussing the nuances of television and film with anyone who will listen. Follow her on Twitter and email her here at TV Fanatic.