The clouds have parted, the sun is shining, and all is well with the world. 
Yep, Matt and Gabby finally resolved their "problems" on Chicago Fire Season 6 Episode 10. Or at least I think they did? It's kind of hard to tell when no one was super clear what their problems were in the first place.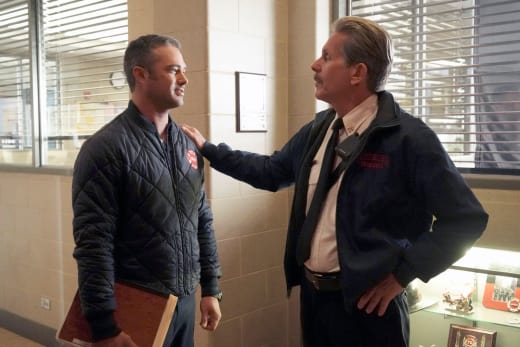 But at least they're talking now, which is definitely an improvement. 
I mean, I still think they should probably go see a counselor or at least that chaplain who pops up every now and again, but if tv characters (or people) got all the therapy I thought they needed, things would be drastically less interesting. 
Who wants to watch a bunch of well adjusted people work their problems out using healthy communication techniques anyway? 
Matt: When that whole thing with Louie went down, your first move was to pull away from me. Decided to do it on your own. So when you started getting in deep with Bria, I got this sinking feeling. Maybe we were going down the same road.
Gabby: I'm sorry.
Matt: Don't be. I just want you to know that wherever you're going, I'm right here with you.
Gabby: I know.
Mostly I'm glad that their marital rough patch is over because it was boring. And stupid. Mostly stupid. 
There was a way to make it feel real and organic to the audience, but it wasn't the path the writers took. Even after getting a full explanation from Matt, I'm scratching my head. 
I do think that this foster experience with Bria is going to be a healthy refresh on their plans for a family -- biological, fostered, or adopted. 
It's a much clearer situation, with a definitive end date and a clear objective of reuniting this girl with her father. No nasty surprises here. 
And having a teenager in the house is more akin to having a little sister around then a child you can imagine is your own. 
But I do think that the plans for their family have to move forward from this placement. Matt and Gabby (and all of us) have been hanging in limbo for too long on that subject.
Speaking of limbo...poor Cruz. I wasn't surprised to find out that he's still in love with Sylvie -- just consider how he reacted to her recent fling with Antonio -- but I still feel bad for him. 
I'm still rooting for him to get together with Pilar. At the very least, Cruz needs a palate cleanser. He hasn't seen anybody seriously since Brett, and that was years ago! 
If not Pilar, maybe the writers could set Joe up with Nurse Monique on Med, or, you know, literally any female character from the franchise. They could even write another new character for him. Just get Joe some love already. 
Otis: She lives with us. Works with us. You can't do this.
Cruz: Do what?
Otis: You cannot be in love with Brett.
Cruz deserves all the good things after all. 
I really enjoyed watching him show off (some) smarts with his idea for the Slamigan. We can only hope it's success is just the start of good things for him. 
While the money from a deal with somebody like Mouch's friend would be helpful for him, I think the most important outcome was the boost to his confidence when the Slamigan worked in the field and the other guys admired it. 
Cruz: Hey, no one invented the computer until Bill Gates came along.
Otis: Bill Gates didn't... [gives up]
While we're on the topic of romance, how much does it suck that Stella and HazMat Zach are doomed? I mean, he seems like a nice guy. 
Her certainly passed her test. 
But this relationship is going nowhere, and fast. 
Stella: Do you take drugs?
Zach: No.
Stella: Any mental illness?
Zach: Only when I'm hungry.
I understand why Stella held back and pretended she didn't remember anything about the rejected kiss. It was definitely self preservation. 
But how much longer until one of them caves? 
My money's on Kelly coming clean with her. It's a little out of the norm for our favorite emotionally stunted Squad leader, but weeks of being tortured with her dates may push him over the edge. 
Of course, there's always a chance that whatever seeds were starting to germinate between those two will be quashed by Grizz's ambitions for Kelly.
Sure, he's an old friend and mentor, but he's not concerned with advancing Kelly's career for Kelly's sake. Nope, this is all about him. 
After Severide's words about how Grizz was the real influence on his life, I really want to like the guy. But I just can't trust him. Why can't he just support Kelly's decisions?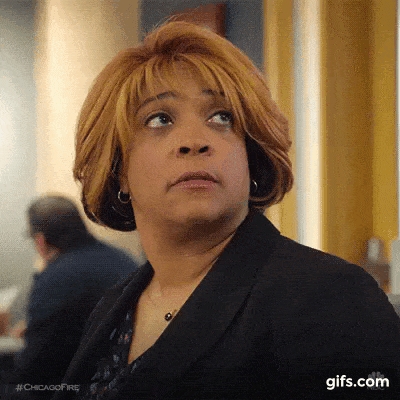 Grizz isn't done stirring up trouble. Remember how tense things were between our two leading men during Chicago Fire Season 1? Bingo Bob Grizz will be jump-starting those latent tensions on Chicago Fire Season 6 Episode 11. 
Apparently, if Kelly won't pursue a leadership role on his own, Grizz's idea is to knock Casey down so that Kelly looks good by comparison.
It's a truly dirty move, and I just hope that Kelly doesn't fall for it. 
C'mon, let's get to the cinnamon rolls before Connie does.

Sylvie
I was really looking forward to some cigar scenes between Matt and Kelly after all. 
We might have to just make do with some bonding between Sylvie and her mystery guest at the spa instead. 
Now, don't get too excited -- Gabby may have set everything up for Brett's spa day, but Jon Seda isn't listed as a guest star, so it's not looking like it's a romantic spa day. 
Herrmann: The 'bathing bouquet.' Mouch, really, hmm?
Mouch: It's a charity auction. I'm driving up the price.
Otis: You bid $50 more than the next highest bidder.
Herrmann: You know, if you really want the thing, just say you're buying it for Trudy.
But it's also hard to imagine that Gabby would send her BFF off with Trudy, who will be appearing, instead of going herself. Maybe it's a date with her writing partner, now that we know about his secret love of bath bombs? 
Just try to visualize Christian Stolte in a rub with a mud mask and cucumber eye covers and then don't laugh, I dare you. 
One plot line I am worried about? Herrmann is brining in his daughter for take-your-child-to-work day.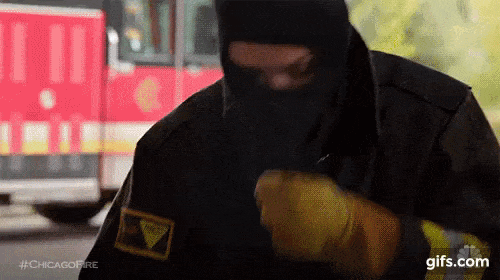 Now, Herrmann's been one of Gabby's biggest defenders, and has no problem with women in the firehouse. So in what universe does he "struggle to entertain" his daughter at the firehouse?
Even if she doesn't want to be a firefighter or an EMT, he could show her the support positions like dispatcher or admin. 
With any luck, I'm just over reacting and this will be an amusing but touching C-plot. Fingers crossed.
Cap [watching Sylvie weld]: Am I the only one have a Flashdance flashback?
Otis: You're old.
So what did you think of "Slamigan?"
Did Brett's welding skills come as a complete surprise? What's your take on Grizz? Will Matt and Kelly's friendship survive another command disagreement? 
Join the conversation in the comments section below to let us know! And remember, you can watch Chicago Fire online and true Fanatics can catch up on past Chicago Fire reviews!
Elizabeth Harlow was a staff writer for TV Fanatic. She left the organization in October 2018.