Scandal Round Table: What Will Rowan Do Next?!
Paul Dailly at . Updated at .
Quinn may not be out of the woods yet. 
On Scandal Season 7 Episode 9, Rowan kept the mother-to-be locked up, but she used her skills to save herself.  
Below, TV Fanatics Christine Orlando, Lizzy Buczak and Paul Dailly discuss Quinn's survival instincts, what's coming next and so much more.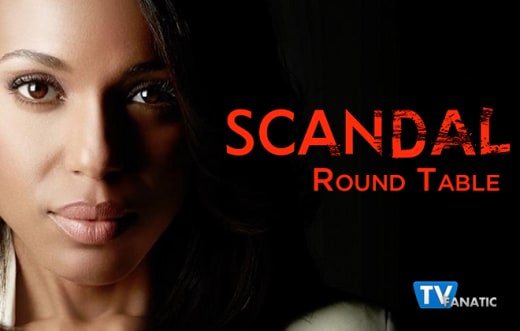 What did you think of Quinn surviving her ordeal?
Christine: Thank goodness! I would have been so angry is she were dead. Quinn is a badass so I figured if anyone could survive this, especially being that pregnant, it would be her. I can't imagine that Olivia gave her the hairpin with that reason in mind, and the hairpin ends up on the body they find…so there's still a whole lot left to this story. 
Lizzy: Well for starters, I am so glad! I really didn't want Quinn to die. She's B613, she runs OPA, she's the glue that holds everything together — and she's pregnant! Who doesn't want to see her raise this baby? Plus, she has enough evidence to take down big, bad Olivia! Thank goodness for the hairpin... but whose body was it on?
Paul: Meh. It was dragged out for dear life. This should have been resolved in a swift manner as opposed to making us wait for weeks on end to rehash much of what already happened.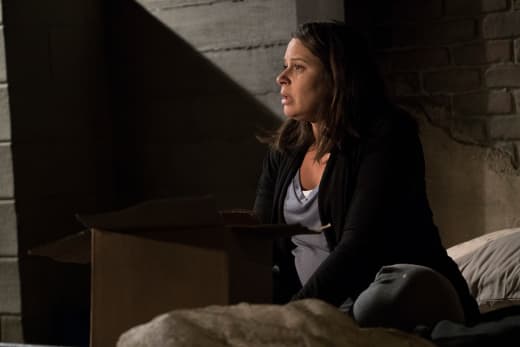 Is Quinn fully out of the woods yet?

Christine: Not at all. Rowan could still kill her. There's still a dead body that came from somewhere. And if Olivia finds her before anyone else, I wouldn't put it past Liv to kill her to save her own skin, especially since everyone already believes Quinn is dead. I won't be happy until Quinn and Robin are back with Charlie because I believe that little family can survive anything if they are together. 
Lizzy: I don't think Rowan is a threat if that's what you're asking. This episode was so crucial because we finally got a peek into the mind of former Command. How far would he be willing to go?
He's merciless but, he honors a code: woman and children first. And she's acknowledged that. Now, Olivia, she might do something to shut her up if she finds out she's really alive. But with Charlie at Rowan's throat, I think she's fine.  
Paul: Rowan still has some more cards left to play, and given that we know Quinn is not in the house when Charlie shows up, I'm going to assume she's still in trouble.
How did you feel about Marv and everything that happened to him?

Christine: Oh, if only Marv had said no to buying the gun. That was the step down the dark path where things went really wrong. I almost felt sorry for Rowan when he said Marv was his only friend but he killed him to save Quinn and the baby. It's amazing that I can still feel something for him even after all he's done. 
Lizzy: We've never seen a completely innocent person get caught in the line of fire. The back and forth always happened between DC players who understand the game and weren't completely innocent themselves.
It was definitely hard to watch Marv befriend Rowan, especially when you already knew how it was going to end. The fact that this was his only friend didn't even make a difference — this is the man who killed his "girlfriend" point-blank. 
Paul: It was predictable, but witnessing Rowan's plan come to fruition was actually pretty funny. If only the rest of the episode held up. Marv played with fire, and he found himself dead.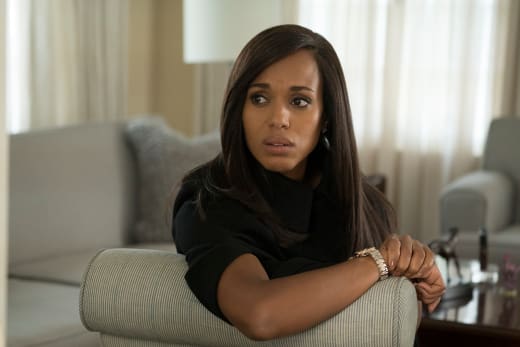 What was your take on Quinn seeing her nearest and dearest during her tough time?

Christine: I liked it. It made perfect sense. She was worried that Charlie really thought she bailed on him, and Huck was the one to push her to figure out how to escape. Quinn needed them all to help her form a strategy, just like at work, only this time she had to make due with the versions in her head. I enjoyed those scenes. 
Lizzy: I loved that. It really solidified that OPA is a team and they rely on each other to get out of the toughest situations. Quinn was so defeated but subconsciously knew that there had to be some escape route. Charlie is the love of her life, but she needed her best friend Huck to really motivate her. 
Paul: I wasn't a fan. It was too similar to the way things played out on Scandal Season 6 when Huck was in the car trying to save himself after being shot. It was far too convenient for me to take it seriously.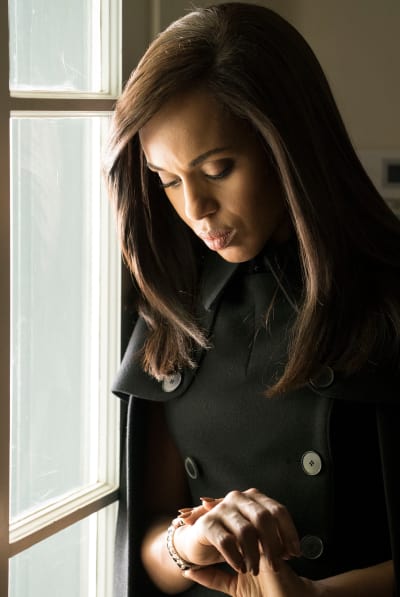 Why did Rowan by clothing for Robin's first few years?
Christine: That was scary! Is he planning on keeping the baby? How long will he keep Quinn and the baby as his prisoners, because they still are even though the accommodations are much nicer than the basement.
I just want to get back to Charlie finding baby Robin, and hopefully finding Quinn. That's the happy ending I'm looking forward to seeing. I can't say I really care much about Olivia at all. 
Lizzy: He doesn't know how long this war will drag out and he obviously cannot lose his power to his daughter, so until Liv is taken care of, Quinn must remain "dead." Quinn even acknowledged that right before helping him clean up Marv's mess.
Quinn will definitely go through some Stockholm Syndrome; she won't be in love with Rowan, but she has gratitude and definitely sees him a new light. Hopefully, Charlie intervenes real soon and they all band together to take down Liv. 
Paul: He does not plan on giving up Quinn and Robin for a while. That's if he allows Quinn to leave alive.
Over to you, Scandal Fanatics. What did you think of the episode? 
Hit the comments below!
Remember you can watch Scandal online right here via TV Fanatic. Get caught up now. 
Scandal continues Thursday on ABC. 
Paul Dailly is the Associate Editor for TV Fanatic. Follow him on Twitter.