The Brave Season 1 Episode 12 Review: Close to Home: Part 1

Lisa Babick at .
We delve into Patricia's past on The Brave Season 1 Episode 12, but all we're left with is mystery and intrigue.
We're supposed to think Alex is dangerous, but did Patricia fly to Turkey to protect the team or to protect herself and Alex?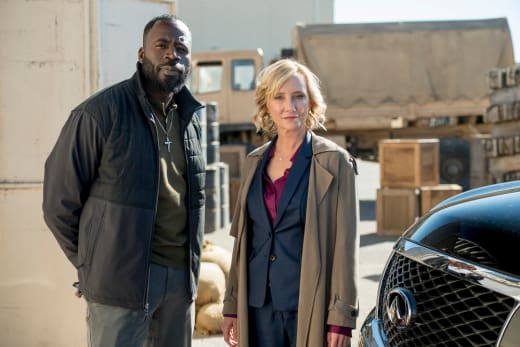 Maybe it's both. It could be that Patricia helped Alex fake his death when she was supposed to execute him. She made the mistake of getting romantically involved with him which is always an issue, but isn't surprising.
At this point we don't know if she knew about all the things he was accused of. He told Dalton that she did things, but the higher ups didn't believe she knew what had been going on.
It's odd that Alex would know the names of everyone on the team. It could be that he's keeping tabs on her, but it could also be that she's still keeping in touch with him. 
Maybe she never believed what she was told. Maybe he convinced her he didn't do all the things they said he did.
Alex is an intriguing character. I like that we have someone messing with the minds of the team, keeping them off kilter. I would have liked to have seen him talk to the others than just Preach and Amir.
It didn't take him long to get under their skin which is a bit odd. Preach isn't the type of guy that would let a little bit of talk get to him, but he jumped out of his chair pretty quick to confront Alex in the cage.
Is there a possibility that Preach might be on his way out? I didn't like what Alex had to say about dooming him, but it did seem like Alex knew more about Preach than he should have.
He had the same effect on Amir who also got rattled by what Alex had to say. Are they that spooked about Patricia coming to Turkey to face the guy?
Dalton seemed to think that Alex knew more information about Verna than he was telling, but punching the guy had no effect. 
I did love that Alex made a comment about Dalton and Jaz. The whole world knows there's something between those two. Considering that The Brave Season 1 Episode 13 may be the last episode ever, I would love to see some sort of romantic acknowledgement between Jaz and Dalton.
A kiss would be great, but I'd settle for Dalton at least admitting he has feelings for Jaz because the guy has feelings for Jaz. He can deny it all he wants, but it's obvious to everyone.
When a guy like Alex, who doesn't even know the dynamics of the team sees something, you know it's real. 
Of course he could be repeating what Patricia has said and noticed, if in fact he and Patricia have stayed in contact.
Besides the Patricia and Alex mystery, there is the mystery of Verna who's father was killed because she hacked into a nuclear submarine. 
It would make sense that a lot of countries would be interested in Verna's knowledge, but the question I have is how did any of these people know Verna hacked into the submarine in the first place?
It also seems that something as serious as hacking into a nuclear submarine would cause a much bigger deal than just sending in a special ops team to bring the girl home. That's some serious stuff, accident or not.
But Verna's story is just a side story to the main mystery of Patricia and Alex. There is the question to be answered as to why Alex was chasing after the girl. Who was he working for and why?
We all know that Verna is going to be saved by the team. At least that's the expectation because our guys always accomplish their mission. I can't imagine our team not saving Verna before she gives control of the submarine to the bad guys. It's just not something I see happening.
The wild card is Alex and his current relationship with Patricia. If there is going to be a twist, this is where it will fall.
However The Brave ends, I hope it is satisfactory for fans whether it is the season or the series finale.
What did you think of "Close to Home: Part 1"? Did Patricia help Alex fake his death? Will one of the team members die? Were you surprised Alex noticed the chemistry between Dalton and Jaz?
Hit the comments and share your thoughts!
If you need to catch up, you can watch The Brave online right here via TV Fanatic!
Lisa Babick is a staff writer for TV Fanatic. Follow her on Twitter.