The Last Man on Earth Season 4 Episode 9 Review: Karl
Kaitlynn Smith at .
The Last Man on Earth returns from hiatus with an entire episode centered around a new character. Unfortunately, it fails to entertain viewers like the rest of the season has. 
The Last Man on Earth Season 4 Episode 9 introduces us to Karl, a serial killer who has been trapped alone in a Mexico prison after everyone else succumbed to the virus. He is finally rescued by Tandy and Todd, who seem shocked and excited to find another person alive. 
"Karl" was necessary exposition, but it failed to do much more than simply tell the audience Karl's story. Only a few moments caused me to laugh-out-loud, and I mostly found myself wondering when the episode would end. 
This episode was structured just like The Last Man on Earth Season 3 Episode 10, which showed us the origin story of Kristen Wiig's Pamela. Fred Armisen, though, is not as charismatic as Wiig.  
Wiig's solo performance in "Got Milk?" moved quickly, with her quirky comedy style making the episode fun to watch, even if it was a break from the show's normal storytelling style. 
The prisoner Karl is painting: How's it coming?
Karl: My finest work yet! It's like Matisse mixed with Shakespeare, with just a little Rhea Perlman on top.
Fred Armisen certainly has a lot to offer as Karl. He has an oddball comedic style, much like Wiig, that makes him a compelling casting choice for the role of the serial killer. That does not mean, however, that he has what it takes to carry an entire episode by himself. 
This solo episode felt much longer than its 22 minutes because I quickly became bored of Armisen. His acting can become tiresome when it is not balanced with the work of others.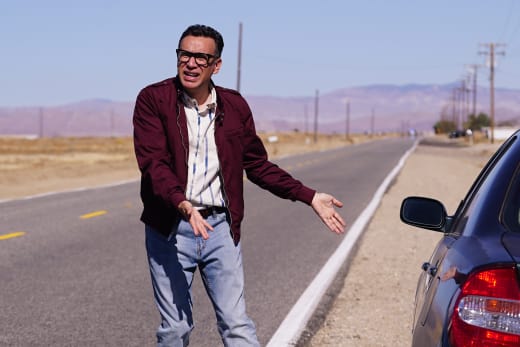 I think Armisen has a lot of potential on the show. His comedic style will probably blend well with the rest of the cast, and it matches this eccentric show's brand. 
Unfortunately, he was not given the chance to interact with them in "Karl." Except for the brief moment at the end where Tandy and Todd rescue Karl from the prison, no one from the gang was featured.
This was a disservice to Armisen's talents, and to fans of the show who waited for its return from winter hiatus and were ultimately left unsatisfied. Karl's story could have been told in a different way, one that would have felt less monotonous and less of a carbon copy of "Got Milk?" 
Sorry it's taking me so long. I'm just searching for the perfect brush.
In addition, because we knew that Karl was going to be found in a prison, the suspense of not knowing what he did could have been more fun for the remainder of the season. It could have kept the audience guessing and provided us with a fun mystery to solve as Karl interacted with the gang. 
Despite the episode's failure to keep my attention for the entire time, there were a few moments I truly enjoyed. 
First, both Martin Short and Leighton Meester made cameo appearances.
Similar to Jack Black's random one minute scene on The Last Man on Earth Season 4 Episode 1, Short and Meester each had one scene with Armisen. Short ended up being one of Karl's victims while Meester managed to escape from her date from hell with him before she was murdered.
Neither were hugely significant to the overall plot of the series, but they were unexpected and fun surprises that added a little bit of life to a darker and dull installment of the show. 
Second, I laughed for an embarrassingly long time at the Titanic joke Karl made on his date. In fact, my fiancee, who does not watch the show and was in the other room, overheard the joke and laughed just as much as I did.
Karl: Have you ever been painted? You know, like a painting?
His date: No.
Karl: Then it's settled. We're going back to my place after dinner, and I'm going to paint you. Just like Jack did to Rose.
It caught me by surprise, and by the end, I enjoyed the moment even more because it was the only truly funny in the entire episode.
Finally, I enjoyed the suspense of the scene where Karl was painting a man and went to find a knife to murder him. The ominous music and dark lighting was reminiscent of a horror film. Even though it was only one scene, it had me on the edge of my seat. 
In the preview for the next episode, we saw a glimpse of Karl interacting with the gang. It seems promising already, with a return to the format that makes this show so special and enjoyable.
It looks as if Karl wants to "paint" Gail. Will she become his new victim? How long will it take the gang to figure out who he really is? I am looking forward to seeing him interact with each character. I imagine it will be a more enjoyable journey than "Karl" was. 
What did you think of The Last Man on Earth Season 4 Episode 9? Were you bored and wanting more like me? Did you enjoy this break from the gang? You can watch The Last Man on Earth online! After you do, share your thoughts with us in the comments below! 
Hi, I'm Karl.
Kaitlynn Smith was a staff writer for TV Fanatic. She retired in May of 2018.