Paramount Network's six-part television event Waco begins airing Wednesday, January 24 at 10/9c.
Starring Taylor Kitsch as the man who has been described as both a madman and a messiah, David Koresh, the series attempts to give a comprehensive look at what went down in Waco, Texas, in 1993 between the Branch Davidians, led by Koresh, the ATF, and the FBI.
I was given the first three episodes of the series to review, and as it has always been, the story is not an easy one to digest.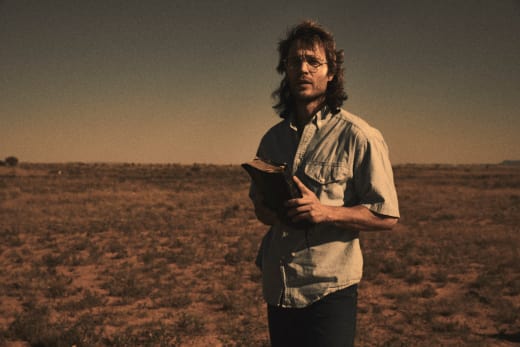 The series is based on two biographies, Waco: A Survivor's Story, by Branch Davidian David Thibodeau, one of the nine survivors of the final fire on April 19, 1993, and Stalling for Time: My Life as an FBI Hostage Negotiator, written by the FBI's Head of Crisis Negotiation Unit Gary Noesner.
Most of the first three episodes of Waco are spent getting to know David Koresh, his followers, his wife, and children.
From the side of the FBI and ATF, we're introduced to Noesner (Michael Shannon) because while we're getting to know Koresh, Noesner had his hands full with Ruby Ridge, another political disaster for the ATF and FBI that took place on August 21, 1992.
That tragic standoff is played in some detail, and it's hard not to imagine that what went wrong there significantly impacted the upcoming disaster at the Waco siege.
In fact, from what appears in Waco the series, it would seem the ATF moved more swiftly and with even less reliable information about the compound they were hoping to infiltrate. If it seems nonsensical, that could be why the event remains such a mystery.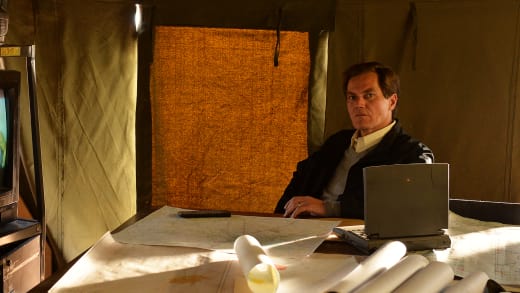 Unfortunately, I believe the lion's share of that information will come in the final three episodes of Waco.
Unless I'm missing the mark, Waco is edited similarly to the way Manhunt: Unabomber was but opposite. While Manhunt: Unabomber focused first on the government and then on Ted Kaczynski, Waco should be showcasing the Branch Davidians first and then focus on the government aspect in the tail end.
If the focus of the ATF and FBI doesn't pick up, Waco will endure more as a puff piece for David Koresh and his charismatic leading of an off-kilter religious sect.
Make no mistake, there was nothing right about David Koresh or what he was doing with the Branch Davidians. He was a very troubled man, most likely a narcissist, but not without compassion. Men like Koresh tend to have a little bit of everything; That's why they're successful.
Taylor Kitsch only makes Koresh more appealing. Far more handsome than Koresh, Kitsch can also convey how easy it was for Koresh to pour on the honey when he's appealing to new members of his flock.
Whether he's hanging with the guys and playing in a local rock band or preaching to his flock, Kitsch's convincing performance of Koresh is what keeps all eyes on Waco. It's a pity there isn't a way to know more about the man behind what has become such an important part of our culture.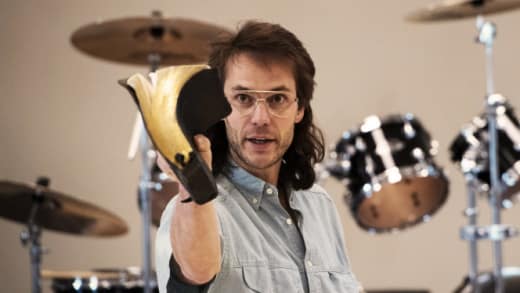 Koresh himself agreed it's not easy to imagine being married and celibate (not that he knew), as he asked of his newest recruit (and survivor), David Thibodeau (Rory Culkin), but he said Koresh's best friend, Steve Schneider (Paul Sparks) managed just fine. Steve's wife was even expecting the newest Koresh baby!
It becomes easy to see how out of tune Koresh himself was from his followers, but it doesn't seem uncommon in such situations.
There is a lot about the Branch Davidian faith that is suspect, but when it comes from a man who could sell fresh snow in the desert, it's also easier to understand why so many people fell for his shtick.
Supergirl's Melissa Benoist plays his wife, Rachel, and her one demand from Koresh is that their child together comes before all other children. Benoist is both soft and somewhat insecure as Rachel around Koresh, and in command and determined with his followers.
The women are often too young to be having sex, let alone children in some cases, yet for all of his preaching, when the rubber meets the road, Koresh has to stand up and recognize his teachings are against laws he knows exists and readily disobeys.
If it doesn't make his followers question his position, viewers will easily become conflicted.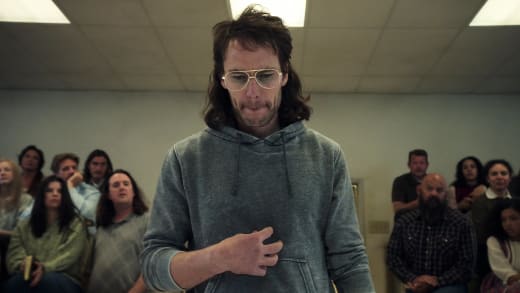 So close after Ruby Ridge, it's painful watching the ATF's plan we see coming into place (mostly through the eyes of Koresh) knowing the outcome as we do. A fire consuming the compound culminating with the deaths of 76 men, women, and children.
The only clue we're given into why the Branch Davidians may have a literal arsenal in their compound is they use it as a recruiting tool, attending gun shows to sell weapons and recruit the people who buy them, usually the disenfranchised, people who feel they need protection from a world gone bad.
People who don't quite fit in. Perfect Branch Davidians.
Through the third episode, there wasn't a shred of evidence the ATF did any recon into why the Davidians had weapons or if they attended gun shows, which should have been a matter of public record. That's hard to believe, but their first assumption was something to the effect of "he's obviously planning an attack."
At the end of the third episode, the 51-day standoff had just begun. Fifty-one days the government and a religious compound squared off against each other, and if it was that long of a conflict, we could only assume nobody was getting to the bottom of the facts of the matter in any due course.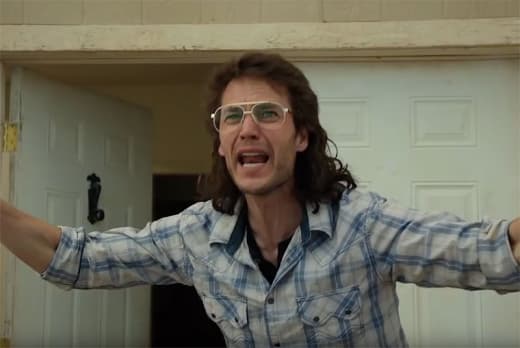 The series stars Kitsch, Andrea Riseborough, John Leguizamo, Benoist, Sparks, Shea Wigham, Culkin, Julia Garner, Camryn Manheim, Demore Barnes, Christopher Stanley, and Eric Lange.
Waco was, without a doubt, one of the biggest news stories in U.S. history. It's well cast and offers a thorough look at all sides of the conflict. It's not going to have a happy ending, but it might help you understand the reality of it a bit better. Give it a go and learn something.
Waco premieres on Paramount Network Wednesday, January 24 at 10/9c.
Carissa Pavlica is the managing editor and a staff writer for TV Fanatic. She's a member of the Broadcast Television Journalists Association (BTJA), enjoys mentoring writers, wine, and passionately discussing the nuances of television. Follow her on Twitter and email her here at TV Fanatic.