9-1-1 Season 1 Episode 6 Review: Heartbreaker

Stacy Glanzman at . Updated at .
Welcome to the Valentine's Day from hell.
Raise your hand if, after watching 9-1-1 Season 1 Episode 6, you've decided to cancel all your V-day plans and are going to stay home with a bottle of wine and some take-out instead. 
If you still want to go out, let's go over what we've learned so that everyone can have a safe and enjoyable evening.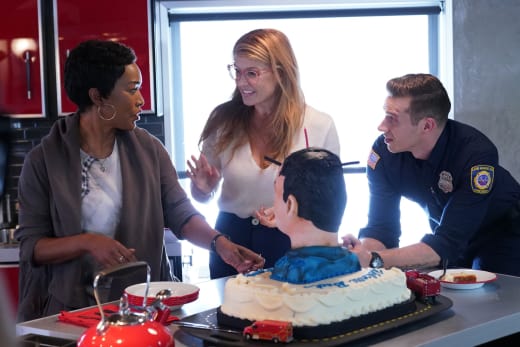 Lesson number one, taking your girlfriend up in a plane, and then pretending there's something wrong with said plane, is NOT romantic. It's terrifying, but if you're going to do it, get a list of your girlfriend's medications first. 
Better yet, just propose on the plane and leave out the fake crash part. That couple is going to have one heck of a story to tell their kids someday. But hey, how many men can say their proposal literally made their girlfriend's heart stop?
Lesson number two, stick to just one date for the night, especially if you don't know the people you're dating all that well. There are a lot of crazies out there. 
Doesn't Athena have a partner? It doesn't seem smart to be responding to calls solo, even if they appear to be mundane noise complaints. She also should have been more careful about leaving her back exposed once she discovered the blood in Melora's shower. She walked right into her trap.  
Athena: Get your hands off me!
Melora: How am I supposed to cut your heart out if I can't touch you?
Another good rule of thumb would be not to believe your boyfriend if he says he has to work on Valentine's Day. He's probably lying so he can surprise you later. It's hard to imagine that her husband thought his best option was to jump out a two-story window. Couldn't he hide in a closet or something?
Also, why didn't the boyfriend hear anything when he jumped? Didn't he hear a loud thump or screams of agony? He had no idea there was a severely injured man on the lawn until the firefighters arrived.
As long as the husband was whispering and trying to keep up the ruse, he should have told the dispatcher to have the first responders go straight to the back instead of knocking on the front door.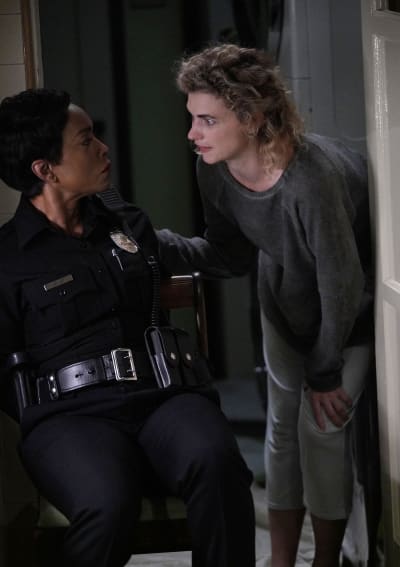 It's also probably not advisable to have your first date with someone you really like on Valentine's Day. That's a lot of pressure, and first dates are scary enough as it is. 
But, thanks to some friendly goading at the firehouse, Buck and Abby felt pressured into it, Needless to say, it did not go as planned.
I suppose choking on the bread and winding up in the hospital is one way to ensure you don't have sex on the first date. Although, Abby did stay with Buck at the hospital, and there's a bed, so I wouldn't necessarily rule it out just yet. 
I wish we could have seen a little bit more of the date before disaster struck. It would have been nice to see them talk and get to know each other in person. 
Abby looked gorgeous in that dress.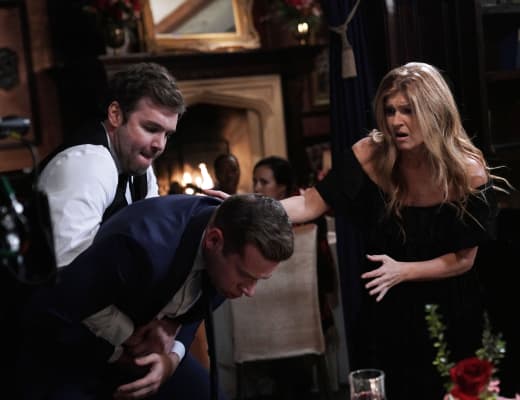 Hopefully, when Buck recovers we'll get to see them on a real date from start to finish. They're growing on me as a couple, and I like that their relationship means Abby gets to interact with the rest of the firehouse, as well as Athena. 
One of the things I realized when I was gone was that I really need you people...like I need a hole in the head!

Chimney
Welcome back, Chimney!
I'm not sure how much time has passed, but he's fully recovered and back on the job, making cheesy jokes and resenting Buck for his way with women, so good for him.
Whoever made that cake for his welcome back party was probably thinking that Valentine's Day is a long way off from Halloween. It was a pretty impressive looking cake, though slightly morbid. How do you even go about cutting a cake shaped like that? 
We definitely have to give props to Abby for cutting a hole in Buck's throat as well as to Athena for getting that kidney to the hospital in record time despite a huge pileup. She sure knows how to drive like a maniac when necessary. Pregnant women all over the city should put her on speed dial.
Doctor: Thank you Officer, you may have saved a life tonight.
Athena: Well I can't think of anything better than delivering a heart on Valentine's Day.
Doctor: That was a kidney.
We really didn't get any further development for most of the characters, and thanks to the Olympics, we'll have to wait at least a few weeks longer for some of our questions to be answered. 
We didn't revisit Hen's situation with her incarcerated ex, and Athena's home life is still pretty murky. It's great that she and her husband are trying to be amicable, but I just can't get on board with her staying with him while he's seeing another man. 
She deserves better, and she needs to get out of that situation. Yeah, she made vows, and I respect that she wants to honor them, but so did he, and he obviously broke them. 
Cheating is one thing -- some marriages can come back from that -- but he's gay, and she's just not going to be happy if she stays with him. She needs to separate from him so that she can begin to move on and have a shot at happiness with someone else someday. 
Did you guys enjoy the cheesy holiday special, or would you have preferred to further some of the plot developments instead? There's always bound to be some filler, and this is no exception. 
If you need to catch up, you'll have some time to watch 9-1-1 online over the next two weeks!
Stacy Glanzman was a staff writer for TV Fanatic. She retired in March, 2019.