Chicago PD Season 5 Episode 13 Review: Chasing Monsters
Lizzy Buczak at . Updated at .
Denny Woods is closing in on Hank Voight. 
In Chicago PD Season 5 Episode 13, Denny finally found something incriminating on Voight, and he could barely contain his excitement. 
CPD found the remains of Kevin Bingham, the man responsible for the death of Voight's son, Justin. 
After their back-and-forth throughout Chicago PD Season 5, I didn't expect the culmination to take us back to something so personal. 
It proves that this whole time, Denny didn't have working evidence to take Voight down. 
Fittingly, Intelligence was dealing with something that Voight understood all too well: a mother's need to avenge her dead son. 
Marcella's storyline may have seemed random at first, but it echoed what Voight felt when he found out Justin got murdered. 
Before Denny even told him about the find, Voight was already two steps ahead of them, with Olinsky standing by. 
This was the first time since Chicago PD Season 5 Episode 1 that they even looped Lindsay back in. 
Well, not Sophia Bush, but just a mention of her character, who seems to be doing well in New York and is definitely on board with the official story. Olinsky's words, not mine! Although we shouldn't anticipate a guest appearance anytime soon. 
It's nice to know that after everything, she is still willing to vouch for the team, primarily because she was so emotionally involved in talking Voight after Justin got killed. 
That's the thing; Voight understands Marcella's reasons just like he knows there was nothing anyone could have done differently, including Antonio. 
He knew that Marcella wouldn't feel better about killing her son's killer because he too killed his son's killer and felt no better. 
In fact, it's just an added stress because in his case, he knows he'll eventually get caught. As Denny puts it, "it's just a matter of time."
Would they arrest Voight, though? The unit wouldn't be the same without him. He's done many questionable and shady things throughout his tenure; it would be a shame for him to get caught for protecting his family. 
Det. Marcella Gomez: I'm sorry. I don't know what to think about a guy who carries tissues in his jacket.
Antonio: What? Well, he's either incredibly sensitive, he's got a cold, or he's prepared for winter in Chicago.
I'm surprised that the writers took this route given how intertwined Ruzek was in all of this. Denny was using him to get intel and dirt on Voight; Voight was confident that he could use Ruzek to destroy Denny. 
All of a sudden that goes out the window because they found some bones? Personally, I think they'd have to have more proof than just some bullets from a gun that belonged to a suspect Voight arrested. 
If everyone, including Olinsky and Lindsay, covers for him, there's no way they'll be able to prove anything.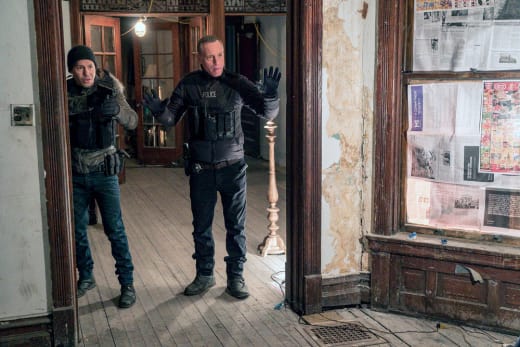 Previews for Chicago PD Season 5 Episode 14 also reveal a case that involves Denny's daughter. Will Voight strike a deal that saves them both?
Marcella seemed suspect from the get-go, and I'm surprised Burgess was the only one to catch it. 
Antonio was compromised, distracted, but what is everyone else's excuse? 
I'm actually surprised that they just allowed an officer observing homicide to get involved with a gang case without any background checks. 
Even a quick Google search would have told them everything they needed to know about her. 
Antonio: So you were telling me about how much you like being single.
Marcella: Mmm, oh yeah, it's fantastic. I love swiping right, or left. It's so romantic, you know.
Instead, Voight was like "come on board," and Antonio was won over by a pretty face. 
Let's face it — he pulled a Halsted. 
Do these guys ever learn? How do you not learn from Halstead's example? Business and pleasure do not mix. There's a reason why Voight has a 'no-dating other Intelligence members policy.'
Antonio didn't realize he was a pawn even after Burgess brought it to his attention.
He ended up being the one to put her out of her misery, which wasn't fair of her to ask. I'm not sure what's worse — shooting her, or Marcella shooting herself and that being on his conscience. I thought it was going to be the latter. 
We didn't get much screen time from Ruzek and Burgess, but it's always nice to see them working together. 
And it's nice to see Burgess go to such great lengths for her partners. If you're ever looking for a team player, this is your girl!  
The best moment, by far, had to be Atwater and Ruzek posing as bakers! 
Halstead wasn't a significant focus of the episode; however, we did get a brief moment where he informed Upton that he was in therapy and it was going great. 
Hopefully, we'll get some insight into a few of his sessions because seeing what happened in Afghanistan and Chicago is crucial to Jay's character redemption!
Although who am I kidding? He'll always be one of my favorites.
Do you think Denny will finally take down Voight? Will Lindsay return for an episode? Will we get to see Jay in therapy?
You can watch Chicago PD online and leave your comments below! 
Lizzy Buczak was a staff writer for TV Fanatic. She retired in June 2021..