Hawaii Five-0 Season 8 Episode 15 Review: He Puko'a Kani 'aina (A Coral Reef Strengthens Out Into Land)
Dale McGarrigle at . Updated at .
That was a smooth departure into the Olympic hiatus.
There was something for everyone on Hawaii Five-0 Season 8 Episode 15.
First was a self-contained case of the week about what lurks in the jungle. Then Adam's storyline continued, with him left in peril. Finally, we got another wacky relative from the mainland.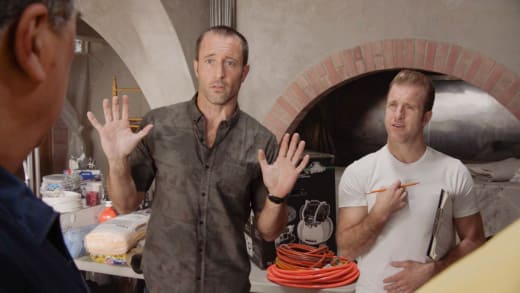 I gotta start by venting about the Olympics, which are made up of events that we largely ignore for four years. You know, the ones you have to scour your sports package to find or watch on ESPN 8. I like luge as much as the next guy, but sheesh!
So why, or why, do the networks abandon sweeps month to the Olympics? It's not the Super Bowl!
It's largely a cause-and-effect relationship. We're mostly watching the Olympics BECAUSE THERE'S NOTHING NEW ON THE OTHER NETWORKS!
That, and to get up close and personal with the athletes.
So let's savor the remaining scripted programming we before all the networks except NBC scurry off the playing field.
Part of what I like about this series, in addition to the scenic shots, is vicariously enjoying all the aquatic sports I could never do. Such as cliff diving. But finding a dead body enmeshed in chicken wire brought that feeling to an abrupt end.
But, Neolani miraculously lifted a print and Five-0 had a dead PI on their hands. Which is the perfect spot for this punchline: A start.
McGarrett sent out his team to do some good old-fashioned gumshoe work talking to the PI's last few clients. And soon they had a line on a potential suspect, or maybe another victim, no one was too sure in a fluid situation.
But then a psych patient last seen with the missing man spouted a cryptic phrase which led Five-0 to a conman turned self-help guru.
It all resulted in traipsing through the jungle to the guru's secret compound. We've already established there are a lot of places to hide on Hawaii. One short armed standoff later, a neat one for Five-0 (is the show over-budget for ammo?) and the fake healer was in custody.
A few of his faithful followers quickly rolled on him, and that case was solved, with 10 minutes to spare. Which made me think something bigger was coming.
It turned out there was.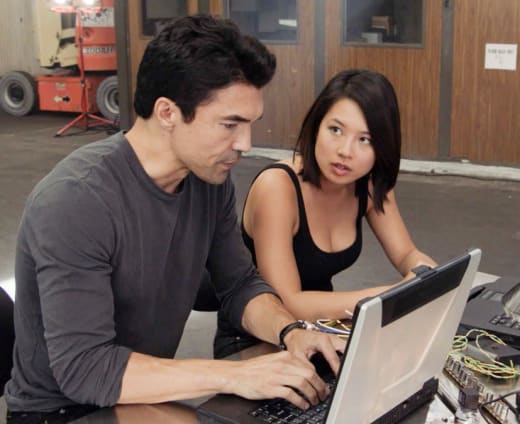 So let's turn to Adam and his CI, Jessie, which has to be the smallest task force in TV history. First, we got to find out that Adam was quite skilled as a car thief. I never got that vibe from him. I always felt he was more the entitled, upper management type.
Bugging Hideki's car was a dicey play, and it almost blew up in their faces. Jessie strolling into Hideki's barber could be seen as bold or reckless. But it immediately begged the question of how did she know where to find them?
That led to the discovery of the bug, requiring Adam to make five of Hideki's people disappear, which is bound to make Jessie's position less tenable. Then for the shocker at the end. Adam got tasered, kidnapped, bound, and left in an abandoned shed in the middle of the jungle.
That poor guy can't catch a break. He betrayed the Yakuza for love. Then Kono especially ditched him for her crusade. McGarrett gave him a new mission, so his life had a purpose again, and he got abducted.
So who took him? I don't think it's Hideki and his thugs because if it was, Jessie would be right there with him. Adam surely made enemies over the years, and he no longer has his Five-0 wife for protection. It appears, though, that the deputized ex-con can carry weapons now. 
So who is skilled enough to sneak into his unlocked house and grab him, and what do they want? Adam didn't appear to be overly bound, so is the narrative for him to escape and make his way back to civilization?
I feel bad for Ian Anthony Dale. He spends most of the season waiting for something meaty to do, and then this happens. Maybe he needs time to film Salvation Season 2.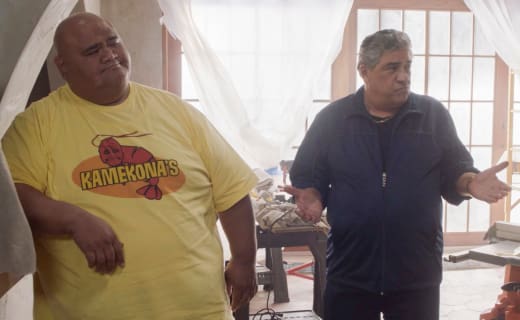 Last but not least, in the tradition of McGarrett's mother, aunt, and sister, as well as Danny's mother, father, and sister, we got Danny's uncle Vito, played by Vincent Pastore.
If you want someone who gives off the Mafioso vibe, you can't go wrong with Big Pussy. 
Hijinks ensued quickly, with Vito thinking Danny wanted the restaurant torched. Then, instead of helping out with purchasing, he got conned by a pretty local. So he sought the help of a Honolulu made man, Kamekona, who quickly found the culprit and got Vito most of the money back. They were a comical duo of kindred souls.
It will be interesting to see what trouble Vito can get into during his arc.
SPOILER ALERT: So, after a couple of weeks of triple lutzes and media klutzes, Hawaii Five-0 Season 9 continues on March 2 with a nuclear threat. What's that make, two or three this season so far?
So, when the biathlon is on, you can watch Hawaii Five-0 online.
How did you like Vito? Who's after Adam? Is Jessie in trouble also? Comment below.
Dale McGarrigle is a staff writer for TV Fanatic. Follow him on Twitter.