Once Upon a Time: Jared Gilmore Returning as Henry!
Paul Dailly at . Updated at .
With the news that Once Upon a Time is coming to an end after seven seasons, many have been wondering which former actors will appear before the show concludes. 
At a press screening for the spring premiere, it was confirmed that former series regular Jared Gilmore would be returning in a guest starring role for one episode. 
"We're very excited to have Jared back," co-creator Adam Horowitz told reporters.
"He's in a lot of ways the heart and soul of the show. He grew up literally on the show, and it's really wonderful to see him back. I hope the audience enjoys. We feel like we have a fun adventure."
Related: ABC Cheat Sheet: What Will Be Renewed?
The episode Gilmore appears in will be Once Upon a Time Season 7 Episode 20, and it will follow Young Henry and the choices he makes for the future.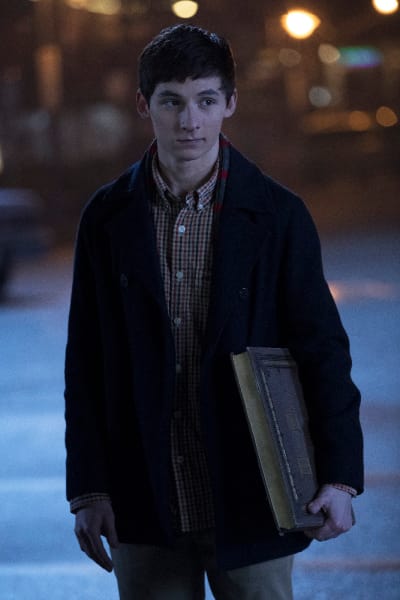 "He is getting into college, and he's grown up, and it's a crazy thing," said co-creator Edward Kitsis.
"We're really excited to have him back. I think in the opening of the year when we saw him get on that motorcycle; it was like a different Jared. We're going to show an episode with him before that in Storybrooke with Regina."
"It's a college tour. Who doesn't want to go on a college tour with the Evil Queen? She plays beer pong like nobody."
Related: Once Upon a Time Casts Zelena's Fiance!
Once Upon a Time Season 7 was a reboot of sorts for the ABC drama. 
Gilmore left the series along with Jennifer Morrison, Josh Dallas, and Ginnifer Goodwin after Once Upon a Time Season 6, and it paved the way for several new additions. 
While Gilmore departed, his character, Henry Mills remained on the show thanks to Andrew J. West assuming the role of an adult iteration of the character. 
The storyline has focused on Henry at a crossroads in life but unaware that a new curse has kicked off in Hyperion Heights. 
Related: Once Upon a Time Review: War of the Witches!
What do you think of this news?
Sound off below!
Remember you can watch Once Upon a Time online right here via TV Fanatic. 
Once Upon a Time airs Fridays on ABC. 
Paul Dailly is the Associate Editor for TV Fanatic. Follow him on Twitter.