Agents of S.H.I.E.L.D. Season 5 Episode 12 Review: The Real Deal

Kathleen Wiedel at .
What a long, strange trip it's been! Agents of S.H.I.E.L.D. Season 5 Episode 12 marked the series' 100th episode, yet it feels like the show's run so much longer.
I mean this in the best possible way, and surely "The Real Deal" brought a great deal of heartfelt emotion to a story that melded the current arc with enough throwbacks to earlier episodes without completely distracting.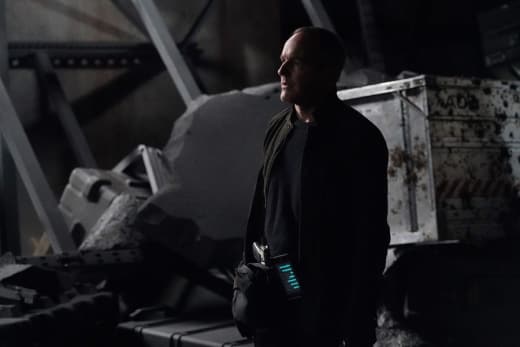 Fittingly, the spotlight rested squarely on Phil Coulson for the most part. He started it all, and one could definitely take Daisy's words in a very meta sense!
Daisy: I-- I can't do what you're asking of me. I can't do it.
Coulson: You've always been capable of more than you imagined.
Daisy: No. Not without you. You found me alone in an alley, and you gave me everything. A home, a belief, solid ground to stand on. That was all you! You were what I believe in.
Coulson: You believe in yourself. And you should.
Daisy: Not if you want a symbol. *You* are the symbol. There is no SHIELD without you! There's nothing without you!
This whole show began with him. It's been his story, starting with his death on the helicarrier in The Avengers. Now Phil's come full circle, facing that same death once again.
I admit to feeling a sense of satisfaction and vindication that my earlier theory regarding Coulson's demise proved accurate, that he had been aware of it since his time with Ghost Rider last season.
That it was actually a result of his deal with the demon thus came as little surprise to me.
While Coulson said that he's made his peace with the whole thing, it makes one a little nervous to remember that Future Yo-Yo told Present Yo-Yo that they needed to let him die in order to break the time loop.
This begs the question: what did they do, and why would it be so integral to the destruction of the world that not doing it would save everyone?
Or was Future Yo-Yo too addled and broken by Kasius for us to trust?
Setting aside the speculation about upcoming episodes, this one featured strong performances from the main cast (Clark Gregg most notably), as well as some moments that actually left me (me!) a little teary-eyed.
It was the onions, I swear!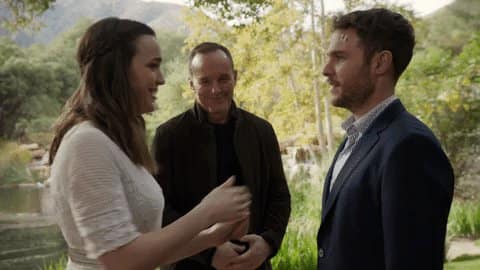 Yes. We finally got the FitzSimmons wedding that so many had hoped for since those two wonderfully adorable scientists were introduced by portmanteau in the first episode.
In an era where all too many shows would be tempted to sully such a happy moment with some sort of subversion or downer reveal, Agents of S.H.I.E.L.D. went in the opposite direction.
Related: Enjoy UNLIMITED access to thousands of Movies and TV shows with Amazon Prime Video. WATCH ANYWHERE. CANCEL ANYTIME!
Because not only did Fitz and Simmons marry, but we the viewers confirmed that Deke Shaw was their grandson, as many fans had speculated. Cue fist pumps of joy!
Sure, General Hale learned this information, but it doesn't exactly do her a lot of good at the moment. And despite the shade thrown his way by pretty much everyone, Deke played a critical role in the finale.
Mike Peterson may have saved Coulson, but he wouldn't have been there without Deke, who also acquired the rings and the wedding dress (and the product placement beer!).
I absolutely got misty as Fitz and Simmons exchanged their vows, with Coulson standing behind them proudly. While he may think of Daisy as the daughter he never had, surely these two come close to that relationship with him, as well.
As an anniversary episode, "The Real Deal" hit all the right notes. The fear dimension hole allowed them to acknowledge and honor the series' past while maintaining the focus on the present.
And that scene where Coulson faced off against the illusionary Mike Peterson was such a gut punch. What a way to pay tribute to Coulson!
Mike Peterson: What makes more sense? You tell me. That you were brought back from the dead after many days, your mind programmed with false memories, a world with alternate realities and rocks that tear holes in space-time? Or that your brain is being stimulated with electricity to revive it, and your consciousness is trying to make sense of random synapses firing off in your brain?
Coulson: That's not true.
Mike Peterson: You know it's true. Loki ran a scepter through your heart, and we are trying desperately to bring you back. But it isn't working.
How satisfying to have Coulson ultimately reject the illusion on his own! Though the real Mike turned up in time to rescue him from his evil doppelganger (plus the Roaches and Hive!) trying to kill him.
"The Real Deal" was written by Jed Whedon, Maurissa Tancharoen, and Jeffrey Bell, and obviously a great deal of care went into crafting it. Too often I've seen so-called "love letters to fans" fall far short. Not so here.
A few final thoughts before I turn the discussion over to you:
Deke claimed the forest as one of his fears. Isn't it a tiny bit odd that I recall him hugging a tree in the previous episode?
I hope someone checked on Agent Piper in holding that a manifested fear didn't kill her in her cell!
It's a bit ominous for the fates of Fitz and Simmons in the Bad Future that Deke wouldn't recognize them as his own grandparents.
Mike Peterson featured in Team Coulson's very first mission. Only fitting that he showed up here.
Check out our Agents of S.H.I.E.L.D. quotes page for a rundown, because there were some great ones here.
You can watch Agents of S.H.I.E.L.D. online to relive the drama – and be sure to tune in March 16, 2018 at 9/8c on ABC for Agents of S.H.I.E.L.D. Season 5 Episode 13, "Principia."
What did you think of "The Real Deal"? Did you find it an exciting and fulfilling way to celebrate the 100th episode of the series? What did you think of the FitzSimmons wedding?
Let us know in the comments below!
I leave you with this tweet and awesome GIF:
Deathlok vs.Lash!
'Nuff said!#SHIELD100 pic.twitter.com/nOX7qVCpwr

— Agents of SHIELD (@AgentsofSHIELD) March 10, 2018