Gotham Season 4 Episode 16 Review: One of My Three Soups

Lisa Babick at .
After four seasons of getting the short end of the stick, Barbara finally got a piece of the Gotham pie worthy of her greatness. Ra's al Ghul gave her the most incredible gift she could ever hope for on Gotham Season 4 Episode 16.
Babs is the new head of the League of Shadows, and to make it even sweeter, she's got a group of badass women ready to kick everyone's ass for her.
Long live Barbara Kean!!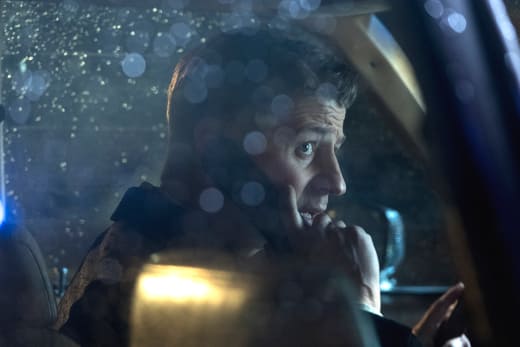 It's a bummer there are no pictures to share of Barbara basking in her glory, but Gotham didn't post any on its press site so we'll have to make do with Jim, who himself had a true moment of greatness which we'll delve into a bit later.
First, let's bask in the glory of Babs. She was having glowing hand issues and headaches and didn't know what was happening.
Related: Gotham Season 4 Episode 4 Review: The Demon's Head
Lucky for her, she has Tabitha by her side who kicked her in the ass a little which pushed Barbara to find out what she needed to know to get the ball moving so she could take her rightful place as the Demon's Head.
Tabitha isn't too sure about what's happening and doesn't necessarily trust this new group of badass women, and who can blame her? She's either going to have to fall in line, or she's going to find herself on the outside looking in again. 
All I can say is please, please, please let Tabitha just go with the flow on this. The women of Gotham don't need to be fighting each other -- unless it's to bring down that bitch Sofia if she wakes up from her coma. But maybe she's too trivial for Babs' new gig, and she'll just let Lee take care of her.
Related: Enjoy UNLIMITED access to thousands of Movies and TV shows with Amazon Prime Video. WATCH ANYWHERE. CANCEL ANYTIME!
What I hope doesn't happen is a showdown between Lee and Barbara. In the past, I've said I liked the idea of those two ladies taking each other on, but I like the way things are now. 
Lee and Barbara each have their own badass crowns to wear. Please, let them be, Gotham, please.
You're weak. You're all so damn weak. That's it. That is why Ra's chose me because he knew I would see how pitiful you all are. Afraid of change. Afraid to take orders from a woman. Well, listen up. I am the Demon's Head so you sons of bitches better start bowing down right now or it is about to get ugly up in here.

Babs
One thing that crossed my mind during Barbara's flashback was how does Alfred fit into all this. If Barbara has repercussions from being brought to life by juice from the Lazarus Pit, does this mean that something is going to happen to Alfred at some point too?
The guy didn't just get a sip of the juice; he was baptized in it! It's going to be interesting to see if that story goes anywhere.
Related: Gotham Season 4 Episode 2 Review: Fear the Reaper
Barbara wasn't the only one to step into greatness. Her ex, Jim, deserves a round of applause for finally being a real hero. Oh, Jim has saved people numerous times, but this time, it was genuine.
It was in a moment of exasperation when the clock had hit midnight that he spoke the magic words that kept people from jumping to their deaths. Telling the citizens of Gotham to save each other was the only thing he could think of, and it did the trick.
He saved hundreds because he stepped outside of himself, and that's why it was such a great moment.
His words came from deep within his soul, the wise words from Bullock ringing in his head. One could say that Bullock was the true hero of the hour, and he's been a strong force for Jim the last couple of episodes, but Jim deserves this one all by himself. 
Related: Season 3 Episode 11 Review: Beware the Green-Eyed Monster
Jim is going through a transformation, and as much as the guy has rankled me for four seasons, this version of Jim has become my favorite. He isn't denying his sins and acting like he's holier-than-thou. Like Bullock said, this is the Jim Gotham needs, and I'm glad he finally got out of his head and is listening to his wise friend.
Go over there and be big Jim Gordon. Hero cop. It's what they need -- even if it is a lie.

Bullock
Because Jim Gordon is going to need everything he's got to take down Jerome and his band of crazies. The level of violence in this installment was way over-the-top. It was much worse than when Penguin ate Pyg's human pot pies.
The security guard slashing throats then slashing her own was graphic, but the big steel ball crashing down on the wedding couple was something else. They could have left it at that, but then we got to see the blood and guts at one point. Well, maybe just the white dress and blood, but still, it was gruesome.
Related: Gotham Season 4 Episode 9 Review: Let Them Eat Pie
But Tetch was pissed, and he wanted to make sure Jim got the message which wasn't just about Alice but about what Jerome was going to do to Gotham. I loved every moment of Jerome, Tetch, and Scarecrow together. They're all off the deep end, and they're not going to last long, but, holy hell, were they a lot of fun.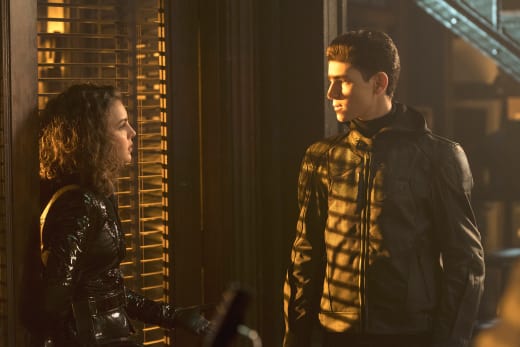 Bruce showing up to confront Jerome was kind of goofy. How did he even know where Jerome was? Worse was him letting Jerome go for no reason. He did nothing to hold Jerome until the cops could get there. He could have called Jim before he even entered the diner if he saw Jerome there. Whatever.
I get what the altercation represents and the need to set-up their future as enemies (even though Jerome isn't the Joker), but it was still stupid.
Related: Gotham Season 4 Episode 7 Review: A Day in the Narrows
What I did like was Selina telling Bruce he needs to deflate his ego. She's the brains behind that duo. It's too bad it's going to be forever before they finally end up together.
Over to you guys!
What did you think of "One of My Three Soups"? Are you excited about Barbara's new gig? Will Tabitha fall in line? What's next for Jerome and his band of crazies?
Hit the comment and share your thoughts! If you need to catch up, you can watch Gotham online right here via TV Fanatic!