Grey's Anatomy Round Table: The Rise of Jaggie!

Jasmine Blu at .
Meredith has an Aunt Marie!
On Grey's Anatomy Season 14 Episode 14, we were introduced to a woman from Meredith's past, but it didn't turn out as expected.
Elsewhere, Owen and Amelia rekindled things and Jackson and Maggie finally made their move.
Join TV Fanatics Stacy Glanzman, Paul Dailly, and Jasmine Blu as they break down that controversial episode.
What's your impression of Aunt Marie? Were you stunned when it was revealed that she may have screwed Meredith over because of Ellis?
Stacy: I was suspicious of her when she showed up and it was revealed she and Meredith had a past. There was no way it was going to be that easy for Meredith to secure the patent, so while I wasn't expecting Marie to screw her over necessarily, I wasn't completely stunned.
I thought she might just refuse to sell her the patent out of pettiness, but obviously stealing her research would be much worse. This is going to become a very messy situation.
Related: Grey's Anatomy Round Table: A Special Jessica Capshaw and Sarah Drew Edition!!  
Paul: I was shocked when the penny dropped for Meredith. She seemed like a nice person. She totally screwed Meredith over and that's why she exited the hospital in a flash.
Jasmine: I was surprised too. It shocked me that Meredith had a positive memory of a positive person from her childhood. As the hour went on, I grew suspicious of Marie, but that ending was a doozy.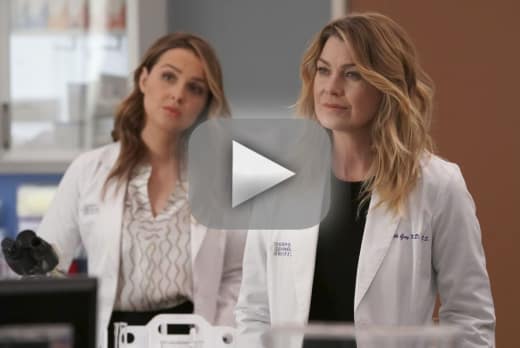 What was the funniest moment of the episode?
Stacy: I thought it was funny when the interns showed up for game night, only to have the door slammed in their faces.
Paul: Yeah, I agree with Stacy on this one. That was hilarious. The interns are growing on me every week.
Jasmine: The interns are growing on me, well, some of them, but the whole scenario with April cutting off the girl's ear and DeLuca slipping on it was hilarious.
Related:Grown-ish: 9 Ways the Black-ish Spinoff Is Killing it!
How do you feel about the Amelia and Owen's reunion? Should they keep it casual or give their relationship another shot?
Stacy: I definitely do not want to see them give a relationship another shot. They split up for a reason, and as far as we know, Owen still wants kids and Amelia doesn't. Nothing's changed there. As for their hook up, if it really is just about sex, I think it's fine as long as they can keep their emotions in check.
Paul: Yeah, keep it casual. They are all over the place as a couple, but it makes sense they would continue to have sex. They both know what the other likes in the bedroom, so why not?
Jasmine: I agree with both of you. The only way this will be bearable is if it's a casual thing because they haven't worked through their issues at all.
Jackson and Maggie finally made their move on one another. React.
Stacy: I'm really not a "shipper" and don't particularly care one way or another about the relationship. We knew it was going to happen eventually, and they dragged it out for so long, that it's actually kind of a relief they finally made it happen. I just don't really see any chemistry between them.
Paul: I've been so annoyed about this pairing since it started being teased, but the slow burn has made me change my mind. I'm ready for them to go to the next stage.
Related: Get Great Selection of New & Classic Movies with the Lifetime Movie Club via Amazon Channels!
Jasmine: I'm just glad they have finally done something about it. New 'ships on Grey's need to be like ripping off a band-aid. Someone will always be unhappy, but dragging it out makes it so much worse.
There were going to be plenty of people pissed about this pairing because of the loose connection they have via their parents and because there are many passionate Japril fans out there, but the show did itself no favors keeping this will they/won't they going on for so darn long.
I say, freaking finally! It took long enough. Now, they can do whatever from here.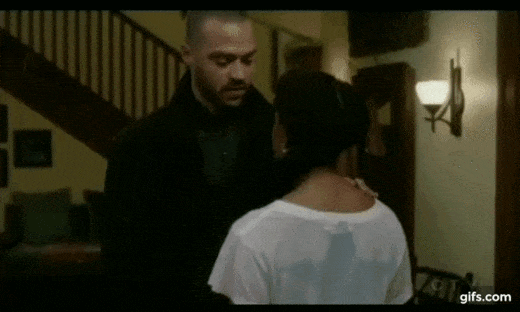 Do you think Kimmie will be a success story or are we being set up for a classic Grey's tragedy?
Stacy: I hope so. I don't think Alex would be able to handle it if he lost her. Kimmy deserves a happy ending, and I'm holding out hope that they find a way to save her.
Paul: I have no idea what to expect. It would be harsh to have her in more pain, but this show has a habit of doing the unthinkable.
Related: The Resident Season 1 Episode 7 Review: The Elopement
Jasmine: I would like her to be OK in the end, but I feel like it may be another one of those tragedies. Alex has become so attached to her, and I like that, but I keep wondering what's the come of it. We're supposed to get some Alex flashbacks coming up, so I wonder if it somehow relates to this case.
Do you agree with our roundtable? Hit the comments below and let us know! Don't forget, you can watch Grey's Anatomy online here via TV Fanatic!
Jasmine Blu is a senior staff writer for TV Fanatic. Follow her on Twitter.