Hawaii Five-0 Season 8 Episode 18 Review: To Do One's Duty
Dale McGarrigle at . Updated at .
I'm betting Adam is wishing he stayed on the mainland with Kono.
It was another tough day for him as his organized-crime task force went in the crapper on Hawaii Five-0 Season 8 Episode 18.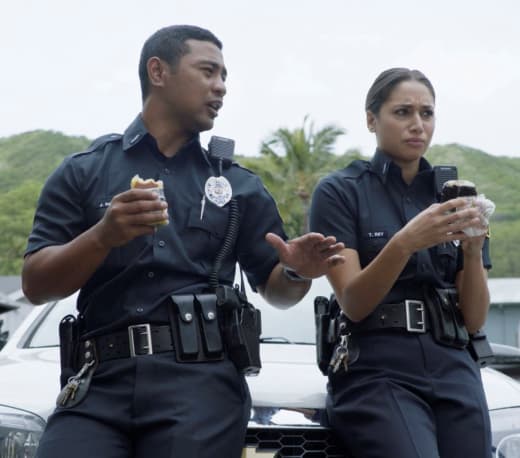 I think that's the best way to describe it, after the two Yakuza to whom Jessie was closest turned up dead.
Two cops, with guns drawn, pulled over Adam and found Hideki's dead body in his trunk. It seems someone had phoned in a tip about just such a possibility.
Related: Hawaii Five-0 Season 8 Episode 17 Review: The Fire Blazed Up, Then Only Ashes Were Left
So FBI Agent Colin McNeal, who has had it in for Adam since Hawaii Five-0 Season 8 Episode 12, went after him hard as his prime suspect. 
This left McGarrett and Grover, the only members of Five-0 available (more on that later), to find evidence to clear Adam.
Complicating matters was that Adam feared that Jessie, his confidential informant inside the Yakuza, had turned on him.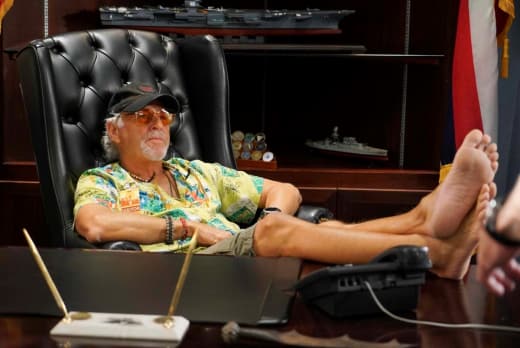 Still, Adam refused to give her up to McNeal, even if it would be the simplest way to get himself cleared. 
There were dead ends for McGarrett and Grover. They tracked down Namato, Hideki's No. 2, and, guess what, he was also dead.
Then, Jessie was finally sighted, and led HPD on a car crash, and then outran McGarrett, that paragon of masculinity, in a footrace. Fortunately, he was crafty and cut her off at the pass, that time-honored tradition.
Jessie was rightfully running scared after the two men closest to her in the organization get murdered, and Adam seemingly disappeared.
I knew everyone was wrong about Jessie. Adam gave her the chance to do something legitimate, to make a difference, so she wasn't going to turn on him the first chance she got. She was just a little too dedicated to her undercover role.
Related: Watch Hawaii Five-0 Online: Season 8 Episode 17
Jessie was the witness they needed, since she had seen the murder scene, and could take them to that trailer. Only it wasn't there when they arrived. It's almost like it was a conspiracy.
Fortunately, McGarrett knew a guy and made a call to get the satellite feed he needed. Catherine used to be so useful for that in the earlier years.
They used the satellite feed to identify the hauler, raided their garage, and, a short firefight later, they took possession of the trailer and the evidence to free Adam.
There was still plenty of questions left hanging. First would have to be who framed Adam? Second would be who is the female, familial DNA on Hideki's body from? A previously unknown child of his brother, or his father? Finally, what impact will Adam's distrust have on Jessie?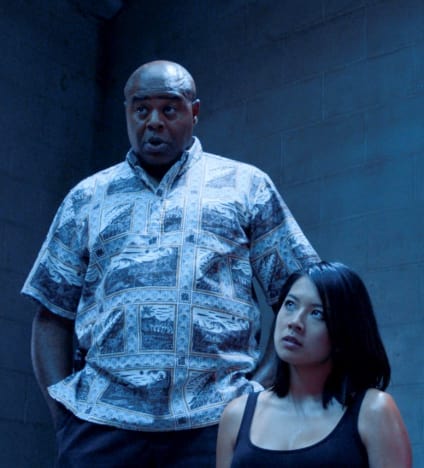 The second storyline could be titled "Junor and Tani Hit the Streets."
Or, in Junior's case, "The Streets Hit Back." Let's be careful out there.
It was a perfectly legitimate exercise to have Junior do a day in uniform. And after Tani's unorthodox induction into Five-0, it didn't hurt her either to see how the 90 percent police the mean streets of Honolulu.
Related: Get CBS All Access via Amazon Channels for Hit Shows, Exclusive Originals & Live TV!
Mostly, this gave them the opportunity to learn more about each other and to draw closer.
Tani became a cop because she wanted to set a good example for her brother Koa. See how that worked out. Junior knew the best way to handle the addict father because he had grown up in a similar situation.
They experienced what it's like to work a beat, to give them a better appreciation of what most cops go through every day. Getting maced by an old lady has to be an exception, however.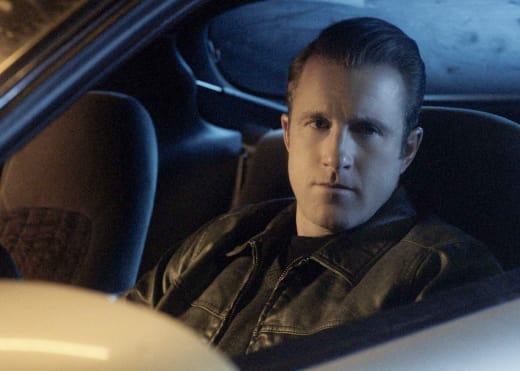 '
The weakest of the three storylines was the interludes explaining Danny's relationship with Brooke, the ex-wife of the man who shot Danny on Hawaii Five-0 Season 8 Episode 10.
In a nutshell, Danny saved Brooke from her abusive husband Ray, going a little over the line.
He moved on with his life, meeting Rachel, the love of his life, and starting a family. Ray brooded and eventually killed himself after shooting Danny.
I guess the point was "Karma can be a bitch."
Related: Ch-ch-changes: How to Handle Evolving Casts Without Killing the Show
Serious Danny was a wasted opportunity. But, on the positive side, the restaurant wasn't mentioned once.
Another lost chance was only one scene with Frank Bama. It was a keeper, with him singing and McGarrett strumming that Portuguese guitar. I guess Frank wanted to be wasting away again in MaiTaiVille most of his trip.
So let's just file this under "A Day in the Life," with some intrigue, some humor, and some melancholy.
To catch up as the season dwindles, watch Hawaii Five-0 online.
Who's after Adam and why? Did you enjoy learning more about Tani and Junior? Did you gain any satisfaction with the mystery of Danny's shooter being solved? Comment below.
Dale McGarrigle is a staff writer for TV Fanatic. Follow him on Twitter.