iZombie Round Table: Talk Sex with Dr. Ravi!

Jasmine Blu at .
Liz may have been on snobby old lady brain on iZombie Season 4 Episode 2, but Ravi and Clive stole the hour. 
Did iZombie just give us a new favorite bromance? It seems like it!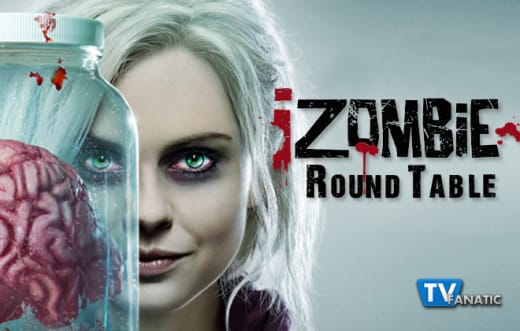 Join TV Fanatics Stacy Glanzman, Yana Grebenyuk, and Lizzy Buczak as they discuss the fall of Major and Liv, Ravi's sex talk, and much more. 
Don't forget to respond to the questions below! 
How long will it be before Liv and Major make up? Did you agree with one of them over the other?
Stacy: I don't think it will take too long. I'm not saying they'll necessarily jump back in bed with each other, but I think they'll at least get back to a friendly place sooner rather than later.
I can see both sides, but I agree with Liv more. While Major was taking a risk letting them through, and Liv could have been a little more sympathetic to that, her mission to save a child's life took precedence.
Yana: I'm sure they will be back to their old selves sooner rather than later. I don't think though that everything will be smooth sailing for the rest of the season just because Major's position at Filmore Graves will always cause an issue.
Related:iZombie Season 4 Episode 2 Review: Blue Bloody  
Major and Liv can't be on the same page if Major's loyalties are skewed in another direction. I am more on Liv's side, especially because there are situations that I can't imagine Major taking the side that he does on it specifically when a child's life is in danger like that.
Lizzy: I think there is so much history between them, that they'll make an attempt to be friendly throughout the season. They both clearly struggle with their roles in zombie Seattle.
I side with Liv for doing the right thing by the child, but she should have been a bit more grateful as letting them through could have cost Major a job, and I don't want to know what happens when you're on the outs with Fillmore Graves.
Will Dale and Clive be able to make their relationship work despite their inability to have sex?
Stacy: That's a tough one, and it's hard to answer because all couples value the importance of sex differently. I like them together, so I hope they can figure it out, but it wouldn't be shocking to see them break up over it.
Yana: I would really like to believe that they can. Relationships are more than just sex, and it seems like they built a good relationship outside of this one issue.
But, Major and Liv never seemed to make it work, and even though they changed as people, it just seemed like it always came down to this one issue. The important thing is that they want to try although I would love to see how Clive handles Dale eating different brains with random personalities.
Related: iZombie Promo: Being Inhuman!
Lizzy: It's 50/50. Relationships aren't always about sex. Strong couples also value friendship and an emotional connection. However, sex does play a part, and the more you can't have something, the more you want it. I'd love for them to stick it out, but realistically, I think they'll either break up or cave and break the law.
Jordan is a hothead, and she accidentally scratched someone. Will she be the first to face the guillotine? How difficult of a job will Major have to rein in the teens?
Stacy: I hope not. I think Major will find a way to protect her. He has pull with Chase, so I think he'll ask him to spare her as a personal favor to him. She may be a zombie, but she's still just a kid, and you would think minors would at least get a second chance before facing the death penalty. Major does have his hands full with this job.
Yana: I don't think Jordan is in danger of being killed ... just yet. She did create a big issue for Fillmore Graves that Chase won't just forgive. Hopefully Major will be able to figure it all out without anyone needing to be punished.
Related:iZombie: 11 Highlights from the Season Premiere!
Lizzy: Well, they introduced the guillotine to keep zombies in check, and she clearly broke the law. This would be Chase's teaching moment to the others. But I think Major will persuade him to give her a second chance, mainly because she never had any proper training before she hit the streets.
What is your first impression of the underground coyote network?
Stacy: I think it will definitely play a big part as the season progresses. It raises the stakes as far as the danger involved, and it'll be interesting to see how often Liv finds herself needing to utilize it and how many close calls there might be.
Yana: It was a great new storyline that comes from the zombie secret no longer being kept a secret. I am excited to see that explored more because as upsetting as it is that this needs to be created, from it comes more of a silver lining. There is hope for people and it sometimes really doesn't feel like that on the show.
Lizzy: It'll be interesting to see how many times Liv turns to them for help, which I think will be pretty often. They offer a bit of hope to the people who aren't exactly into the new Seattle, that is until Fillmore Graves finds out about them.
What was your favorite scene from Blue Bloody?
Yana: I really can't choose anything else but the Clive and Ravi conversation. Like the fact that it was discussed the way that it was and then combined with Ravi being the one to talk to Clive about this?
I will say though that the line that Liv delivered about burying the men in the piano if they weren't careful with it killed me for some reason too.
Stacy: I have to go with Clive asking Ravi for sex advice. I cracked up at this quote:
Clive: Dale and I, everything is great between us ...
Ravi: But?
Clive: But for obvious reasons, we can't be intimate with each other, and it's becoming a problem.
Ravi: Have you tried mutual masturbation? It's like taking separate cars to the same fireworks show.
Lizzy: All of Liv's lines on the dowager's brain. And the sex-talk between Ravi and Clive, which she also hilariously crashed. More fun brains for Liv, please!
Do you agree with our roundtable? Sound off below!
You can watch iZombie online here via TV Fanatic anytime! 
Jasmine Blu is a senior staff writer for TV Fanatic. Follow her on Twitter.