Law & Order: SVU Season 19 Episode 15 Review: Dare

Jack Ori at . Updated at .
I love ethical dilemma stories.
Back in the late 1990s, I couldn't get enough of Picket Fences and later The Practice, both of which featured questions with no easy answers on a regular basis.
My favorite stories were the ones where I thought I knew where I stood but was forced to question my beliefs throughout the hour.
So when Law & Order: SVU Season 19 Episode 15 tackled the question of illegal organ harvesting, I was riveted.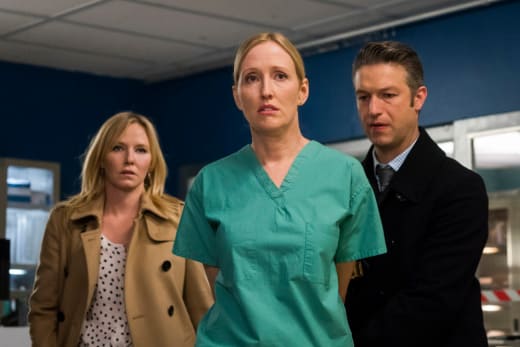 I knew from the promo that this story was about someone stealing organs, but I didn't expect it to play out exactly the way it did.
When Zoe was found alive behind the bleachers and her friends confessed to playing a prank on her and then keeping it secret that she had fallen and hit her head, I expected something more to happen to them than did.
It was early in the hour and it seemed unusual for Stone to just chalk this up to a tragic accident and leave it alone.
And then Zoe died and the story went in a direction I wasn't fully expecting.
Carisi: Hey Rollins, what was the dumbest thing you ever did as a kid?
Rollins: Me and Stevie Harris used to steal our dad's .22s and go down to the stump and shoot cans. One day I dared Stevie to hold the can at arm's length and dead-eye Amanda shoots a bullet hole through his shirt sleeve.
Carisi: Remind me never to go to the practice range with you.
Rollins: Remind me never to let Jesse leave the house.
It seemed like SVU was gearing up for a story about young people engaging in Internet-inspired fads that turn out to be dangerous or even deadly. Rollins' comment that she never wanted her daughter to leave the house was funny and sad at the same time and I was curious as to what the show's take on this hot topic was.
Related: Enjoy UNLIMITED access to thousands of Movies and TV shows with Amazon Prime Video. WATCH ANYWHERE. CANCEL ANYTIME!
Then Zoe's parents found out that her organs had been harvested without their permission and her heart was about to be given to a little boy who would die without it.
This was a classic ethical dilemma, so much so that in some ways it was cliche. And yet the questions that drove this story kept building as the hour went on.
When the law is wrong, when the law is harmful, we have to find the courage to disobey it.

Franchella
Dr. Franchella argued that she was saving children's lives, while Zoe's mother felt that her baby had been mutilated without her consent.
Zoe's father called their decision selfish after they heard Harry, the intended recipient, talk about his fatal heart disease, but was it?
It was certainly hard to deny Harry a heart after seeing him in person. He was a sweet, smart little boy who had suffered greatly and was likely to die.
Stone couldn't bear to ask him a single question, and both Zoe's father and Benson questioned whether they'd made the right decision.
But do parents have an obligation to give their child's heart, or any other organ, to another child, no matter how sick he is?
Stone: I feel like a priest today, everyone unloading their guilt.
Benson: Well, that should tell you something. This wasn't police business.
Zoe was only 12 years old at the time of her death, and she died as the result of an innocent, but stupid, prank. Had she not fallen, she could easily have been kidnapped as a result of another dare her friends forced her to take.
Related: Get Starz via Amazon Channels for Captivating Original Series & Hit Movies!
It had to have taken everything for her parents to forgive her friends for their part in this on top of coming to terms with losing their little girl.
If the pain hadn't been so raw, maybe they would have felt that their child would live on in another kid who needed her heart, kidney or liver. But Dr. Franchella seemed to think that that meant they should be obligated to make that choice.
Benson: And you just assumed the parents would consent? You didn't even have a brief conversation?
Dr. Franchella: With all due respect, there was another child to consider, a child that was alive.
Benson: But you didn't get consent from the parents.
Franchella: Why does that matter?
Benson: Because the law says you can't harvest organs without consent.
Franchella: Come on. You'd never bend the rules to save a life? I didn't think so. You don't strike me as an absolutist. So let's have some respect for each other. I could never do your job. And I don't think you're in any position to judge how I do mine.
The main reason everyone felt guilty was that Harry had been told he was getting a new heart and then that heart was taken away from him.
But I couldn't help thinking that Dr. Franchella created that crisis. If instead she had talked to the parents about organ donation and asked them to keep Zoe on life support until they'd made a decision, she might have been able to harvest the heart legally and give it to Harry. 
I don't know how long organs stay viable when a person is brain dead and only alive because they are on a respirator, but it seemed like an extra 12 to 24 hours might not have made that much of a difference and if the doctor had approached it properly she might have got that consent.
And Dr. Franchella's attitude doesn't take into account that some people do not donate organs for religious reasons, either. If Zoe's parents or any of the other parents involved in this mess fit into that category, she might have had a lawsuit on her hands for disrespecting patients' religious beliefs in her hospital.
Dr. Franchella: You really have to use handcuffs?
Fin: It's standard procedure.
Franchella: Just be careful. Once this nonsense is over, there's lots of children who still need my help.
And yet Harry did die when his life could have been saved, and it's hard to deny that that's another tragedy on top of Zoe's entirely unnecessary death.
While her friends' culpability in Zoe's death was swiftly dealt with, I was curious as to how these events affected the girls.
Related: Get Britbox via Amazon Channels for the biggest streaming collection of TV from BBC & ITV...ever.
Their prank led to their best friend's death, which then led to a major criminal case that was probably all over the news.
I know there wasn't time to address their reaction to any of this, but I wish there had been. I would have loved to have known how they were coping and what their opinion was.
I wasn't surprised to see Stone pushing for harsh penalties at the end of the case. He always tended to be more conservative than his peers when he was working in Chicago.
I couldn't help wondering what Barba would have thought of this case, though, considering that his career ended with him choosing to help a parent euthanize a brain-dead baby ahead of a court order allowing her to do so.
What did you think of "Dare"? Did the ethical dilemma hold your attention?
Who did you think was right?
Do you think Rollins will recover from this prank gone wrong and let Jesse out of her sight when she gets older?
Weigh in below, and don't forget you can always watch Law & Order: SVU online if you missed anything.
Jack Ori is a senior staff writer for TV Fanatic. His debut young adult novel, Reinventing Hannah, is available on Amazon. Follow him on Twitter.