The Blacklist Season 5 Episode 14 Review: Mr. Raleigh Sinclair III

Lisa Babick at . Updated at .
How ironic was it that a master of misdirection met another master of misdirection?
Red didn't make it clear what he wanted Sinclair to do for him on The Blacklist Season 5 Episode 14, but it could be he's getting ready for a future disappearing act.
Or maybe he's going to use Sinclair to help him bring down Garvey. Either way, Red has Sinclair sitting nicely in his back pocket for whenever he decides to pull him out.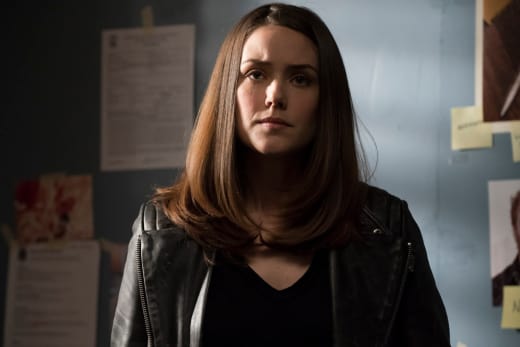 Garvey deserves every kind of torture available. I'm still bitter about what he did to Tom, and I bet that Liz is going to have a field day with him when she finally finds him.
I can't imagine she's going to let the Task Force near the guy, and maybe that's what Red is expecting. Maybe Red is going to use Sinclair to create an alibi for Liz. He'll do anything to protect her, and he knows that she's not going to follow the rules when she finally gets her hands on the evil little guy.
Related: Enjoy UNLIMITED access to thousands of Movies and TV shows with Amazon Prime Video. WATCH ANYWHERE. CANCEL ANYTIME!
I still don't get what kind of crazy Garvey is involved with and why. And what exactly is he doing with the bones? It still seems goofy to me that the entire time Liz was in a coma Garvey didn't make any headway on finding Red, and Red did nothing to find Garvey.
Did I miss something? Are they working together? It's frustrating that we haven't revisited the bones. Does Red even care about them anymore?
We don't know why Garvey is keeping them, and we don't know whose bones they are.
I like the idea of Singleton working with Liz and the Task Force, but I'm not necessarily sure I trust him. Liz was too quick to bring him to headquarters and divulge all the information. It just doesn't seem like something the Task Force would do. They barely know this guy, but now this guy knows everything about them working with Red.
It makes no sense.
And that's part of the problem with The Blacklist minus Tom. He added a cohesion that is not there anymore. The storylines are haphazard and full of holes. I don't feel an urgency to anything. Not even Liz's pursuit of Tom's killers.
Related: The Blacklist Season 5 Episode 13 Review: The Invisible Hand
It's not that the Blacklisters aren't interesting. For the most part, they have been. Sinclair was a good one.
The idea of someone creating a double of another person so they have an alibi while they commit a crime is mind-blowing. It's not hard to imagine something like that taking place in the real world.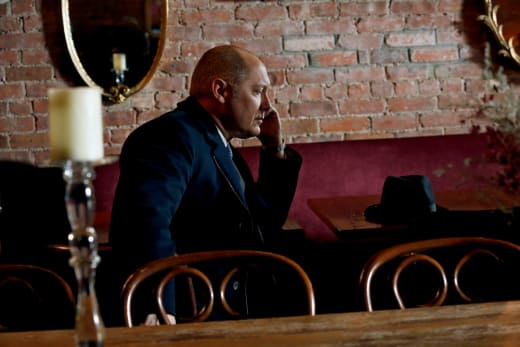 I loved Red's interaction with Sinclair. He really has become softer since he lost everything. It's almost like he's taken on Liz's persona while she's taking on his. A type of role reversal.
Their interactions are always great and the highlight of every hour. Even though things have gotten darker since Tom died, there is still a lightness to their interactions.
Red meeting with Liz's psychotherapist in the car instead of her office was hilarious. I don't understand what the big deal was especially considering he told Liz he's talked to therapists before, but he'll do anything for her even if he is being stubborn about doing it on his terms.
Related: Get Britbox via Amazon Channels for the biggest streaming collection of TV from BBC & ITV...ever.
Liz knew when she asked Red that he wasn't going to be too keen about it, but I loved how she tried to explain it to the doctor, who by the way, was a complete bitch.
It doesn't seem like she's being very fair to Liz, and I'm not even sure why Red had to meet with her in the first place.
People think the mind works like a video recorder. The mind records events and then on queue plays back an exact replica. In truth, memories are reconstructed, more like putting together an ever-changing jigsaw puzzle than replaying a video.

Red
While it is ridiculous that she has to go through this to get reinstated, she is learning about herself. Identifying herself as Red's daughter was huge. It was a turning point. She recognized she is going down a path from which she'll never return.
She may have known it before, but this is the first time she has ever said it out loud.
I liked how pieces of her past are tying back to Red and that she is seeing the connections. She might not have seen him at her ballerina recitals or her wedding, but she felt his presence. And he was there.
He was always there, and he always will be.
What did you think of "Mr. Raleigh Sinclair III"? Were you surprised Liz decided to work with Singleton? Do you trust him?
How will Red use Sinclair? What's his plan?
Hit the comments and share your thoughts.
If you need to catch up, you can watch The Blacklist online right here via TV Fanatic!