Agents of S.H.I.E.L.D. Season 5 Episode 18 Review: All Roads Lead

Kathleen Wiedel at . Updated at .
Relationships have played a key ongoing role this season, and Agents of S.H.I.E.L.D. Season 5 Episode 18 continues the theme.
Mother/daughter, husband/wife, would-be romance and even just straight-up friendship, all came into play.
And boy, was it brutal for just about all of them.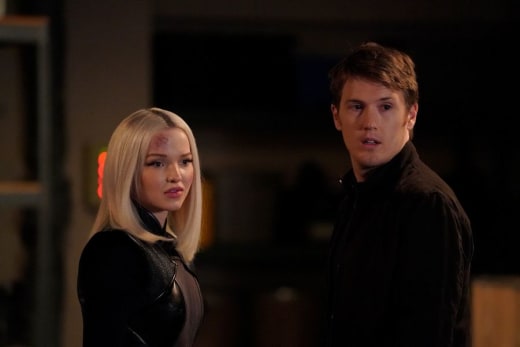 Ruby and Strucker played the star-crossed lovers, a Bonnie-and-Clyde duo who cared about no one but themselves and were unfortunately altogether too-well armed.
The manner in which she accidentally handed him his fate, even as he assured her he wasn't going anywhere? One: EW. That was gross. Kudos to the effects department?
Two: So long, Strucker Jr.! As far as character deaths go, I'd say that one was pretty memorable. (Did I mention "ew"?) The manner of his death just exuded all sorts of dramatic irony, too.
After everything he experienced, all the obstacles he'd overcome (his father, S.H.I.E.L.D., Hydra), it was beauty killed the beast, and ultimately unintentionally!
Related: Enjoy UNLIMITED access to thousands of Movies and TV shows with Amazon Prime Video. WATCH ANYWHERE. CANCEL ANYTIME!
For extra entertainment, the same could be said for Ruby, from a certain point of view, playing both roles herself: her actions (dis-arming Yo-Yo and infusing herself with gravitonium) heavily contributed to her death.
Frankly, a whole essay and more could be written on just how messed up Ruby was, and how her mother's obsession and her own led to her ultimate downfall (and possibly that of the world).
Meanwhile, Fitz and Simmons continued to impress me with their mind-boggling levels of self-absorption:
Fitz: I can't choose anything over you, not even--
Simmons: Yeah. I feel the same way.
The planet, folks. The planet is on the line, and these two would rather sacrifice the whole planet rather than risk one of them dying.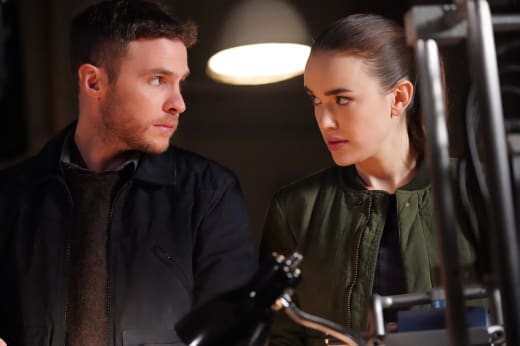 It's not like Ruby could carry out her threat to kill them, either. Well, she could, but how would that get her precious infuser fixed? Of course, given her level of mental (in)stability, I wouldn't put it past her.
Nevertheless, the FitzSimmons relationship has perhaps become the single most important one in the show. They're determined to be together, regardless of the consequences to anyone.
If the fallout from Ruby's infusion results in The End of the World, how will fans react, knowing that Fitz and Simmons would rather risk the entire Earth than risk each other?
I, for one, would not be happy. These people are supposed to be the heroes, after all; right now, the two of them are just coming off as, I hate to say it, selfish.
Related: Get Comic Con HQ via Prime Video Channels to Stream Original Series, Past Comic-Con Panels & More!
Contrast this to Melinda May, who confessed her love for Coulson in the previous episode. When Coulson attempted to continue the conversation, she informed him that the mission came first.
While this frustrated Coulson, she wasn't exactly wrong, was she?
And what of Deke's would-be courtship of Daisy? The guys weren't exactly supportive of him, that's for sure.
Deke [asking for love advice]: Like, you got a good thing going.
Mack: Don't look at me! Last time I saw Yo-Yo, she lied to me, locked me up, and ran off.
Deke: Coulson?
Coulson: Sorry, bro. Apparently I'm incapable of expressing my feelings or letting people take care of me.
Deke: Well, you guys are useless. It's lemons, then.
Honestly, I found the lemons thing kinda sweet. In a place where food is a luxury, I can totally see how something as simple as a lemon could become the equivalent of a bouquet of roses.
Everyone keeps treating Deke like a complete imbecile for some reason, and I'm not sure what it is. They weren't any better off when they were stumbling around cluelessly in his time, after all!
Do I necessarily think it's a good idea to attempt to court the woman he once sold to the Kree? Yeah, that's a bit tougher. Not sure either Deke or the show will ever live that one down if Deke/Daisy becomes an actual thing.
And then there were Coulson and Talbot. I can't tell you how happy I am that Talbot was safely incapacitated rather than killed. I still fully expect him to die heroically at some point.
I'd rather have him overcome the Hydra programming and return to his family, though. Happy endings are in such short supply, and Hydra needs some more metaphorical kicks to the head.
Poor, poor Talbot. I liked how he fought the programming as much as he did. Notice he didn't kill anyone, not even Robin's mother. He turned what could've easily been a "kill 'em all" mission into a stealth retrieval mission.
And when confronted, he wanted to kill himself over the conflict in his head. Fortunately, Coulson distracted him long enough to get Robin clear and Mack to shoot him with an Icer.
While Coulson and Talbot have had their ups and downs, there's always been respect between the two, which gradually grew into a genuine friendship.
I think that perhaps Coulson sees Talbot as a better version of himself: a man who serves his country but also tries to be a good husband and father, roles that Phil never got to be.
Finally, there's one more item of import from this episode: Hall, Quinn, and the gravitonium. One big question answered: the two of them are still alive and conscious in the gravitonium.
Both Carl Creel and Ruby did an alarmingly good job demonstrating the utter horror of their condition. At war with each other, trapped, screaming. Given that Hale's alien benefactors want the gravitonium, imagine what could happen.
What did you think of "All Roads Lead"? Were you shocked at the fate of Ruby and Strucker? What will be the fallout? Does Deke have a chance with Daisy?
Join in the conversation by adding your thoughts in the comments section below! And if you want to relive the drama, watch Agents of S.H.I.E.L.D. online!
The next new installment, Agents of S.H.I.E.L.D. Season 5 Episode 19, "Option Two" is slated to air on Friday, April 17, 2018, at 9/8c on ABC.